St. David's Society preserves Welsh heritage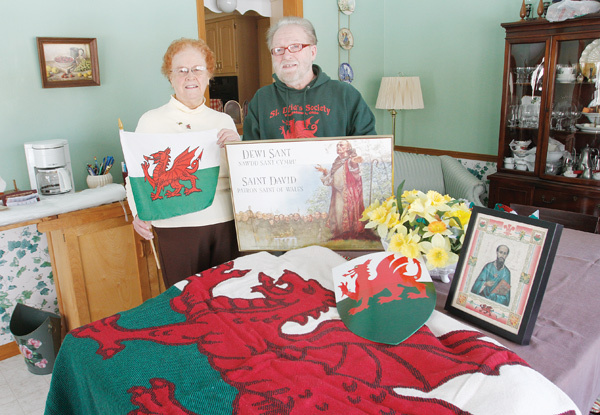 ---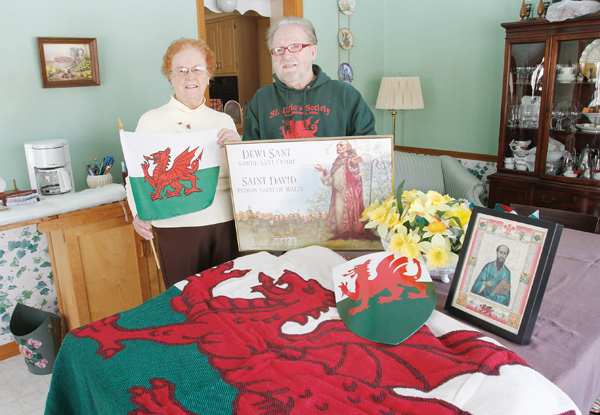 Photo
Images of St. David, daffodils and the Welsh flag and shield will be on display at the St. David's Day banquet being planned by Rhea Crelin, left, coordinator, and John Tamplin, president of the St. David's Society of Youngstown. The banquet March 1 celebrates Welsh heritage and the patron saint of Wales.
By LINDA M. LINONIS
Youngstown
Those of Welsh heritage embrace the tradition of honoring St. David, the patron saint of Wales, no matter what religion they practice.
Members and friends of St. David's Society of Youngstown will gather March 1, St. David's Day, for a banquet at the Saxon Club.
"St. David is a unifying element," said John Tamplin of Hermitage, Pa., president of the society. St. David is a Catholic and Anglican saint, he said, but his example of being a "model of life" is admired by the Welsh.
"St. David is to Wales what St. Patrick is to Ireland," Tamplin explained. "He is an emblem of Wales. He had a purity of life and a great regard for the Gospel." Tamplin said St. David showed "Christians how they should live."
Tamplin added that images of St. David often depict him with a dove on his shoulder and standing on a mound of earth. He said legend recounts when St. David was preaching, the earth swelled beneath him, lifting him so his voice could be heard. "The Welsh are short and stocky," Tamplin said. Legend also recalls a dove provided "divine inspiration."
At the banquet, which Tamplin described as "the signature event" of the society, there will be Welsh flags, banners and images of St. David. There also will be daffodils, the national flower of Wales.
Tamplin said "dafyd," which is David in Welsh and "llil," which is flower combine to be "flower of David."
Rhea Crelin of Boardman, banquet coordinator, has been a society member for a decade and is a charter member of Calon Lan Women's Welsh Club of Youngstown. Her heritage is German; her first husband, now deceased, was Welsh.
Crelin said it was important to her to maintain a connection to Welsh heritage for her two daughters. The family plans a trip to Wales.
The banquet, she said, will include toasts to St. David, Wales and the United States. "We toast with water," she said, in deference to St. David.
Banquet attendees will wear pins depicting leeks, the Wales flag and red dragon. Leeks are associated with the Welsh, Tamplin said, because Welshmen put leeks in their hats to identify themselves when they fought the Saxons. Leeks (a vegetable) also are used in soup and casseroles, he said.
The Welsh flag is green and white with a red dragon. Tampliin said the dragon symbol was adapted from a Roman shield.
A Welsh event would not be complete without music, and there will be singing at the banquet. "The Welsh are known for their music, poetry and storytelling," Crelin said. Years ago, Welsh steel-mill workers formed choruses.
The banquet fare will include rice pudding and Welsh cakes, Crelin said. The cakes, which include currants, are fried in a skillet, and rice pudding is a traditional dish.
Other traditional Welsh foods include cawl, a soup made from a brisket base; fagod, organ-meats seasoned with sage and sausage-shaped; seed cake with caraway seeds; and bara brydd, a sweet Welsh bread with fruits and nuts.
St. David's Society has a membership of about 60 people. Decades ago, Welsh picnics were huge at Idora Park. The Aug. 21, 1913, edition of The Youngstown Vindicator noted that the Welsh from Mahoning and Trumbull counties and Pennsylvania Welsh from New Castle, Sharon, Farrell and Wheatland traveled by streetcar with picnic baskets filled with Welsh foods. An excerpt from The Vindicator reads, "Beneath smiling skies, about fifteen thousand sons and daughters of old Gwalia (Wales), their descendents, friends and acquaintances gathered at Idora Park Wednesday for the annual reunion of the Welsh Pioneers of the Western Reserve."
Tamplin said his ancestors came to the United States from Wales in 1864. His father was Welsh, and his mother, Scottish. He and his sister, Lois Tamplin, are active in Welsh organizations. Tamplin, who has visited Wales five times, has been a society member since the early 1970s.