Fitch holds off rival Boardman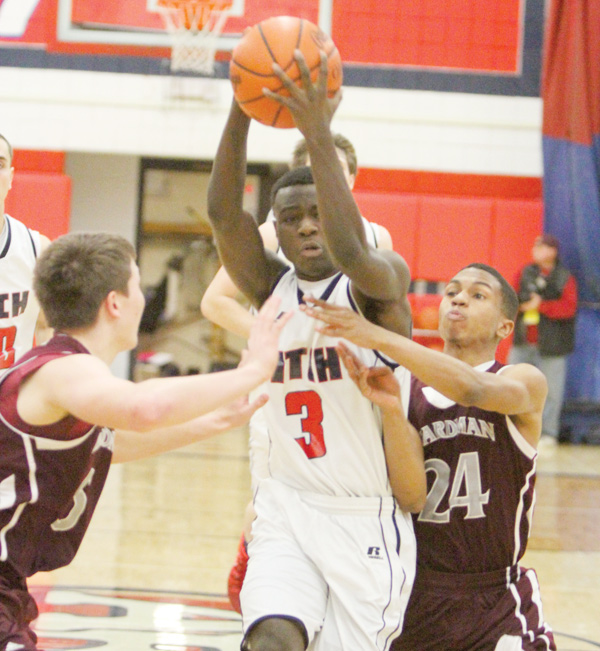 ---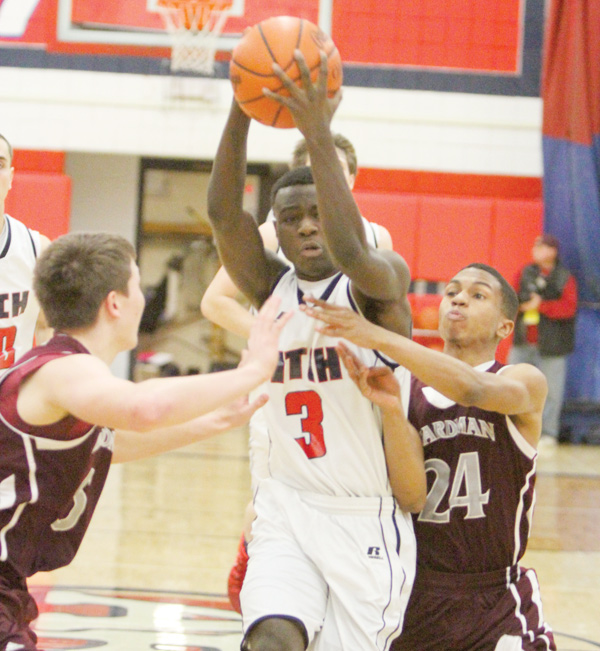 Photo
Fitch's Jessie Driver makes his way to the hoop past Boardman's Alex Duda (5) and Brandon Rozzi (24) during their game Tuesday at Fitch High School in Austintown. The Falcons downed the Spartans, 69-59.
By Ryan Buck
Austintown
Longtime rivals Austintown Fitch and Boardman are still months away from once again meeting in All-American Conference contests, but Tuesday night's clash offered an appetizing preview of what's to come.
Three years after the Falcons left Boardman and the Federal League for the newly formed AAC, little has changed between the two largest schools in Mahoning County.
The Spartans took a one-point lead late in the third quarter and led by as many as four early in the fourth thanks in large part to Brian Fryda's outside shooting, but a trio of Fitch seniors led a furious Falcons rally. Double figures from Jessie Driver, Michael Butcher and Alex DiFrancesco, along with stifling defense avoided a Spartan stunner in a 69-59 Fitch victory.
"It's a rivalry game," said Fitch coach Brian Beany. "There's no need for me to give a pep talk as far as it's Boardman. That should be enough said. The seniors didn't want to lose to Boardman."
After Preston Stitt buried a wide-open 3-pointer from the right wing to put Boardman ahead 51-47 with 7:20 left in the game, a Fitch offense that had made two field goals in seven minutes came to life.
DiFrancesco scored four straight points and Butcher, the Falcons' ace 3-point specialist, drilled another one to put them ahead 54-51 with 5:18 left.
Fryda responded with a 3-pointer of his own before the Fitch trio facilitated a 12-0 run to put the game out of reach.
Butcher scored 4 of his 16 and DiFrancesco knocked down a free throw before Driver punctuated the run with a steal-and-layup and a dagger of a 3-pointer immediately after a Butcher miss.
With 2:30 left in the game, two Butcher free throws gave the Falcons an insurmountable 66-54 lead.
"It was a matter of just knocking down shots," said DiFrancesco, who scored 15 for the game. "I missed a lot of easy ones early on, and it was just a matter of getting those shots to fall in the second half."
When Driver, who scored 18 points, and Butcher started hitting their outside shots, DiFrancesco found the going much easier.
"I decided to be a little more aggressive," he said. "I started posting up more and decided to take it into my own hands because they really started to face Jessie and we knew somewhere down the line somebody was going to do it."
Fryda, a junior guard, was almost unconscious in a stellar shooting performance. He knocked down seven 3-pointers, including four in the second quarter, to finish with 23 points.
"We're capable of that," said Boardman coach Pat Birch. "When we've competed in games, that's been our strength. Brian was feeling it tonight. It's something he's capable of doing and when he's hitting it, everything flows for us a little bit more."
Birch said Fitch's veteran defense and constant confusion caused by their switching from zone to man-to-man defense contributed to his young team's three fourth-quarter turnovers and just five made field goals.
"We're right there," Birch said. "Just a few more shots in the fourth quarter and I thought we didn't quite execute the way we wanted down the stretch."