Published: Tue, February 18, 2014 @ 1:50 p.m.
Video Set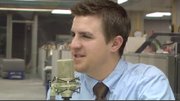 Ed Puskas and Kevin Connelly wrestle with the subject of winter sports, diving right into local high school stats. Ed Puskas invents a new olympic ...
We'll talk sports on Vindy Talk Radio at 4:30 p.m. Feb. 18!
Sports editor Ed Puskas and sports reporter Kevin Connelly will gather to discuss local winter sports tournaments in basketball, wrestling, swimming and bowling.
Go to vindy.com/radio to listen to the show live, and check back later this week for video highlights of the show.
Vindy Talk Radio Studio: 330-333-4454