Scouts, students collect food for Second Harvest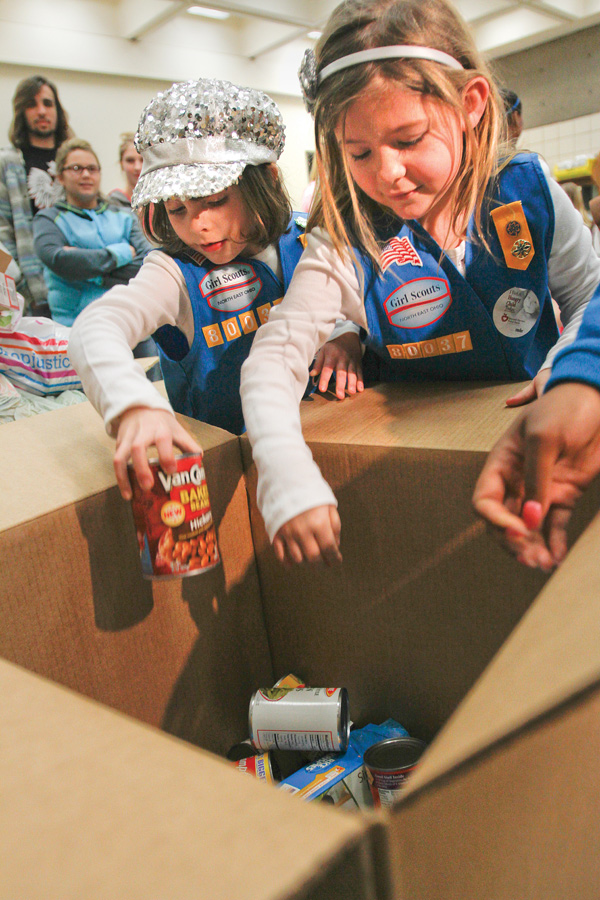 ---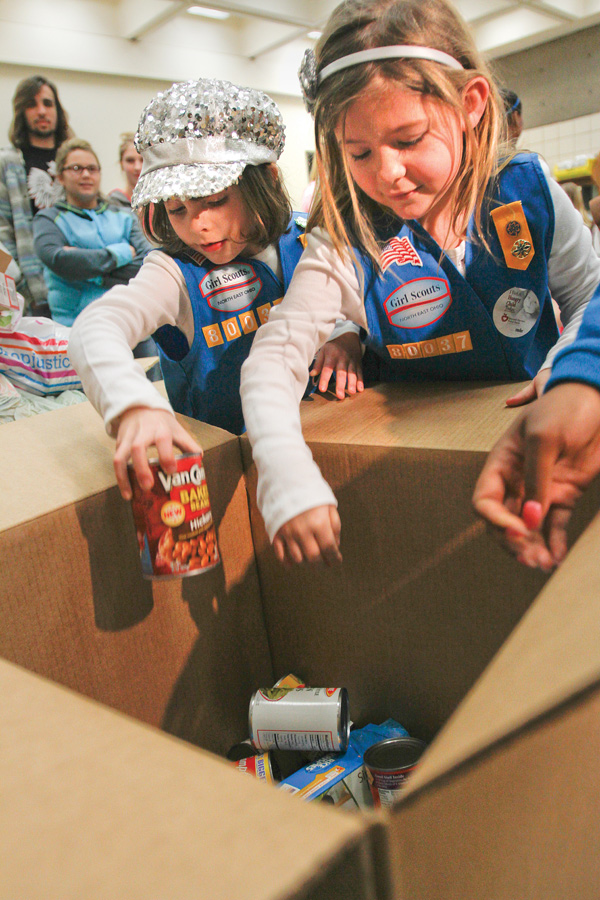 Photo
Mia Rucci, 7, left, and Haley Shiley, 7, put cans of food into a box that will be delivered to Second Harvest Food Bank. Their Girl Scout troop teamed up with some respiratory-therapy students at Youngstown State University to collect the food.
By ELISE McKEOWN SKOLNICK
YOUNGSTOWN
Two groups whose paths don't normally cross came together to help hungry people in the Mahoning Valley.
Girl Scout Troop 80037 of Austintown and Youngstown State University respiratory-care students worked together to collect food for the Second Harvest Food Bank of the Mahoning Valley's Harvest for Hunger campaign.
"Both the Girl Scouts and the respiratory students do a ton of service, so I thought why not combine the two?" said Amanda Roby, organizer. Roby is a YSU assistant professor and Girl Scout troop leader.
The project is also a chance for the young members of the Girl Scout troop to experience a little bit of college, and the types of service projects the older students do, Roby added.
"We thought it was a good combination," she said.
The groups filled two large boxes to overflowing with nonperishable items such as pasta and ramen noodles.
"We really like [service projects]," said Halie Shiley, 7, a first-year member of the troop.
She's not normally hungry, and it's good to help people who are, Shiley added.
Collecting the food was fun, said Gionna Rucci, 6, also a first-time Girl Scout.
Her sister, Mia Rucci, 7, said it was fun working with the college students.
Tori Heverly, a junior in the respiratory-care program, was excited to work with the younger kids.
"We love to help people, so it's great to get them started young helping people too," she said.
Service projects are a large component of the respiratory care program, explained Brittany Stocker, also a junior. Students are expected to complete 60 hours of community service during their final three years of the program to graduate.
"I really like our program for that reason, because we do so much for the community," Stocker said. "And it's really nice because we all do it together and we all enjoy it. We like to help them."
Most of the students dedicate more than 60 hours, Heverly said.
Every day, 40,000 pounds of food leaves the Second Harvest Food Bank for distribution to hungry families in Mahoning, Trumbull and Columbiana counties, according to information from the food bank. They distribute food to 153 hunger-relief organizations in the tri-county area. Food -bank member agencies fill more than 15,000 requests for emergency food assistance each week.