Robot-assembly builds teamwork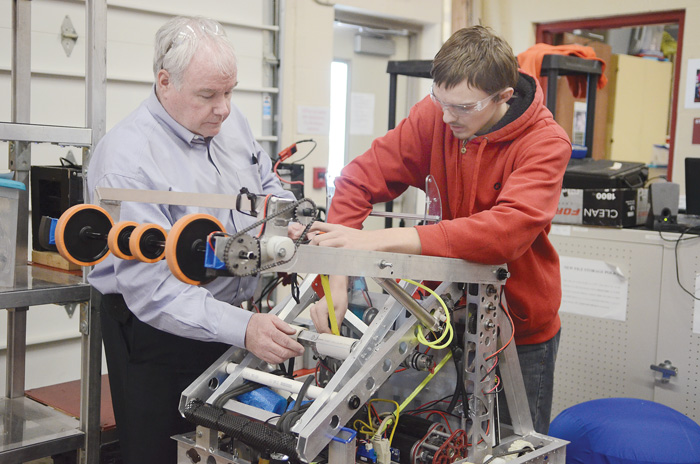 ---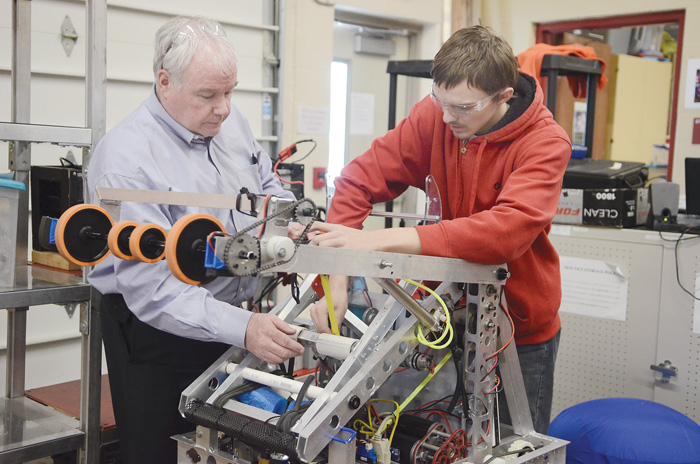 Photo
Girard's Lane Tuttle, 17, measures PVC pipe on the test robot with the help of robotics mentor Mark Walker Monday, February 17, 2014.
By Jeanne Starmack
Girard
Tonight at midnight, six weeks of work will come to an end.
Girard High School's FIRST team — For Inspiration and Recognition of Science and Technology — will no longer even be able to touch its brainchild.
The bulky, square robotic creature will be wrapped up and stored away until mid-March, when it will make a trip to Troy, N.Y., with its team. There, they'll compete against 38 others for a chance to make it to the FIRST Robotics Competition world championships in St. Louis, Mo., in April.
Also going to Troy will be Austintown Fitch and its robot, which was visiting in the Girard High School fieldhouse Monday afternoon. The two look the same, but they're not.
They were built from the same kit, which is given to every team in the competition. They all have the same shape, with a perimeter that can't exceed 112 inches, a height that can't exceed 5 feet and a weight that can't exceed 120 pounds.
What inspires Girard tech-ed teacher and team mentor Ashraf Hadi the most is not the similarities, he said, but the differences.
"Not every robot is like the others," he said as he guided team members in the "build room" at the back of the high school Monday afternoon.
"Almost all 38 teams will have a different design," he continued. "That's my favorite part ... sometimes you smack yourself in the head and say, 'Why didn't I think of that!'"
In the fieldhouse, Girard's and Austintown's teams put some finishing touches on their robots and practiced for the competition.
This year's game is called Aerial Assists, said Austintown mentor Andy Yantes, an engineer at AT&T.
Six robots, three on each team, will battle it out to pitch a ball over a truss to get it into a goal on the other side.
The goal of the competition, however, is not necessarily to win.
"It's to get people excited about engineering," Yantes said. "That's what we're all about."
Not everyone on the teams, which include approximately 25 members in Girard and 22 members in Austintown, wants to pursue an engineering or technical career.
Freshman Liam Mathews wants to study architecture. Fellow freshman Matt Repasky does want to be an engineer, but Anthony Bonamase, also a freshman, is singing a different song.
"I want to be a music teacher," he said.
The freshmen, or "rookies," as Liam calls them, spent a lot of time on their robots.
"It's time-consuming," Liam said, adding that teams spend eight hours during the weekends on their projects.
"It's a lot of work," added Matt. "But fun."
Girard's team will participate in March at another regional in Cleveland, and Austintown will go to Pittsburgh for another shot at going to the world championships.
Winners of two major awards also will go to St. Louis.
The Chairman's Award requires a presentation on how well the team was run and on community outreach — team members volunteer for organizations and events or participate in recycling programs.
The Engineering Inspiration Award is based on "how you design your robot and how your engineering is done," said Yantes.
Regional winners and major award winners get trophies. The world championship winners get trophies and a chance to win a scholarship.