Dunn to become president of Southern Illinois University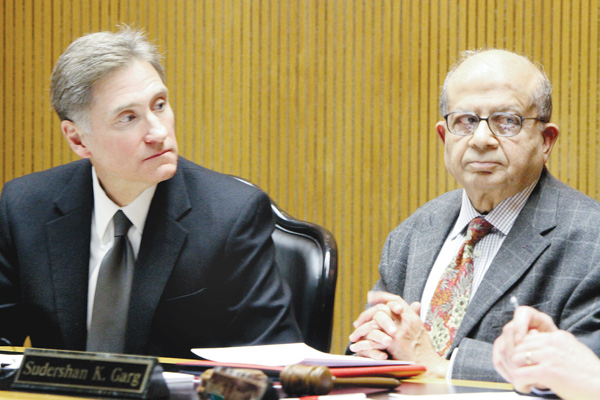 ---
Dunn Resigns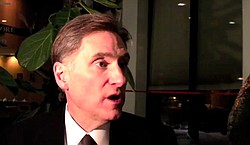 Video
YSU President Dr. Randy Dunn resigned today.
By Denise Dick
YOUNGSTOWN
Youngstown State University trustees and Randy J. Dunn, in just his seventh month as university president, publicly appear to be parting amicably.
Dunn is leaving this summer to become president of Southern Illinois University.
SIU trustees announced Monday afternoon that Dunn is that university's new president. At SIU, Dunn will earn $430,000 annually. His salary at YSU is $375,000 annually.
Dunn told YSU trustees in writing Monday that he will resign effective Aug. 16. If YSU picks a replacement and trustees want him to leave earlier, he will, Dunn said after a 21/2-hour closed-door meeting Monday between Dunn and trustees.
Dunn said that SIU's search consultant — listed on the university's website as R. William Funk & Associates of Dallas — contacted him in the middle of fall.
"I didn't apply per se," Dunn said.
Initially, he told SIU he had just started a new position and wouldn't leave, he said. But the consultant contacted him again, telling him there were a number of nominations supporting him.
After the first of the year, the consultant again contacted him, saying it was his charge to have Dunn come talk with him. Dunn sent his information to the consultant.
"I worked at SIU a long time and I felt I had some duty to them," said Dunn, who worked as a professor at the university before he was tapped by now-imprisoned former Illinois Gov. Rod Blagojevich in 2004 to become state schools superintendent.
Dr. Sudershan Garg, chairman of the YSU trustees, said the board would meet soon to determine how to proceed in picking a new president.
"The board of trustees recognizes that the position at Southern Illinois is a unique opportunity for Dr. Dunn and his wife, Ronda, to return home to Illinois to continue their careers," Garg said. "Dr. Dunn has performed exceptionally during his seven months at YSU, and we wish him and Ronda well."
He said trustees look forward to working with Dunn during the next six months in moving the university forward.
When he took the job, he expected it to be his last, Dunn said.
YSU had spent nearly $109,000 in the search that resulted in Dunn's appointment. That included visits to campus and lodging for Dunn and the other two presidential finalists and payments to AGB Search, the executive search firm.
Dunn had been president of Murray State University in Kentucky for about six years when YSU tapped him to replace Cynthia E. Anderson as president. Before his contentious exit from Murray State, Dunn served as Illinois state schools superintendent and as a professor at SIU in Carbondale.
He has a doctorate of education from the University of Illinois and master's and bachelor's degrees from Illinois State University.
Earlier in the day, Garg wasn't aware that Dunn was unhappy and Dunn hadn't made the board aware of problems nor any sticking points during the negotiation of his contract.
"The contract was decided by attorneys," Garg said. "They came to an amicable solution. I don't think there were any contract issues."
Upon Dunn's selection as YSU president, university officials said his contract was for three years. Under that contract, he was required to give YSU 180 days advanced written notice of his resignation.
Dunn said it was a difficult decision in not informing YSU trustees about his being a finalist for the SIU job, but SIU's search was "closed and fully confidential."
Dunn said he realizes that some people may view his leaving YSU as a betrayal, but the SIU position is a unique opportunity. He said he would work the next six months to move YSU forward with some of the initiatives that he started.
Garg said the provision in the presidential contract that allows a president to leave with 180 days' notice is something the board may consider in future pacts, but he said he doesn't write the contracts.
"We'll take it under advisement," Garg said.
Neither Dunn nor Garg believes Dunn's short tenure will deter others from applying for the YSU presidency.
"I feel YSU is a capstone job for anyone," Dunn said.
Garg said Dunn's departure means the board will face a lot of difficult decisions.
YSU is not only losing its president, but two other top administrators, the provost and vice president for finance and administration, who have announced they are leaving, Garg said.
Gene Grilli, vice president for finance and administration, is expected to leave soon; and Ikram Khawaja, provost and vice president for academic affairs, plans to retire June 30.
"I think we'll have a tough time, but in tough times you come out with something better," Garg said.
SIU President Glenn Poshard's contract expires June 30, 2014.
SIU's total enrollment, including part-time students, is about 30,000 students, and it also includes a medical and a dental school. YSU's fall enrollment was 13,381.
Michael Slavens, vice president of the Student Government Association, met Dunn at meetings the president conducted with the SGA and will be sad to see him go.
"I think he has a great personality," Slavens said.
It's a sad situation, he said.
"I think it's unfortunate," Slavens said. "We'll see what happens. I really did like the guy."
Annette Burden, president of the YSU-Ohio Education Association, the union representing YSU faculty, said the universities' employee unions were surprised and disappointed to learn of Dunn's departure.
"We have appreciated Dr. Dunn's willingness to work together and would like to acknowledge the speed at which he often helped to resolve issues that we brought to his attention," Burden said in a statement. "We would also like to reaffirm our commitment to work together with the administration to rebuild trust, support our students, and support the mission of the university. We will continue to do what we have always done: provide the world-class education that students expect and deserve, perform groundbreaking research, provide the essential support services needed to operate the university, and contribute to the community that supports and depends upon YSU. We trust that this news will not have a negative impact on the upcoming negotiations of two of the unions."
More like this from vindy.com