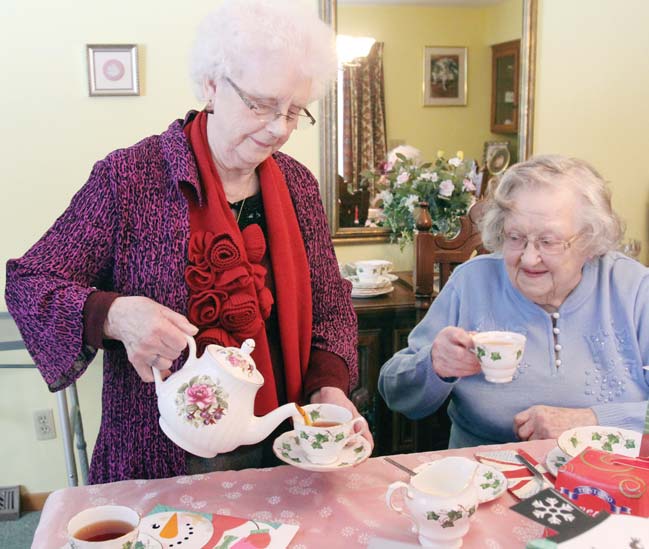 ---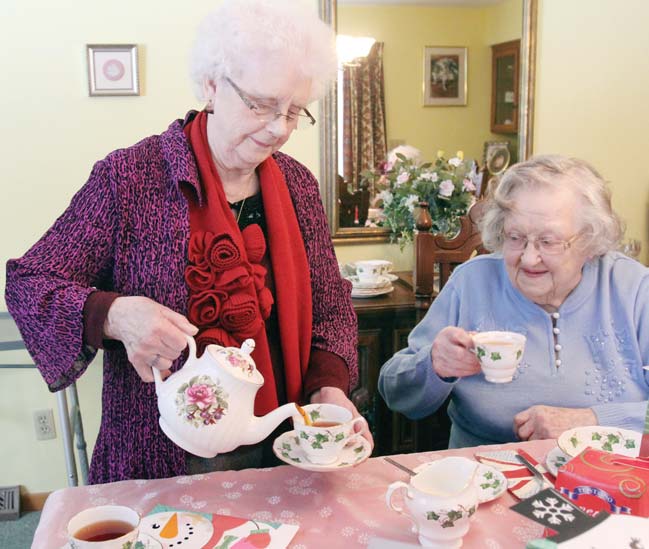 Photo
Eunice Hall, left, pours tea as Edith Cardelein looks on during a recent gathering for several women from England. For more than 50 years, a group of English women who all moved to the Youngstown area at least six decades ago often get together and have tea.
By EMMALEE C. TORISK
etorisk@vindy.com
YOUNGSTOWN
Queenie Howell hasn't lived in London for almost 60 years, but she's still insistent upon the proper way to make a perfect English cup of tea.
Just the thought of microwaving the water inspires disgust. Instead, boiling water, direct from the stove-top kettle, must be promptly poured over the tea bag.
And as for the tea bag itself, only black breakfast tea will do, though the rest is a matter of taste.
Howell typically lets her tea bag steep for "just a few minutes," for example, and flavors the tea with sugar and milk. It's usually a good idea, too, to place a tea cosy atop the china teapot to keep the hot water warm, she added.
"Come to think of it, I've never seen one here [in the U.S.]," remarked Howell, 92. "I usually end up making my own."
The appalling absence of tea cosies — not to mention tea-making know-how — is just one of many topics of conversation for Howell and a handful of fellow Englishwomen who all moved to the U.S., or specifically to the Youngstown area, no less than six decades ago.
For at least the past 50 years, the women have met, in various incarnations, each month to talk about England and the lives they left behind there, or about books they've read and movies they've seen — or even, as the years progressed, their "aches and pains," quipped 82-year-old Eunice Hall, who is originally from Manchester and now lives in Poland.
"It kind of keeps you in touch," Howell said of the monthly meetings. "It helps you feel that you never really left, that you'll go back sometime."
During a recent afternoon gathering at Howell's Youngstown home, which included a table setting complete with a tea cosy-bedecked teapot, 86-year-old Irene Smart bemoaned the lack of marmalade in local stores. Smart, who lived in Birmingham and now resides in Austintown, said she hasn't been able to find the fruit preserve lately.
Eighty-one-year-old Marjorie Louff — who lives in Cortland, but is from Manchester — said she felt similarly about her struggles to buy Jacob's Cream Crackers.
And 90-year-old Edith Cardelein, a Youngstown resident who hailed from Nottingham, shared reminiscences of her own about long-ago lunches of hard-boiled eggs at English pubs, about mincemeat pies at Christmastime, and about what led her to the U.S. in the first place. It was love.
Cardelein had fallen in love with an American soldier during World War II, as had Hall, who commented that she'd willingly given up her country for him.
"He was very much doubting if I was going to come," said Cardelein, who added that the romance produced a marriage of more than 60 years. "And if it wasn't for him, I wouldn't have come here at all."
Howell, who already was married when she came to the U.S., said she and her husband left England for "a change of scenery" — and vividly remembers sitting upon her suitcase at the B&O Station on Mahoning Avenue, waiting to be picked up and taking in Youngstown for the very first time.
Smart also was married — and pregnant — upon her arrival in the U.S., while Louff was just 18, and had made the move with several members of her family.
Despite their varied reasons for coming to the U.S., the women could easily agree on the things they missed most about their homeland.
Howell spoke fondly about the slower pace of life there, but feeling as though one is in "the center of the universe" in London, while Louff and Cardelein described the quiet villages and bicycle rides through woods filled with bluebells, primroses and daffodils.
Despite this, Louff explained that she loves everything about the U.S., and that to her, this country is home now.
The women joked that they've all been here so long that they've become half-American, and added that their monthly meetings — which began as a way to help one another get settled, and to knit and sew items to aid veterans — are simply a way to "keep in touch with the old world," Howell said.
"But none of us ever really left England; we brought it with us," she added. "We're still a part of England in a way."