Danridge's Burgundi celebrates its history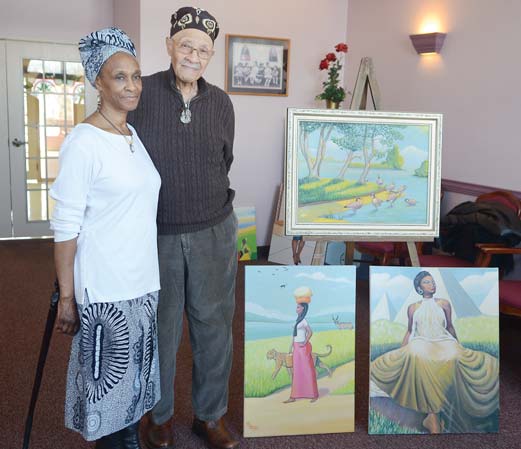 ---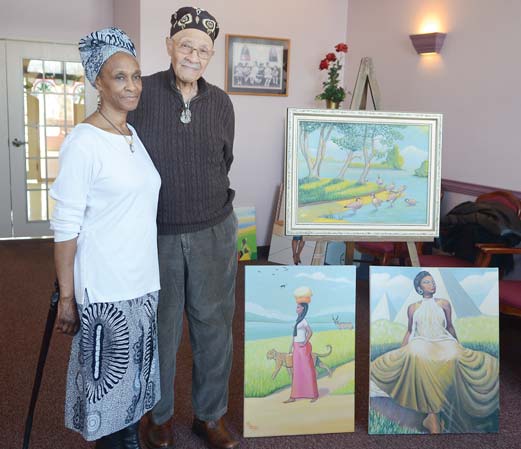 Photo
Local artist Joseph Thomas, right, stands with his wife, Gwendolyn, at Danridge's Burgundi Manor in Youngstown, where his original artwork will be displayed for three days during his annual gallery event.
By WILLIAM K. ALCORN
alcorn@vindy.com
YOUNGSTOWN
The heritage and history of Danridge's Burgundi Manor, the first nursing home for black people in Youngstown, is being honored and recognized with special activities and by its new owners during February, Black History Month.
Danridge's was founded in 1959 by Ruth Danridge, a licensed practical nurse at a city hospital, on the first floor of the family home on Glenwood Avenue.
She wanted to give elderly blacks an option for long-term care to the government-run Mahoning County Nursing Home on Kirk Road or staying at home.
In 1959, it was necessary, said JoAnn Blunt of Youngstown, Ruth's daughter who, along with the rest of the family, was moved to the second floor of their home to make way for the business.
At the time, blacks were denied access to private nursing homes, said Blunt, a registered nurse.
Blunt, along with her late husband, Julius, and daughter, Leigh Greene-Colvin of Youngstown, a licensed social worker, operated the nursing home after Danridge's death.
In a previous Vindicator story, Greene-Colvin, who was social-services director at the home, said of her grandmother, "She ventured out in an area that no African-American person was doing at the time. That took a lot of courage."
The business grew, and in 1968, Danridge's moved into the former Fox Funeral Home building on Oak Hill Avenue. In January 1999, Danridge's built a new $3.6 million facility on Maranatha Drive on the city's East Side.
Danridge's Burgundi was purchased in December 2010 by Legacy Rehabilitation Health Care Corp., which said it wants to honor and recognize the heritage and legacy of its founder.
Danridge's Burgundi was known for taking care of the family unit and its family atmosphere when the Danridge family owned and operated it, and that is what Legacy wants to maintain, said Lynn Firzlaff, director of marketing for Legacy, which operates 11 facilities, primarily in the Greater Cleveland area.
Danridge's Burgundi also meets the spiritual needs of its residents.
It has a close connection with local churches whose pastors minister to the residents, and there are prayer services multiple times a week. This is at the core of what Danridge's does differently and is part of the heritage left by the Danridge family, Firzlaff said.
"We don't want to change what has been done to make Danridge's what it is. We appreciate its history and consciously attempt to maintain it," she said.
Since the purchase, Firzlaff said common areas and resident rooms have been renovated, and a 20-bed expansion is planned for the facility, which has 62 units.
"In 1959, the majority of Danridge's clients were African-Americans," Blunt said.
They came through word-of-mouth from friends, families and churches, and because of the people who came to Danridges's, they had their own traditions.
Now, Blunt said African-Americans and people of all races can go to any nursing home they want to.
But even when that became possible, Danridge's still had a waiting list, Blunt said.
"Their friends and family members were there or had stayed there. Traditions carried on. ... People knew us and still wanted to come," she said.
But, she said, if the quality of care is good and the rules and regulations are followed, clients will come.
It's nice that Legacy wants to carry on the traditions established at Danridge's over the years, Blunt said.
"We have been gone over three years, and the family connection is gone. But if they can establish a family atmosphere, that would be good," she said.