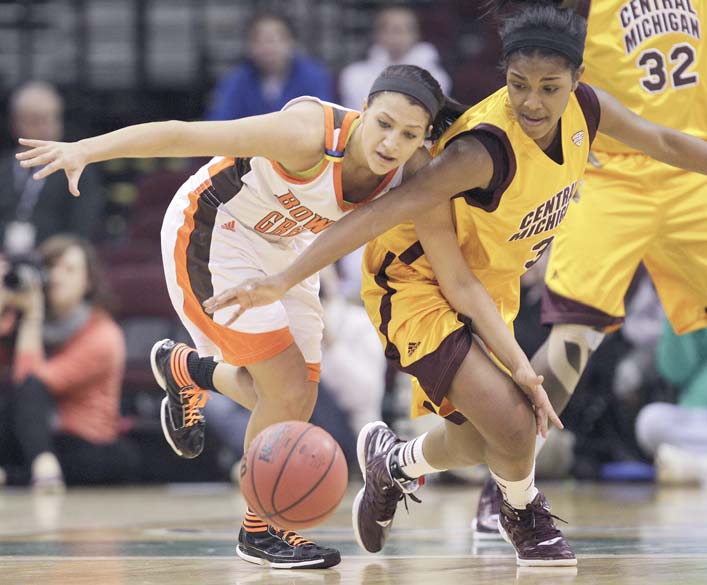 ---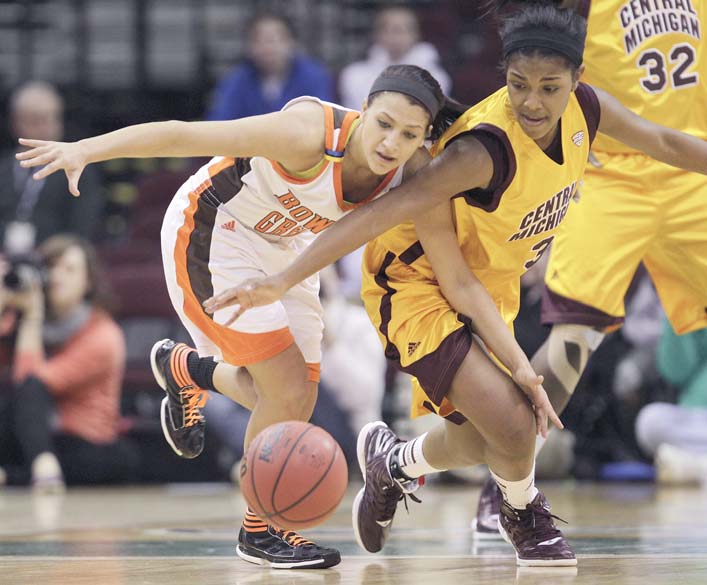 Photo
Bowling Green point guard Jillian Halfhill, left, battles with Central Michigan's Jessica Green for a loose ball in a 2012 game in Cleveland. Halfhill, a Canfield High graduate, is a senior for the Falcons.
By RYAN BUCK
rbuck@vindy.com
Two things always have
come naturally for Bowling Green basketball senior point guard Jillian Halfhill.
They may seem unrelated, but Halfhill, a 2010 Canfield graduate, has managed to connect and succeed in numbers and basketball.
"I've always been good with numbers," said Halfhill, who is on track for a degree in accounting. "I hear you have to be smart. I don't really agree with that, but I'll take it."
An Academic All- Mid-American Conference honoree, she is second on the Falcons with 13 points per game.
The following figures, however, perhaps best exemplify her performance as her team's point guard. She leads the team in minutes played with more than 31 per game as well as assists (3.1).
Now nearing the end of her college career after taking over the starter's role as a sophomore, the 5-foot-6 Halfhill is the engine that has Bowling Green competing for a MAC regular-season title and possibly more.
Her numbers speak for themselves.
"I take it as an opportunity to pass the ball around and get shots when they're available," Halfhill said recently. "I'm just trying to do what I can to help us get wins."
Her word is her bond. The Falcons are 20-3, with non-conference wins over Michigan and Ohio State, and a 10-1 in the MAC. It is the 11th consecutive year the Falcons have won at least 20 games, a school record.
Yet one number still bothers her — the single conference loss suffered on Jan. 18, in a road defeat at conference-leading Central Michigan. Halfhill is determined to atone for two late turnovers which contributed to an 81-79 setback in overtime.
"It stunk because we had the game in hand," she said. "We were up by 10 at one point. There were times where I should've stepped up and taken control, but I've learned from it.
"People are looking for me to call out the plays and it's most important that I be more vocal in the second half of the season."
In the Falcons' last two games (a 72-50 win over Western Michigan and a 91-45 rout of Miami) — Halfhill led the team in scoring including a season-high 22 against Miami.
A rematch with Central Michigan looms Wednesday, with the regular season MAC title on the line.
Next month, she hopes to lead Bowling Green to the MAC tournament title at Cleveland's Quicken Loans Arena and send the Falcons to the NCAA Tournament for the first time since her freshman season.
"I truly couldn't ask for anything better than that," said Halfhill. "[The tournament run] was the coolest experience ever. We want to do it again.
"We knew at the beginning of the year what we wanted to accomplish. The future's completely in our hands."
So is her own. Halfhill will have unlimited options once she graduates. She has professional aspirations, but an accounting degree in hand will be very attractive to many firms and graduate schools.
"I don't know what I'll do yet," she said. "Maybe go overseas [to play professionally] or hang it up and call it a day."
An up-and-coming professional with a high basketball IQ and organizational skills? Count on it.