Students compete in Ocean sciences bowl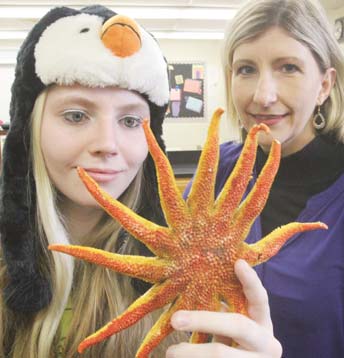 ---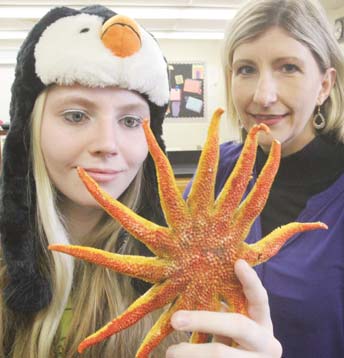 Photo
Boardman High School student Megan Banks, left, takes a look at a starfish along with biology teacher Heather Moran. Megan is part of the school's team that will compete in the National Ocean Sciences Bowl. Moran, who also teaches Earth science, chemistry and physics at BHS, serves as the team's coach.
By Kalea Hall
khall@vindy.com
Boardman
Five Boardman High School students are really into science.
So much so, they took the first-place regional trophy for the National Ocean Sciences Bowl during the first weekend of February at the Pittsburgh Zoo and PPG Aquarium.
The ocean "is really interesting," said Megan Banks, 17, a junior at BHS. "It's the last frontier. There is so much to be discovered."
Banks, along with Matthew Stark, 17, a junior and captain of the team; Jimmy Jones, 15, freshman; Kaye Moyer, 17, junior; and Luke Carabbia, 17, junior; are now prepping for the finals competition in May in Seattle.
This is the first time the Boardman High School team has placed first, besting 17 other teams from four states. A past team did place third, said Heather Moran, who teaches Earth science, chemistry and physics and coaches the team.
"It's kind of like 'Jeopardy!,'" Moran said.
The team was asked to answer many difficult questions dealing with the ocean. Team mates studied together before the competition, but there were some topics the students were not fully prepared for at regional competition.
"We just play the game," Moran said. "It's really a timer thing."
Stark said he has always been into science.
"It's always [been about] how the stuff works," he said. "Just an understanding how the world works."
Moyer said she is into environmental sciences and she thinks it is "important to take care of the resources we have now."
Carabbia loves science and animals.
"I just think the sheer amount of life everywhere, especially in the oceans, that find a way to live is amazing."
The need for science is becoming more prevalent with advances in technology and the implementation of science, technology, engineering and math studies at schools across the nation.
"It's influencing everything now," Moran said. "You have to have a basic science knowledge to go into anything."
The team will head to Seattle from May 1 to 4 and will compete against 21 other teams. Several other teams are coastal teams, so Boardman is going in as an underdog.
"It's awesome to see them succeed," Moran said. "We are just excited to see a living sea star instead of a preserved star."
The group of teens is thankful to have science in their lives, especially with the opportunity they have now, thanks to it.
"We would pretty much be nowhere without science," Stark said.
More like this from vindy.com