Usas-Walcott engagement is announced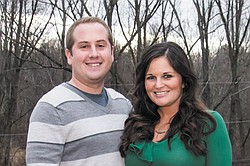 Photo
Michael W. Walcott and Jennifer C. Usas
William and Deborah Walcott of Boardman and Ronald and Maria Usas of Port Charlotte, Fla., are announcing the engagement of their children, Jennifer Catherine Usas of Naples, Fla., and Michael William Walcott of Fort Lauderdale, Fla.
The Chapel of the Holy Spirit at Duquesne University in Pittsburgh will be the site of the 1 p.m. April 26 wedding.
A reception will follow at Sheraton Station Square, also in Pittsburgh.
The future bride earned a bachelor's degree from Duquesne University and a doctor of physical therapy degree from Nova Southeastern University.
She is a physical therapist for Millennium Physician Group in Naples.
The future groom earned a degree in business from Ohio University.
He is an account manager for Keiser University in Fort Lauderdale.