American Girl Fashion Show draws near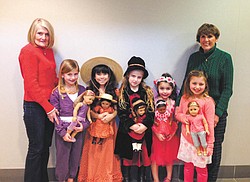 Photo
SPECIAL TO THE VINDICATOR The American Girl Fashion Show is coming to town March 8 and 9. From left are Betty Cmil, co-chair; fashion show models Katie O'Horo, Nicole Petrarca, Paige Fluent, Grace Basista and Brooklyn Ciminero; and Julie Costas, co-chair.
Staff report
BOARDMAN
Girls and dolls, friends and families will gather for the American Girl Fashion Show when performances open at 11 a.m. and 3 p.m. March 8 and 9 at Antone's Banquet Centre, 8578 Market St.
The event will highlight historical and contemporary fashions for girls and their dolls while benefiting the local programs and services of Akron Children's Hospital Mahoning Valley.
Amid lively commentary, music and decorations, more than 170 local models will present the fashions. Historical clothing, including daywear, sleepwear and special-occasion ensembles will resemble what American Girl characters Kaya, Josefina, Addy, Rebecca, Kit, Molly and Julie might have worn. Contemporary My American Girl outfits for older girls and Bitty Baby fashions for tiny tots will complete the program.
A tea party luncheon, party favors, raffles and door prizes will be part of the occasion. Tickets cost $30 per person and can be ordered by visiting www.akronchildrens.org/americangirlfashionshow or by calling 330-746-8712. Sponsorship opportunities and ads in the program books also are available.
The Kids' Crew of Akron Children's will conduct a grand raffle. Tickets are $5 each and can be bought from any crew member or by calling the above number.
Major sponsors to date are the DeBartolo Corp., the Frank C. and Norma J. Watson Family Foundation and Sangeetha K. Sethi, D.M.D.
Prize packages follow:
The Isabelle Girl of the Year Doll Starter Collection, valued at $251, contains the Isabelle doll, book accessories, dance case, leotard, dance skirt, leg warmer set, wrap sweater, kitten, doll stand and doll brush.
The Caroline Package, valued at $260, contains the Caroline doll, book, bed and bedding, nightgown and sparkly hair pick.
The Kaya Package, valued at $237, contains the Kaya doll; book; Kaya's mare, Steps High; saddle; doll stand and doll brush.
The drawing will take place at the conclusion of the 3 p.m. Sunday show. The winner does not have to be present.
Making up the American Girl Committee are Julie Costas and Betty Cmil, co-chairs; Kids Crew volunteers Susan Berny, Carole Bertolini, Irene Buccino, Cathy Campana, Georgia D'Andrea, Mary Dulay, Paula Jakubek, Gayle Kelly, Diana McDonald, Lori Mowad, Margaret Nigro, Nena Perkins, Dina Petracci, Donna Ranno, Michelle Restivo, Carol Sankovic, Debbie Shattuck, Linda-Lee Siegle, Sharman Simon, Lois Smith, Shirley Smith, Lisa Stilliana, Amanda Watanakunakorn and Pattie Welsh; and Akron Children's staff JoAnn Stock, director of development; Allison Engstrom, development coordinator; Candace Madden, development assistant; Kelsey Kalasky, intern; and Amber Gallo, show coordinator.