Green Bay overwhelms slumping YSU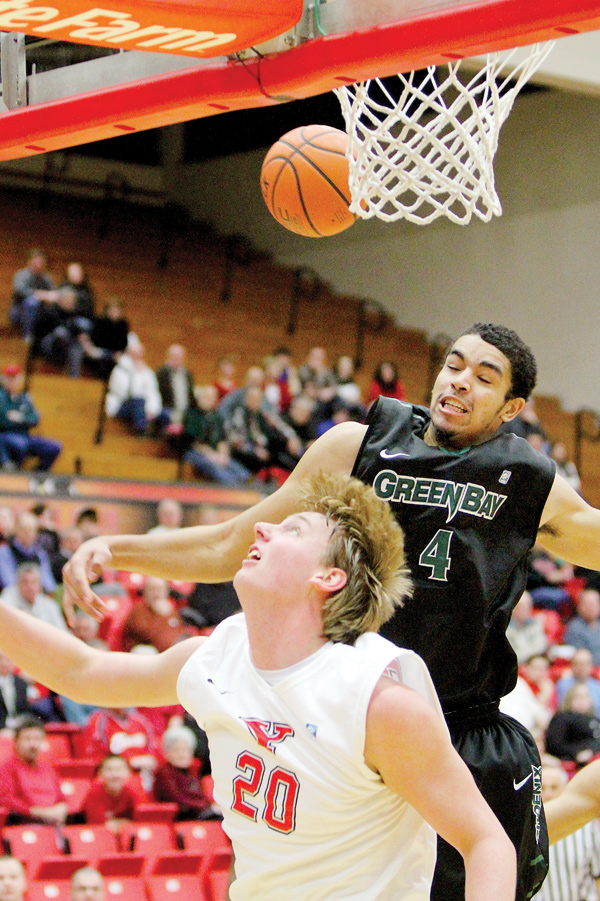 ---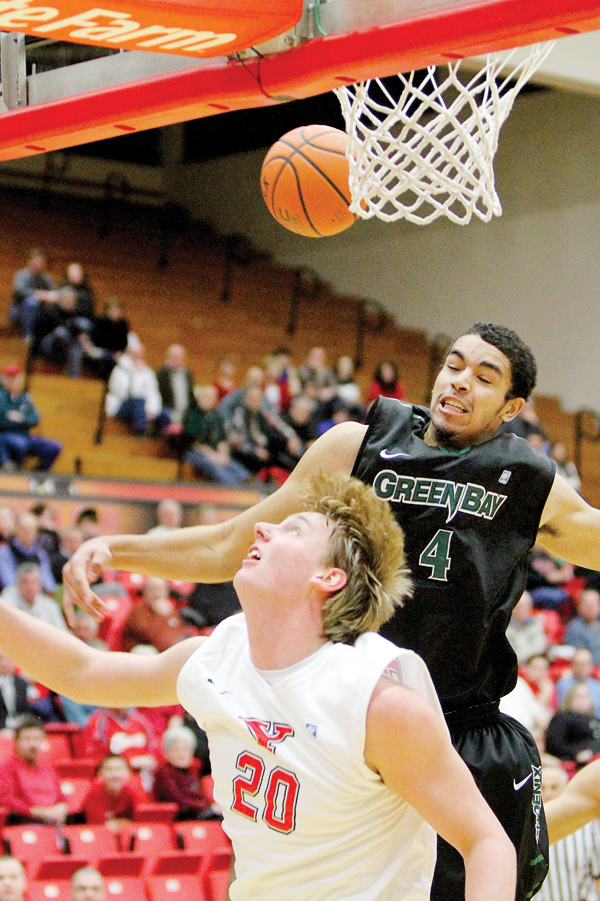 Photo
Youngstown State's Bobby Hain and Green Bay's Jordan Fouse go for a rebound during their Horizon League game Thursday at YSU's Beeghly Center. The Penguins were routed by the Phoenix, 71-40.
Green Bay overwhelms slumping YSU
By Joe Scalzo
YOUNGSTOWN
There's one good thing you can say about Youngstown State's 71-40 loss to Green Bay on Thursday night.
It's over.
Calling it a "horrific performance," YSU coach Jerry Slocum shouldered the bulk of the blame for the Penguins' worst outing of the season, saying he "overcoached" and "overprepared" for the Phoenix, who entered the game as the Horizon League's best team and spent 40 minutes proving it.
"I thought we got out-toughed," he said. "Obviously, we shot the ball extremely poorly, which led to such a bad performance. It's disappointing that it happened at home or that it happened at any point."
Bobby Hain scored 11 points with five rebounds for the Penguins (13-13, 4-7 Horizon), who have lost four straight. YSU entered the game averaging a league-best 78.6 points per game but needed a late free throw to avoid being held below 40 for the first time since 2008.
"I thought tonight we kind of put it all together for the first time in awhile," Green Bay coach Brian Wardle said. "I thought we had good focus and a sense of urgency. Our transition defense was our No. 1 key. We didn't want [Ryan] Weber or [Kendrick] Perry to get going in transition and we did a pretty good job of that."
NBA hopeful Alec Brown, a 7-foot-1 center, scored 24 points with three blocks for the Phoenix (20-5, 10-2), who broke YSU's one-year-old Horizon League record for blocks in a season. Green Bay now has 185, three more than 2012-13 Penguins.
Perry scored 10 points and broke YSU's Division I scoring record in the process. He has 1,831 points for his career — passing Reggie Kemp (1,821) — but he attempted just nine shots in one of his quietest games of the season. He did have two steals, putting him one away from the Horizon League record of 237, held by Green Bay's Terry Evans.
No players were available to talk following the game but Perry tweeted afterward, "Played way too passive for my team tonight. It's all good tho...wait til Saturday."
YSU's bench was outscored 14-3, with two of those points coming from Weber, who was questionable before the game after breaking his nose in last Friday's practice. He hadn't practiced since the injury and was clearly out of sync, shooting 1 of 10 from the field with five turnovers.
Shawn Amiker, who scored a career-best 25 points in Sunday's overtime loss to Detroit, got his second straight start in place of Weber and had just five points.
YSU's bench was also missing freshman guard Marcus Keene, who did not dress for Thursday's game and has been suspended indefinitely, Slocum said. Keene averaged 8.6 points in YSU's 15 non-conference games, but has averaged just 2.1 points in league play in 8.9 minutes per game.
Neither Slocum nor YSU gave any details on the suspension, but Keene did send out a cryptic tweet on Wednesday: "I'm glad there are some people that can truly see the good in me !"
On Saturday, the Penguins host last-place UIC (5-20, 0-11), giving them their best chance to win in weeks. To do so, they'll need to play much better than they did on Thursday.
"I think our kids played confused," Slocum said. "Obviously we were coming off three hard-fought losses and in a couple days of practice I tried to tweak some things. I take total responsibility for our confusion at times. It wasn't one of my better moments."