A day to celebrate life, love and tradition
SEE ALSO: Austintown couple sticks together through deployments, life-altering accident
By KALEA HALL | khall@vindy.com
AUSTINTOWN
Valentines day party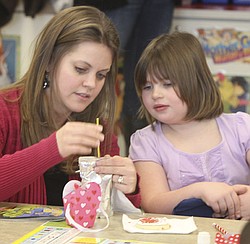 Gallery
Students celebrate valentines day during a class party.
Five-year-old Zachary Hans decorates a pair of paper hands shaped into a heart with blue, green, yellow and hot-pink stars. His mother, Tiffany, helps the other students in the Austintown Elementary kindergarten classroom with their Valentine's Day project.
She wonders who will get her son's Valentine present, even though the real present is watching her son in his environment with his 24 fellow classmates.
"This is a scrapbook moment for us," she said, the head mom in the classroom for the Parent Teacher Association.
Buildingwide, students from kindergarten on up celebrated Valentine's Day by sharing tokens of appreciation for one another, making presents for their Valentine and learning. The celebration took place most of the day Thursday because the Austintown schools are closed today.
"At this level, all of the celebrations are very important to the children," said Sheila Palumbo, Austintown kindergarten principal. "It's a part of growing up."
Heart-shaped people and other heart designs lined the walls of the school, bringing out the vibrant colors already in the halls. Cheers could be heard throughout the school as the students ate cookies and drank Capri-Sun juice provided by the PTA.
The day would not be complete without signature Valentine boxes to hold those signature Valentine cards. Each box gave a hint at the students' personalities and likes.
Zachary loves dinosaurs. In fact, he can name several of them and does so with pride. His box donned dozens of T. rexes and other dinosaurs. Zachary chose to pass out Teenage Mutant Ninja Turtle Valentine's cards to his classmates. Zachary showed off his Batman, Transformers, Hello Kitty, Angry Birds, Spiderman, SpongeBob SquarePants among several others. No candy was given, but in its place erasers, pencils and even glow sticks accompanied the Valentine cards.
"We can show we much care by giving each other compliments [too]," said Jen Kalouris, kindergarten teacher.
Before their celebration with the PTA, the students read a Valentine, sorted candy hearts and used them for mathematical problems.
They ended the day with a firecracker clap as a thank you to the PTA.
When asked who he would give his Valentine heart hands to, Zachary quietly admitted his mom.
Why?
"Because I like her," he said.