Canfield competes at Ohio Youth Wrestling Association meet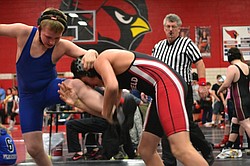 Photo
Neighbors | Submitted.Santino Marucci (right) goes for a single-leg takedown at Canfield High School Jan. 26.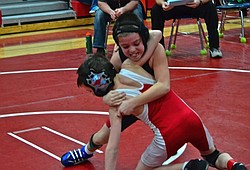 Photo
Neighbors | Submitted.Chris Roman is pictured with a grip on his opponent at Canfield High School.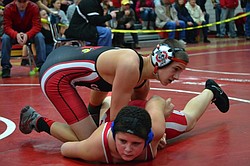 Photo
Neighbors | Submitted.Nick Crawford (top) controlled his opponentat a match at Canfield High School Jan. 26.
It was a successful performance for the Canfield Wrestling Club team at the Ohio Youth Wrestling Association sectional meet, which was offered Jan. 26 at Canfield High School.
The meet featured wrestlers from 12 youth clubs in grades kindergarten to sixth and ranging from 35 to 175 pounds.
The Cardinals advanced 15 wrestlers to the district meet. The sectional meet had a total of 21 weight classes.
CWC had six championship winners, who were Jake Bednar (49 pounds), Landon Beidelschies (76), Ethan Fletcher (79), Santino Marucci (120), Anthony D'Alesio (132) and Nick Crawford (150). Finishing in second place were Caden Kohout (76), Mike Crawford (100), Seth Hull (132), Peyton Kostelic (150) and Chris Smith (175). Alex George (105) finished third and Hunter Newell (67), Nick Cavoulas (79) and Gavin Tareshawty (175) took fourth.
"They competed real well," coach Dave Crawford said. "The teams we competed against are the ones we've wrestled all season long. Alliance, West Branch, Salem, Beaver Local. We've got a good group of kids this year. In some classes we have two guys per weight. We did about what I expected us to do."
Crawford singled out several wrestlers who are doing particularly well.
"Ethan Fletcher is having a real good year," he said. "No one really touched him going through (at districts). Anthony D'Alesio is a two-time state qualifier. He goes out and dominates guys. Nick Crawford and Peyton Kostelic have good shots at placing in the state tournament."