Austintown couple sticks together through deployments, life-altering accident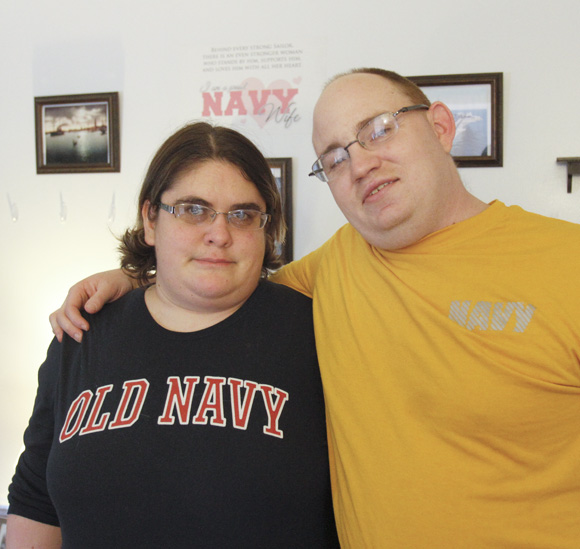 ---
By EMMALEE C. TORISK
etorisk@vindy.com
AUSTINTOWN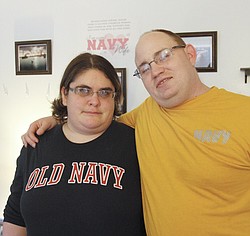 The Vindicator ( Youngstown)

Photo
ROBERT K. YOSAY | THE VINDICATOR..Erin and Ronald Musgrove have been through a lot. In December 2012, Ron Musgrove was struck by a car shortly after returning home from his second deployment to Afghanistan.
In the six years they've been together, Erin and Ron Musgrove have endured more challenges than some couples go through in their entire lives.
First there was Ron's 13-month deployment with the Navy to Kuwait. Not long after meeting in 2008 via an online dating website, the two were forced to say goodbye just as they were growing close.
Next there was his deployment to Afghanistan from 2011 to 2012.
And finally, on Dec. 9, 2012, while out celebrating his safe return of just six weeks earlier, he was struck by a car — an accident that resulted in broken arms and broken legs, a brain injury, and a months-long rehabilitation process to learn how to walk and talk again.
Through it all, the two simply "relied on each other" and their faith in God, Ron said.
"We have truly lived through our vows: For better [or] for worse, for richer or for poorer, in sickness and in health," Erin added. "There is no one that I would rather live my life with than my best friend."
Both Erin and Ron, now 32, said they were first drawn to each other by their shared — and strange — sense of humor, as well as their same love for life.
Each learned more about the other during Ron's first deployment, thanks to numerous emails and Facebook messages. By December 2008, after Ron mailed Erin an engagement ring and the best card the Navy Exchange Service Command had, they were engaged. They were married less than a year later, on Oct. 22, 2009, and today are parents to two dogs — their "furbabies," 5-year-old Buddy and 6-year-old Bailey.
"It's like being married to my twin," Erin said. "His parents even said, from day one, that we're the same person."
Erin added that the past year since Ron's accident, which he initially wasn't expected to survive, has been tough — especially financially. Ron had to spend a month in the hospital and several months in a nursing home for rehabilitation, and also undergo outpatient physical therapy.
Six years ago, the couple never expected that this is where life would lead them, but they are grateful to have found each other, they said. And even several years into their marriage, it's something they both work on daily.
To Ron, most important is never going to bed angry, being honest "to stay out of trouble," and always trying "to make the other person laugh as much as possible."
To Erin, it's accepting that life is unpredictable.
"Always tell them you love them," she said, "because you never know what's going to happen the next day."
On Sunday, the Musgroves plan to renew their vows at Canfield United Methodist Church.
They'd initially thought of waiting until their wedding anniversary to do so, especially since they weren't able to have a church wedding the first time, but changed their minds after the Rev. Susan Brown told them of Sunday's sermon.
It will center on love, and in particular "the kind of enduring love that God gives us," the Rev. Mrs. Brown said. Unlike "human love that gives up," she added, this type of love never ends.
"The wedding vows become kind of a metaphor," she said. "It's a neat way to put a real story, real faith and a real situation as a way of marking how important God's promises are to us, and God's steadfastness in those promises."
Mrs. Brown added that though the Musgroves' strong support system of family and fellow church members has helped them through recent rough spots, the couple has a "genuine friendship" and the desire to stay together, no matter what.
"You didn't hear them talking about throwing in the towel. They kept working on it, working through things," she said. "Sometimes people give up too easily. They just didn't give up."