UW director says the community is caring and compassionate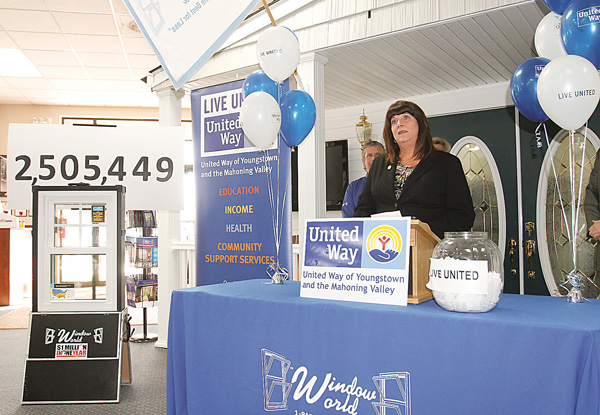 ---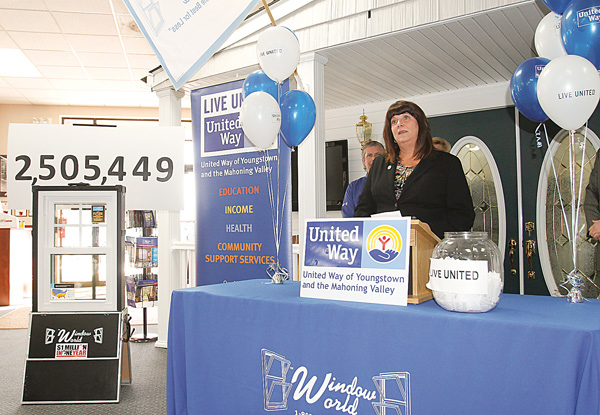 Photo
Becky Wall, chairwoman of the United Way of Youngstown and the Mahoning Valley's 2013 campaign, speaks Wednesday at UW's 2013 campaign results meeting at Window World in Boardman. Wall is vice president of Dearing Compressor and Pump Co.
BOARDMAN
The United Way of Youngstown and the Mahoning Valley exceeded its 2013 campaign goal of $2.5 million by raising $2,505,449.
The campaign results were announced Wednesday at Window World on Southern Boulevard, where the names of the winners of campaign incentives sponsored by Window World were drawn.
"Exceeding our campaign goal in these uncertain economic times speaks volumes about the caring and compassionate people who live in the Mahoning Valley," said Robert Hannon, president of the local United Way.
Becky Wall, vice president of Dearing Compressor and Pump Co., said she was honored to be the 2013 campaign chairwoman.
"Each year, the campaign is different, but as a community of foundations, corporations and individual donors, our combined gifts continue to improve the quality of life for thousands of individuals in our valley," Wall said.
She challenged companies to run workplace campaigns during the 2014 United Way campaign and "give employees a chance to pay it forward."
Hannon said about 50 percent of the money raised in 2013 came from workplace campaigns.
Wall said her role as campaign chairwoman was to make the final push to reach the goal.
"I'm proud to say that as a community, we were united by mission and driven by impact, and that helped us cross the finish line," she said.
Hannon praised Wall for "stepping up" with a personal gift, and for reaching out to friends in the manufacturing community for help, to ensure that the 2013 campaign goal was reached.
The names of winners of campaign incentives (donors of $156 or more were eligible) were drawn. They are: a $2,000 travel certificate from AAA, Rhonda M. Huff of Youngstown, a member of United Auto Workers Local 1112 at the General Motors complex in Lordstown; a $1,000 Giant Eagle GetGo gas card, Robert Magaha of Campbell, a member of UAW Local 1112; and a $500 Dick's Sporting Goods gift card, Kevin Shingleton of Canfield, employee of the Ohio Cat Co. The incentives were sponsored by Window World.
As another campaign incentive this year, Greenwood Chevrolet donated a 2014 Chevrolet Cruze Turbo Diesel. All donors of $156 or more to the 2013 campaign for the United Way of Youngstown and the Mahoning Valley or United Way of Trumbull County qualified for the drawing.
Ten finalists, five from each United Way, will have an opportunity to win the Chevrolet Cruze during the car-giveaway event scheduled for 5:30 p.m. Feb. 25 at Greenwood Chevrolet.
For the 2013 campaign, the largest gift made by a foundation was from the Frank & Pearl Gelbman Charitable Foundation. The top combined corporate/workplace campaign was General Motors Lordstown complex and UAW Locals 1112 and 1714, Hannon said.
Currently, 34 nonprofit agencies are partners with the United Way of the Youngstown and Mahoning Valley and through that partnership, the United Way distributes funds for more than 70 programs that the partnership agencies oversee, officials said.