Totani twins take down W. Reserve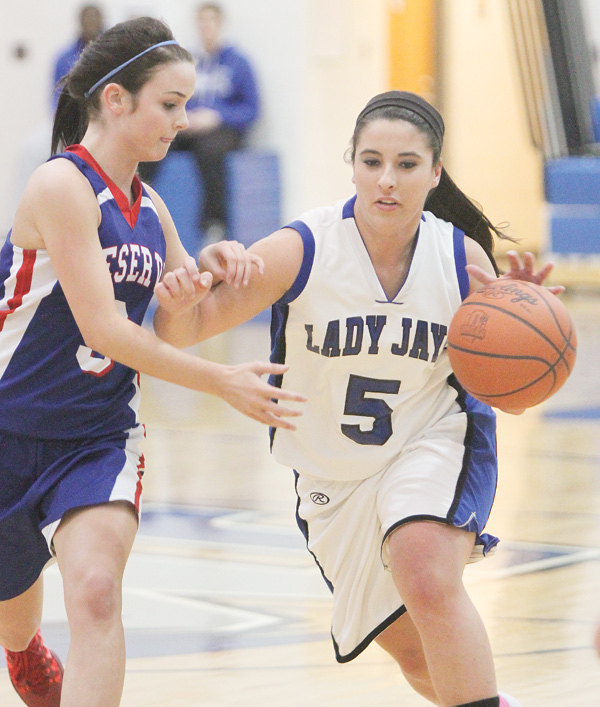 ---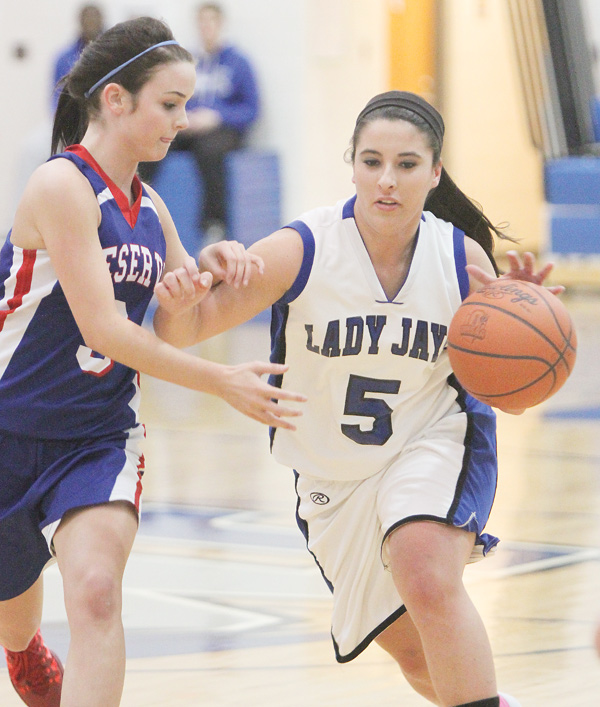 Photo
Jackson-Milton's Gabby Tharp drives up the court past Western Reserve defender Lauren Falasca during the first half other their game Wednesday at Jackson Milton High School in North Jackson. The BlueJays downed the Blue Devils, 64-62, in overtime.
By Steve WILAJ
NORTH JACKSON
Jackson-Milton identical twins Kaitlyn and Ashley Totani share a lot of obvious similarities — appearance, personalities and playing styles — and during Wednesday night's game against Western Reserve, it became apparent the freshman guards share another trait.
They both possess the "clutch" gene.
Ashley provided the fourth-quarter heroics and Kaitlyn the game-winning shot in overtime as the Totani sisters powered the Bluejays to a 64-62 victory on Senior Night.
"We all worked hard tonight for our seniors and this is our rivals," Ashley Totani said. "We felt like we had to win it for them, so we all pushed until we could barely move anymore."
Trailing 62-61 with 15 seconds remaining in overtime, Kaitlyn Totani finished a layup and was fouled with just 9.1 seconds remaining for what proved to be the game-winning play.
She then connected on a free throw to give Jackson-Milton (13-8) a two-point lead. Western Reserve missed a long 3-point attempt as time expired.
"It really came down to who was gonna get lucky and hit a shot at the end," Bluejays coach Pat Keney said. "We both missed our opportunities all through the game, so we were lucky enough to finish on top tonight."
Jackson-Milton seemed to seize control late in the fourth quarter when Ashley Totani — who finished with 16 points – scored five straight to give the Blue Jays a 57-52 lead with 1:30 left. But Aleah Hughes made a 3-pointer with 26 seconds remaining and then followed it with a steal and layup to tie the game.
Both teams had chances to win in regulation. Ashley Totani missed a jumper and the Blue Devils' Lauren Falasca came up empty on a fast-break layup as time expired.
"That was crazy," Kaitlyn Totani said. "But we knew we had to stick in there and get this win."
In overtime, the score remained tied until Kaitlyn — who finished with 13 points — connected on a jumper with 53 seconds left.
Western Reserve's Paige Ewing then tied the game on a layup with 28 seconds left and, after a Jackson-Milton turnover on an inbounds pass, Tory White made 1 of 2 free throws to give the Blue Devils (15-6) a 62-61 advantage.
That set up Kaitlyn Totani's game-winner.
"It wasn't just one person tonight," Keney said. "We wouldn't have won the game if we didn't have a team effort on the whole thing. It was a great job on everybody's part."
Maddy Tomaino also had 14 points for the Blue Jays, while Becca Jones added eight.
For Western Reserve, White scored 20 points, Hughes finished with 17 and Rachel Maslach added 16. But the Blue Devils committed 26 turnovers, much to the dismay of coach Steve Miller.
"I thought Jackson's intensity and the whole atmosphere today caused our girls to totally lose composure," Miller said. "It bothers me because we've actually been in a few big games this year.
"It's disappointing because at this point of the year, we're too good of a team to lose our composure and turn the ball over like that. They outplayed us, outhustled us and wanted it more than us for whatever reason."
More like this from vindy.com