Statistics suggest America is not 'post-racial,' speaker says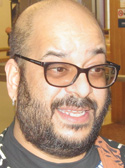 ---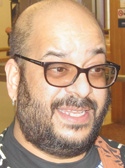 Photo
By Ed Runyan
CHAMPION
Many people have started to question whether we are "post-racial America" now that a black president has been elected, and some wonder whether Black History Month is still needed.
But Idris K. Syed, a lecturer in the Kent State University Department of Pan-African Studies, says the economic conditions of black Americans indicate little improvement in the past 50 years.
"When we look at the society, we can hope that it's post-racial, but we have to look at the realities that exist on the ground and recognize that just having one black face as the head of our country does not make things better for the multitude of black faces that exist in our communities," Syed said during a Black History Month presentation Wednesday at Kent State at Trumbull.
On the White House website, President Barack Obama's administration suggests that conditions have gotten better for blacks since he took office. It says the administration has "made strides in restoring opportunity for all Americans" and will celebrate Black History Month in February by highlighting factors such as health care and economic mobility "as creating pathways of success and security for African Americans."
But in the 50 years since the March on Washington, "economic mobility for blacks has "remained relatively stagnant," Syed said.
Black Americans are "on the bottom rung of economic mobility in society [and] have a median income of $32,068," which he said is "relatively flat."
The unemployment rate for blacks "has also remained relatively flat and relatively stable ... about double the amount of unemployment [of] their white counterparts."
In 1960, blacks earned about 55 cents for every dollar earned by whites doing the same job.
"Today, they make 66 cents to the dollar, so we've improved about 11 cents on that dollar in the past 50 years," he said.
More problematic is the incarceration rate for black males, he said. It has risen 2.3 times since 1960, while the incarceration rate of white males has increased 1.6 times. The rate of incarceration of black males is 4,347 per 100,000 black males; for white males, it's 1,313 per 100,000, he said, citing the Washington Post.
In fact, the odds of a white male with a felony record being employed are greater than the odds of a black male being employed who has no felony record, he said.
Black History Month began in 1976, endorsed by President Gerald Ford.
James M. Ritter, director of enrollment management and student services at the Trumbull campus, participated in a question-and answer session at the end of Syed's talk, adding that education affects one prison-related statistic — the rate at which convicts return to prison.
Of those who go to prison, 80 percent who get a college degree do not return to prison. But of those who do not get an education, 90 percent return to prison, he said.
Ritter visits inmates at the Trumbull Correctional Institution in Leavittsburg, some of whom are receiving a college education while in prison, he said.