Prayers for Father Popovich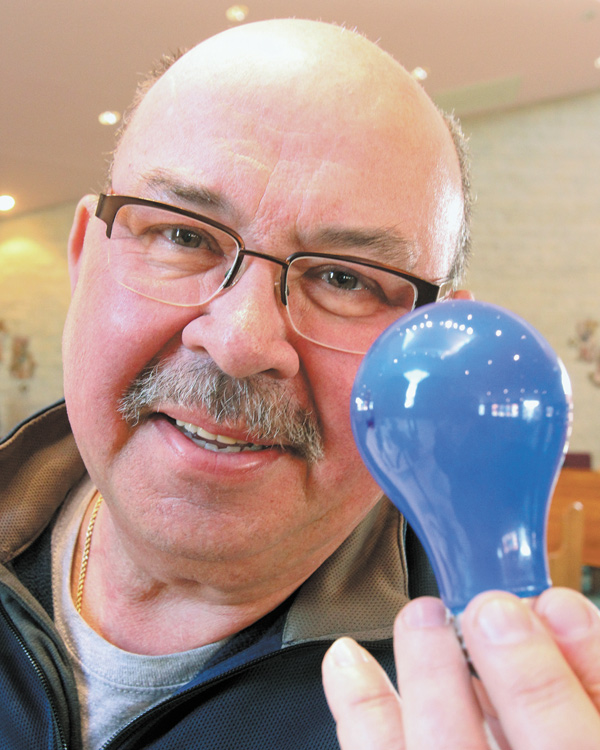 ---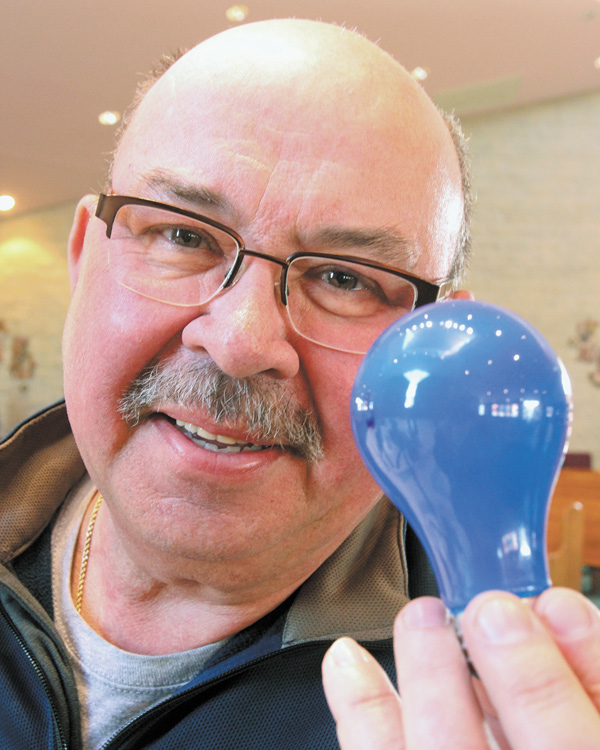 Photo
Harry Kale, church member
By LINDA M. LINONIS
linonis@vindy.com
NEW MIDDLETOWN
The communities of New Middletown and Springfield Township are lighting the way to show support and remind people to pray for the Rev. Stephen Popovich.
The pastor of St. Paul the Apostle Church suffered serious
injuries in a car accident Nov. 13 and is in rehab.
Since the accident, a blue
votive candle has been burning in the sanctuary.
Carol Craven, director of religious education at the church, explained that on the night of
Father Popovich's accident,
Sisters in Grace was conducting a Bible study. Craven said members of the women's group knew Father Popovich would want the study to continue.
It was then that Deb Donatelli, a member of the group, lighted a royal blue votive candle.
The votive candles, Craven explained, were left over from a fundraiser for a mission trip to Appalachia. About 20 people from St. Paul's participated with other churches.
"We decided to keep one lighted as we kept praying for Father Popovich," Craven said. She added the church candles are sometimes used to draw attention to a prayer intention.
Helen Parry, church secretary, sent out postcards alerting churches and the community about the blue light project and the request to show support for Father Popovich.
Craven said the support can be blue vigil lights in windows or blue bulbs in lampposts or porch lights. Blue ribbons may be tied around porch posts, fences or trees.
Barb and Jerry Wittenauer have been members of the church since 1991. She made about 100 small blue ribbons for people to wear. "It just came to me. I had some blue ribbon at home and put it to use," Barb Wittenauer said.
She tied the ribbons while her husband, who is business manager at the church, added pins. "We would do anything for Father Popovich, and the ribbons will remind people to continue to pray for him," she said.
"He is such a caring person," she continued. "He's a great people person."
Father Popovich pitched in with the pirogi crew, and his presence and personality are missed.
Mary Ann Helbley, a member of the church environment committee, made larger blue bows that are being used in and outside the church.
Craven said she and Father Popovich worked together on various activities relating to her role as director of religious education. "He is sincere and humble," she said. "He's such a good man who loves the Lord."
She added that Father Popovich was involved in the community through Springfield Township Council of Churches and Community, St. Vincent de Paul Society and prison ministry.
Barb Wittenauer said she has noticed blue lights and bows in the village. "It's catching on," she said.
Pastor Larry Klinker of Zion Lutheran said the church has blue lights and ribbons on display in support of the project.
Harry and Jayne Kale, church members since 1991, also are involved in the project. Harry Kale, mayor of New Middletown, called the effort the "blue light special." He said he hopes residents of New Middletown and Springfield Township get on board with blue lights or ribbons to show support and prayer for Father Popovich.
"He's touched the hearts of many people," Kale said.
Kale said the priest's faith "is an example to others."
"Father Popovich is spiritual but down to earth. He shows his love of God."