Fundraiser to help one-time Austintown coach in need of transplant
---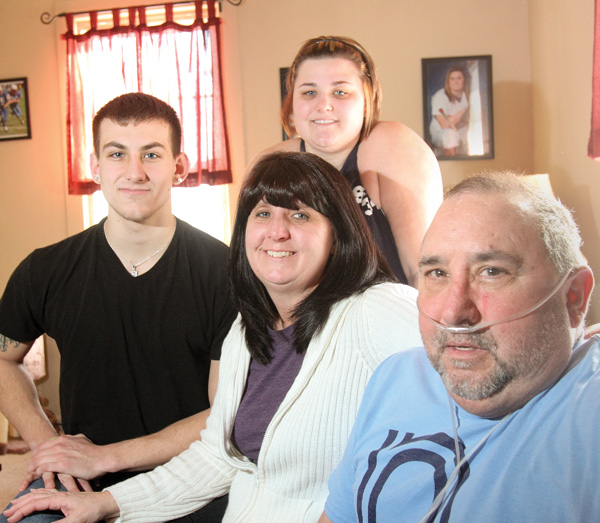 Photo
Larry Ortz, right, needs a double-lung transplant to get off the oxygen machine he is hooked to 24 hours a day. Beside the 55-year-old Austintown man are his wife, Connie, and two of his three children, Sam and Carly Ortz. A pasta dinner fundraiser, "Take a Breath for Larry," will take place from noon to 4 p.m. Feb. 23 at Austintown Middle School, 800 S. Raccoon Road. The donation is $10 for adults and youths. Children 6 and under eat free.
AUSTINTOWN
Larry Ortz sits at his living room window, hooked to an oxygen machine, watching the world go by on Canfield-Niles Road.
Just a few years ago, Larry, 55, coached Austintown Youth Baseball teams. He drove the Austintown Fitch High School band bus.
He and his wife, Connie (nee Stambaugh), raised three children, all athletes, and attended hundreds of softball, baseball and football games and track meets.
"We were band parents and sports parents. We never sat still," Connie said.
But these days, Larry, who worked 36 years at the same company until he was terminated because of his lung diseases, says a walk to the mailbox is rarely possible.
He wants his life back and a future.
For those things to happen — to live — the 1975 Fitch graduate needs a double-lung transplant.
"We're too young for this," said Connie, a 1983 Fitch graduate.
"We have an infant grandson, Carter, and future grandchildren to see grow up and a life together," she said with tears in her eyes.
Larry, diagnosed a year ago with numerous lung diseases, is near to qualifying for the life-saving transplant at the Cleveland Clinic.
What he hopes will be the final screening meeting with his transplant team at the clinic before being placed on the LifeBanc organ-recipient list is scheduled for March 5.
LifeBanc is a nonprofit organ-procurement organization in Northeast Ohio.
Getting to the point where the clinic will accept him as a viable transplant patient has been a physical and financial test for Larry and his family, and it also has tested their resolve.
He had to lose 40 pounds. Done.
He goes to mandatory physical therapy twice weekly to keep his strength up and his body mass down.
But going to the store and driving a car are pretty much things of the past. He can't be around any type of smoke, Connie said.
Now at last, the Ortzes see the light at the end of the tunnel.
"My fondest wish is to be approved and get a new set of lungs and get returned to some kind of decent lifestyle," Larry said.
But there is another elephant in the room: money.
They pay $672 a month for health insurance, but money is still an issue.
The first $5,000 in costs each year comes out of their pocket. After that, insurance pays 80 percent, leaving them liable for 20 percent of the bill.
The Cleveland Clinic does not reveal the cost of a double-lung transplant because it can vary according to circumstances. A clinic spokeswoman said, however, the national average for the surgery is $250,000.
In 2013, Larry was hospitalized several times, running up more family debt.
The clinic won't restrict a transplant for financial reasons, said Dr. Marie Budev, medical director of the lung-transplant program, and it does not require that transplant patients have a certain amount of money set aside for expenses not covered by insurance before surgery.
Dr. Budev said, however, the clinic "strongly recommends" that potential organ-transplant recipients raise funds to cover those expenses, which can include transportation, lodging, meals and medications that most insurance companies do not cover.
"We give them a ballpark idea of the amount of money they are going to need, based on our experience. Medications alone can cost $2,000 to $3,000 a month," she said.
The Ortzes said they were told they would need $15,000.
There are no substitutes for many of the transplant medications, and many of the drugs created and FDA-approved for other organ transplants also are effective in lung transplants but insurance companies won't pay because they are not FDA-approved for lung transplants, Dr. Budev said.
She said the clinic has philanthropic organizations, such as the Breath of Life Fund, funded by gifts from lung-transplant recipients and/or family members and friends from which recipients can seek assistance. Also, Dr. Budev said, many families connect with the National Foundation for Transplants, an organization that helps with fundraising.
Ortz cannot work, and Connie, a paraprofessional for Austintown schools, said she recently took a pay cut.
Their oldest son, Michael C. Prachick, has a family of his own, including the first grandson, Carter. Their daughter, Carly Ortz, stays home to take care of her father while Connie works, and Sam Ortz, a high-school senior and linebacker on the undefeated 2013 Fitch football team, has accepted a track-and-field scholarship at Youngstown State University.
A group of friends and family members has organized a fundraiser to help defray the mounting costs of keeping the Ortz home running, going back and forth to the clinic and medications now and for after Larry's transplant surgery.
The "Take a Breath for Larry" pasta dinner fundraiser is will take place from noon to 4 p.m. Feb. 23 at Austintown Middle School, 800 S. Raccoon Road.
The donation is $10 for adults and youths. Children 6 and under eat free.
Donations of money and items still are needed for the basket raffle and auction.
People who want to donate money can do so by sending a check or money order made out to the Larry Ortz Fund, to the Associated School Employees Credit Union, 1690 S. Canfield-Niles Road, Youngstown, OH 44515. They can also drop off monetary donations to any Associated School Employees Credit Union offices in Austintown, Youngstown, Lordstown, Champion, North Jackson, Boardman and Newton Falls.
The "Let's Help Larry" committee would greatly appreciate any donations that will help make this benefit a success, said Mark Cole, a committee member.
"We're blessed to have good friends," Larry said.