Published: Wed, February 12, 2014 @ 12:00 a.m.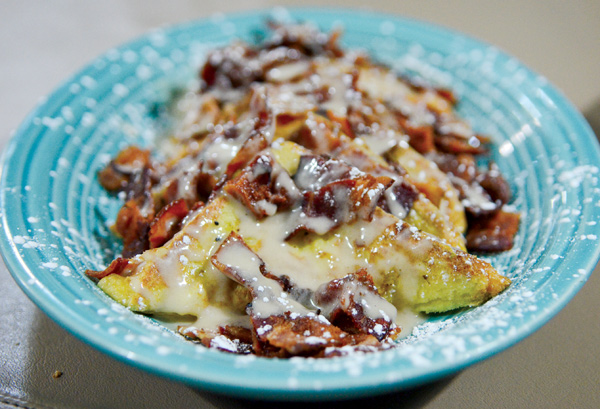 Photo
If You Go...
What: Breakfast At Tiffany's
Where: 45 S. Walnut St., Sharpsville, Pa
Phone: 724-962-1366
Hours: Monday, Tuesday and Saturday, 6 a.m. to 2 p.m.; Wednesday through Friday, 6 a.m. to 8 p.m.; and Sunday, 7 a.m. to 2 p.m.
SO HERE'S HOW THE CONVERSATION WENT:
"It's a new year so we should try something different."
"Sure, what do you have in mind?"
"Well for starters, let's try to get more than 5 miles from where each of us grew up. How about this place in Sharpsville? It's supposed to have incredible breakfast food."
"Sounds good. What's it called?"
"Breakfast at Tiffany's."
And so, the first place we go to in 2014 is a restaurant with the same name as the 1961 romantic comedy movie starring Audrey Hepburn based on a book from Truman Capote. Let the wisecracks begin again.
For the most part, people tend to take breakfast for granted. After all, how hard is it to crack a few eggs, toast some bread and fry up a side of bacon? There isn't much appreciation for the subtlety of a perfectly cooked over-easy egg. And when you've seen one breakfast menu, you've pretty much seen them all. But when you open up the menu at Tiffany's, you realize that breakfast is, albeit playful, taken seriously here.
Tiffany Daley has been running this aptly named establishment for eight years. Before her ownership, she worked 3 years as a waitress until the opportunity presented itself for her to take over the reins and put her imprint on the diner. From the first few minutes we spoke to her it was hard not be become charmed by Tiffany's enthusiasm, energy and passion at working her dream. When we asked what she thought made her place distinctive, her answer was quick and to the point, "We make everything from scratch, and I'm always looking to get my patrons to try something new. "
We started off our meal with two selections from the more than 15 types of pancakes on the menu. These are not your usual short stack of cakes. These are 10-12 inch monsters that are served with a pizza cutter for slicing. We opted for the Meaty pancake as well as the maple pecan sticky bun. The first contained a mixture of diced ham, smoky bacon and sausage within the cake. Add a little maple syrup to the top and you have a perfect blend of savory and sweet breakfast on one plate.
The second pancake was a decadent dish with homemade maple cream cheese glaze and pecans. At first glance our impression was that this dish would be too sweet. But the first bite was perfect, just the right amount of glaze to satisfy your sweet tooth. Not a drop of syrup was needed. The sweetness was enhanced by a perfect cup of coffee.
After the pancakes, Tiffany insisted we try the maple bacon french toast. A generous portion of thick-cut bread dipped in a classic egg and cream mixture, browned to perfection on the grill, topped with a maple glaze and a generous amount of crumbled bacon. This delicious dish brought you sweet, savory, and salty all in one bite.
And what is breakfast without eggs? Tiffany offers a large variety of omelets as well as a create-your-own option, which makes the combinations almost endless. We ordered the "Tiffany's Favorite" which had fried bologna, fresh cut potatoes, onions, banana peppers and American cheese wrapped in a three-egg omelet. The slight spice from the peppers and the salty, smokiness from the meat made for a very satisfying dish. Our second egg dish was a bacon cheeseburger omelet. Eggs mixed with ground beef, bacon, onions, cheddar cheese, and topped with diced tomatoes. If you're looking to avoid carbs, this is the way to go.
As not to step on the toes of our fellow Vindy foodies the Burgerguyz, we won't go into much detail about the breakfast burger. It's just an 80-20 beef patty topped with a slice of cheddar cheese, bacon, cubed potatoes, and an over easy egg. The egg was perfectly runny and the bacon was crisp. No need for any other condiments as it was perfect as served, whether for breakfast, lunch or dinner.
The menu at this diner is impressive, in both the variety and the value. The prices are very reasonable, and everything we tasted was right on target. Tiffany has expanded the dinner options and has a different special each day and fish every Friday (and yes, we did try the fish too).
Well, as the saying goes, breakfast is the most important meal of the day. And if you travel just a few extra miles in the car, you will find Breakfast at Tiffany's an exceptional way to begin your day.