Search of Judge Belinky's home yields more documents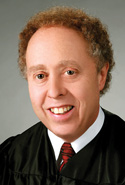 ---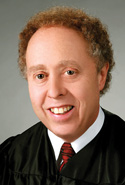 Photo
and Joe Gorman
Boardman
Authorities seized two computer towers, 39 CDs and DVDs, financial documents, campaign materials and an airline boarding pass during a search of Mahoning County Probate Judge Mark Belinky's home.
The seizures came during a Friday afternoon search of the judge's Windsor Road residence, which was conducted by Ohio Bureau of Criminal Investigation and FBI agents and sheriff's deputies, while other agents from those offices were searching probate court offices in the county courthouse in Youngstown.
In its requests for both search warrants, BCI said it was looking for evidence of engaging in a pattern of corrupt activity, tampering with records, bribery, money laundering, theft and theft in office.
The affidavits in support of the search warrants were sealed by Judge Elizabeth A. Kobly of Youngstown Municipal Court, who issued the warrant for the probate court office search, and by Judge Joseph M. Houser of the county court in Boardman, who issued the warrant to search Judge Belinky's home.
"The affidavit contains information which could compromise an ongoing investigation, if released, and which could identify uncharged suspects," wrote Edward Carlini, BCI agent, in his request that Judge Houser seal the affidavit for the Boardman search.
Judge Belinky, who admitted the agents to his residence, has not been charged with any crime.
Judge Houser sealed the affidavit "for 90 days or until further order of the court."
The home search-and-seizure inventory, filed in the Boardman court early Tuesday, said the United Airlines boarding pass and ticket taken from a second-floor bedroom closet were dated Jan. 20, 2014, but it did not identify the origin and destination of the trip for which the ticket was purchased, or who purchased it.
Dan Tierney, a spokesman for the Ohio Attorney General's Office, of which BCI is a part, declined to comment on the boarding pass and ticket.
The affidavit detailing why the search was requested also was kept sealed. Tierney said BCI agents requested that it be kept sealed because of the nature of the investigation, which he said is a common practice during ongoing probes.
Other items seized from Judge Belinky's home included a CD labeled "Judge Belinky spots," an audiocassette with handwriting, a Home Savings and Loan Co. deposit slip, miscellaneous financial documents with account numbers, and a gavel-shaped campaign souvenir pencil found in a kitchen pencil cup.
Agents served the home search warrant at 3:15 p.m. Friday, and they provided a copy of the warrant and inventory of items seized to Atty. J. Gerald Ingram, who represents Judge Belinky. Ingram declined to comment on the case Tuesday.
Judge Belinky, who said Monday he was cooperating with the investigation, declined to comment further Tuesday.
Sheriff Jerry Greene deferred comment to the attorney general's office.
In the probate court search, carried out at the same time as the home search, agents seized bank records, campaign finance reports, lists of campaign donors, computers and electronic media.
Judge Belinky was appointed in 2007 by former Gov. Ted Strickland to replace Judge Timothy Maloney, who retired.
The next year, Judge Belinky retained his seat by defeating Atty. Susan Maruca and Judge James Lanzo of Struthers Municipal Court in the Democratic primary and then defeating his Republican opponent, Judge Scott Hunter, in the general election.
In this year's May 6 Democratic primary, Judge Belinky is being challenged by Maruca and Atty. Chris Sammarone.
The county Democratic Party's central and executive committees will meet at 11 a.m. Feb. 22 in St. Luke's Banquet Hall in Boardman to consider endorsements in legislative, countywide and judicial races.