Lt. Gov. kicks off state's youth drug abuse prevention initiative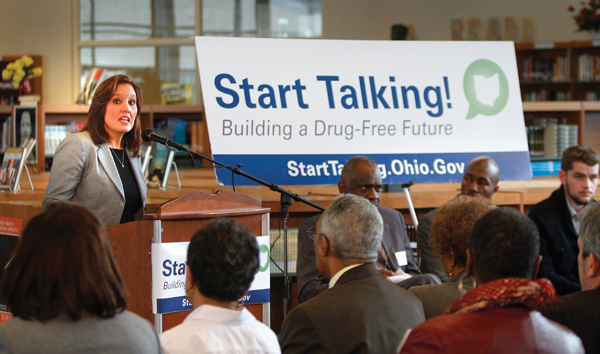 ---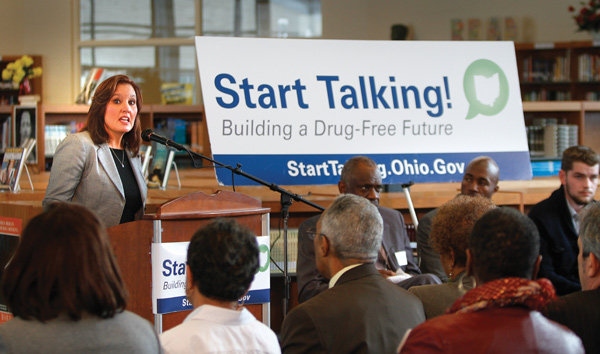 Photo
Ohio Lt. Gov. Mary Taylor speaks at the kickoff of Start Talking! Ohio's Youth Drug Abuse Prevention Initiative on Monday at East High School.
By Denise Dick
YOUNGSTOWN
Sept. 25, 2011, started just like any other Sunday for Dale Batdorff.
The Stark County man got up and headed to Bob Evans for breakfast, enjoying the sunny day and thinking about what he planned to accomplish that day. The next day, his son, Dustin, 21, was to check into rehab for a heroin addiction.
He didn't make it.
While Batdorff was at the restaurant, he got a call from his wife telling him that his son was dead from an overdose.
Dustin was a high-school athlete who never wanted for anything.
"How did he die of a heroin overdose?" Batdorff asked.
He was a speaker Monday at East High School for Start Talking, one of several kick-off events across the state for Ohio's Youth Drug Abuse Prevention Initiative. Lt. Gov. Mary Taylor introduced the event.
"This evil thing came into my home and grabbed my son and didn't let go until he was dead," Batdorff said.
Start Talking encourages parents and other adults to talk to their children about drugs as a way to prevent drug abuse.
Tracy Plouck, director of Ohio Mental Health and Addiction Services, said studies have shown that students are 50 percent less likely to use drugs if an adult discusses the issue with them.
The website, www.starttalking.ohio.gov, offers tips and resources for parents and other adults who have contact with children to start the conversation.
"As a parent, it seems to me this is an epidemic," Taylor said. "It's going to take a community of people — a state of people — attacking it from multiple perspectives."
To the students gathered in the school's media center to hear the program, she urged them to just say no to drugs.
"It's just saying no that's going to give you the best results," Taylor said.
Even if they go through rehabilitation to get off of drugs after becoming addicted, it's a very difficult, lifelong battle, she said.
"Each one of us has a role to play in keeping kids off drugs," Taylor said.
Drug addiction doesn't recognize racial, geographic or socioeconomic boundaries, but the lieutenant governor said she believes it's a war that can be won if everyone works together.
Deryck Toles, a former National Football League player who now operates Inspiring Minds in Warren, said that while he was growing up, both of his parents struggled with crack cocaine. The struggle continues for his father.
It was a coach who instilled hope in him, but that sense of hope is something he sees lacking in young people today.
"I'm a true believer that you have to provide young people with more options." Toles said.