Belinky search warrant returned
Belinky Documents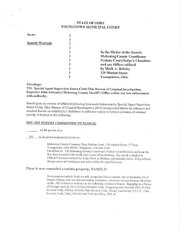 Document
Search warrant and related documents regarding an investigation of Judge Mark A. Belinky.
By joe gorman
and David Skolnick
youngstown
Investigators seized campaign and financial records of Mahoning County Probate Judge Mark Belinky, looking for evidence to possibly file criminal charges, including engaging in a pattern of corrupt activity, tampering with records, bribery, money laundering, theft, and theft in office, according to a search warrant.
Documents taken from Judge Belinky's court office in Youngstown include bank records, campaign finance reports, lists of campaign donors, computers and electronic media, according to the return of a search warrant signed by Youngstown Municipal Judge Elizabeth Kobly. A search warrant also was served at his Windsor Road home in Boardman.
The state Bureau of Criminal Investigation served warrants Friday with the assistance of the FBI and the Mahoning County Sheriff's Office.
Judge Belinky's attorney, J. Gerald Ingram, declined to comment.
Judge Belinky also declined to comment earlier in the day other than to release a statement saying that despite the search Friday, the court is open for business. Judge Belinky said he has been advised by his lawyer not to say anything.
"I'd like to comment, but I'm not allowed," the judge said.
Judge Belinky said he has not considered stepping down.
The returned warrant for the search of his home was not available Monday.
Items taken
Among campaign items taken during the three-hour search of his office are primary and general election campaign-finance reports from 2008, the year he was elected probate court judge; canceled checks from his failed 2004 race in the Democratic primary for county commissioner; and the campaign-finance report for the Committee For Our Future, which organized efforts in the mid- to late-2000s to urge approval of half-percent county sales- tax renewals.
Among bank and financial records, agents took bank statements from 2007 and 2007 tax returns; and an amended W4 form from 2007; financial disclosure statements from 2007 and 2008; and personal financial statements.
Agents also seized information regarding property belonging to the Venerose family in 2007. David Venerose Jr. was ordered to pay $67,000 by a visiting probate judge in 2011 to the estate of a woman, after questions arose about a woman who he was appointed a guardian over in probate court.
Venerose obtained authority from the woman in 2008 to handle her affairs, but Judge Belinky voided those documents in 2009, because of concerns over the woman's health, living conditions and finances.
The case of the elderly woman, who has since died, went to Visiting Probate Judge Denny Clunk after Judge Belinky removed himself due to concerns expressed by Venerose over the judge's ability to be impartial. Venerose had campaigned for Judge Scott Hunter against Judge Belinky in 2008.
Venerose was charged with perjury in the case, pleaded guilty and was sentenced to probation for one year.
The search warrant did not specify what information agents were looking for or why they took the Venerose information.
Also listed on the search warrant is an item termed "Oakhill notes," which would likely be about a 73-count criminal indictment against county politicians and Anthony Cafaro Sr., a local businessman, all of whom opposed the relocation of the county Department of Job and Family Services from the Cafaro Co.-owned Garland Plaza on Youngstown's East Side to the county-owned Oakhill Renaissance Place on the South Side.
The charges were dismissed in July 2011 after special prosecutors from the Ohio Ethics Commission and Lorain County said their inability to obtain about 2,000 hours of tape recordings held by the FBI and provide them to the defense made it impossible to proceed.
The warrant for Judge Belinky does not say what information is being sought or why that was taken. Like all the common pleas judges in the county, he signed two extensions of a grand jury investigating Oakhill.
Tax problems
Judge Belinky has battled tax problems in the past. In 2011, the IRS placed a lien on his home for owing $32,000 in income taxes from 2008 and 2009.
Judge Belinky and his wife were put on a payment plan to pay the taxes. The judge said then that the tax problems were caused because of income he earned when he closed out his private law practice, where he was self-employed at the same time he began his career on the bench.
Judge Belinky also had his paycheck garnished last year because of $20,000 he owed on a loan from 2008 plus more than $7,000 interest.
As probate judge, he makes about $105,000 annually.
Judge Belinky was appointed to the court in 2007 by former Gov. Ted Strickland to replace Judge Timothy Maloney, who retired. In 2008, Judge Belinky won re-election, beating Struthers Municipal Judge James Lanzo and Susan Maruca in the Democratic primary and then defeating Mahoning County Court Judge Scott Hunter in the general election.
In this year's Democratic primary election, in which he filed paperwork to run last week, Judge Belinky faces a challenge from Maruca again as well as Christopher Sammarone.
As of Dec. 31, Judge Belinky had no money in his campaign fund. His committee also owes him $80,125 in loans he gave it during his various campaigns.
His opponents
"Obviously when you have law enforcement going into a court and removing files and computers, that raises alarms," Maruca said. "Everybody has a right to be gravely concerned ... It's a very serious, serious situation."
Maruca criticized Judge Belinky's Monday statement that read: "As a person, I have cooperated with law enforcement in this investigation and will continue to cooperate."
"If you're cooperating with law enforcement, they don't need a search warrant," she said. "There's got to be more explanation than his one-sided statement."
As for Belinky resigning, Maruca said there are rules in place for attorneys and "if there's something that merits him stepping down then he should do it. I don't know about the investigation's details. He knows these rules and facts. He'll have to act accordingly."
Sammarone said, "It's surprising to me the court is involved."
When asked about stepping down, Sammarone said, "That's a great question for Mark Belinky. I don't know the extent of what's being investigated."
The investigation being made public less than three months before the May 6 Democratic primary "can help my campaign, but it's not what I'm basing my campaign on," Sammarone said. "Traditionally, it's difficult to beat an incumbent."
Disciplinary process
In Ohio, a "disciplinary counsel" investigates disciplinary matters pertaining to lawyers and judges, and prosecutes them before the Board of Commissioners on Grievances and Discipline and the Ohio Supreme Court.
Scott Drexel, disciplinary counsel-designate, declined Monday to comment on legal issues concerning Judge Belinky because Drexel said those matters may come before him in his official capacity as disciplinary counsel or before the board.
Drexel, who is licensed to practice law in California, has been appointed by the board and confirmed by the Ohio Supreme Court but is still listed as disciplinary counsel-designate because his application for admission to the Ohio bar is pending.
Although he wouldn't comment on the Belinky case, Drexel said that, if a judge is indicted on a felony criminal charge, "the Ohio Supreme Court would typically remove that judge from the bench pending the outcome of the criminal proceeding."
Judge Belinky has not been charged with any crime.
The mere fact that a search warrant is served "doesn't establish that the person upon whom it was served has committed any wrongdoing," Drexel said.
As to whether a judge should stop hearing cases if his home or office are targets of search warrants, Drexel said: "That's an individual decision to be made by the individual judge after reviewing and considering his or her responsibilities under the code of judicial conduct."
Contributor: Staff writer Peter H. Milliken