Canfield woman's quilt display in Nissen Gallery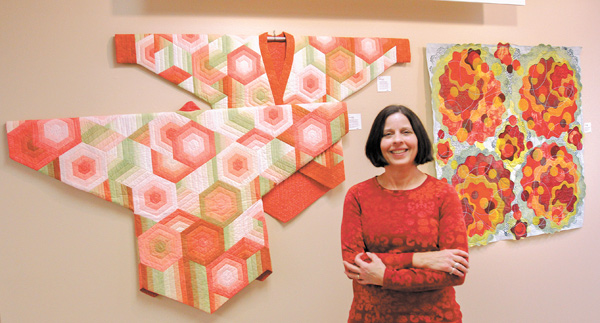 ---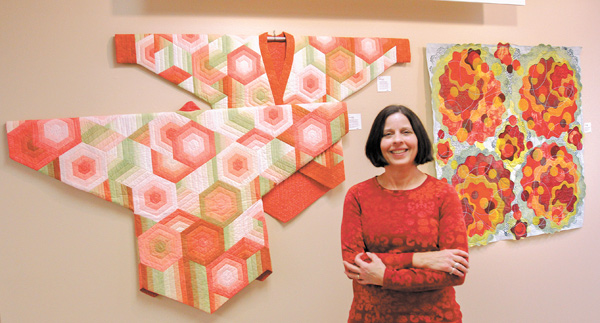 Photo
Cheryl Deibel, of Canfield specializes in quilting kimonos. She has a show of her colorful quilted works, including those seen in these photos, at the Nissen Gallery at ValleyCare Trumbull Memorial Hospital in Warren through March 5.
By Kalea Hall
Canfield
For Cheryl Deibel of Canfield, life is all about color.
That sentiment spreads to her vibrant textile-art creations.
Several of her pieces are brightening a hallway in the Nissen Gallery at ValleyCare Trumbull Memorial Hospital until March 5.
"It's all about color," Deibel said of her creations.
Back in the late 1980s, Deibel needed some new kitchen curtains but could not find any she liked.
"I found an ad for fabric dyes, so I screen- printed my own," she said.
In her screen-printing process, she used an embroidery hoop with organza – a thin, sheer fabric — and a piece of a windshield wiper as a squeegee to make the design over a stencil with colors.
"I did Roman shades, and they turned out pretty nice," Deibel said. "I still had dye left over, and I started playing with the dyes."
She made a purple and yellow kimono with the dyes and sold it. The library was her source of information for textile art.
"I just kept playing with color," she said. Once she ran through the color wheel with many kimonos, she started on quilts.
She went back to school at Kent State University to get a bachelor's degree in fine arts for textile art in 2007.
Craft comes naturally to Deibel, as her creations show. She started tatting (handcrafting lace by a series of knots and loops) this year.
Each design has a name and distinctive characteristics. "Palinopsia," or sunspots, was designed as a quilt-wall hanging with stitched circles and vibrant red, orange and yellow colors. There is a "Blue Jay" cape with the feathers and wings of a blue jay, which was a more difficult creation because of the detail. Another bold collage quilt of blue intertwining circles is called "Blue Danube."
Deibel also tried a digital print piece for which she treated the fabric, dried it and then ironed it to freezer paper and put it in the printer.
The length of time it takes to make a piece varies from weeks to months depending on the detail.
"I am more process driven than making statements," Deibel said. "It's about the color and the dyeing and putting it together."
Deibel believes art is about seeing the underlying structure of what is there.
"It's a thing of seeing," she said. "It's how you look or don't look at the world around you."
Deibel sells her quilted creations. Contact her at cedeibel@gmail.com if interested.