Ice is nice for skaters at Lily Pond at Mill Creek MetroParks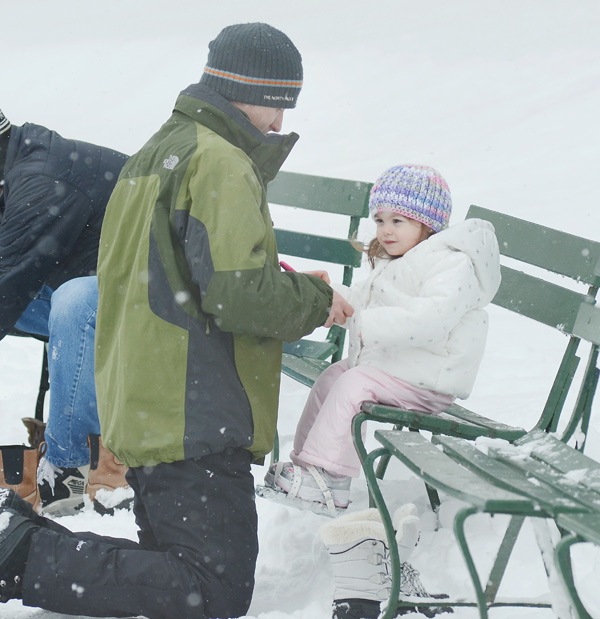 ---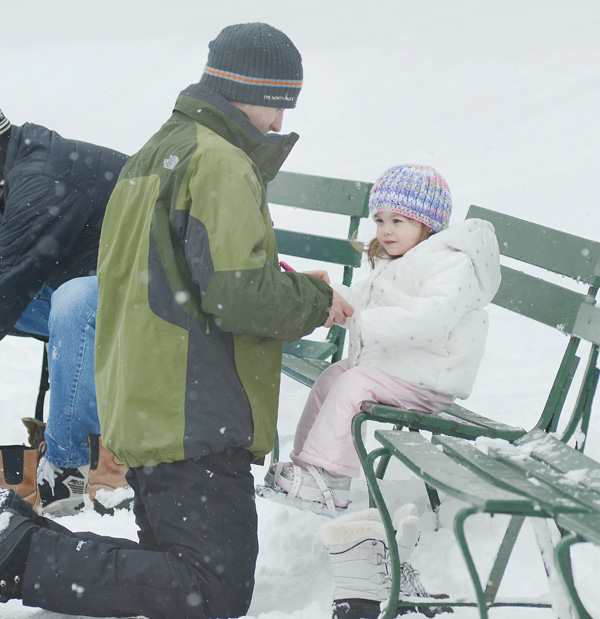 Photo
Brandon Gintert of Champion puts gloves on his 2-year-old daughter, Claire, before they take to the ice Sunday afternoon at the Lily Pond at Mill Creek MetroParks. Gintert and his wife, Carly, said they enjoy outdoor activities and frequent the park.
By LINDA M. LINONIS
YOUNGSTOWN
Conditions that usually force many people to stay at home brought about 75 skaters and onlookers to the Lily Pond at Mill Creek MetroParks on Sunday.
Snow and a temperature of 24 degrees motivated the winter sports enthusiasts.
Katie Smaldino, a MetroParks police officer, joked that the park "doesn't have a Zamboni" to clear and smooth the ice, but skaters didn't seem to mind a bit of snow on the frozen pond. "It's exciting to see so many people skating," she said.
The last time the Lily Pond was open for skating was in 1990. In a previous Vindicator story, Samantha Villella, MetroParks community engagement director, noted that the ice had to be tested to determine its safety. Recent low temperatures led to the pond freezing over more than it has in many years, said Steve Avery, planning and natural resources director at the park.
The Ginterts of Champion brought their 2-year-old daughter, Claire.
"I grew up skating," said Carly Gintert. "The setting couldn't be more perfect."
Snow framed the surroundings, and a gentle snow fell during part of the day, creating a scene like one on a Christmas card.
"We just like being outdoors," said her husband, Brandon Gintert, who also skis.
After ice skating, the family was off to go sled riding in the park.
Nicholas Dubos of Pittsburgh, formerly of Campbell, was in the Valley to visit his father.
"I used to skate all the time at the ice rink and at Lake Newport," Dubos said. The rink was in the park and was closed in the early 2000s, he said.
"I like winter and being out in nature," said Dubos, who also said he skis.
Dubos said he writes an annual letter to the editor to The Vindicator about reopening or relocating the park rink. "You can't beat skating outdoors," he said.
Dubos has a Facebook page on Friends of Mill Creek Ice Rink.
Colleen McFarland of Youngstown and her fiance, Don Powell of East Palestine, weren't skating but came to watch the action on the Lily Pond. "We just love the park," McFarland said. "I'm thrilled the pond is open for skating."
Powell said they shopped around for skates but couldn't find any.
Nick Ghinda of Struthers remembered "as a kid skating on Yellow Creek Pond" in that city.
He and five family members came to the pond to play ice hockey. "I hope this continues," he said, adding ice skating on the pond brought back childhood memories of the activity.
Arianna Toth and her mother, Jackie Toth, both of Niles, also showed up at the Lily Pond. Arianna said she remembered skating at the rink at the park. It was so much fun for her then that she got involved in competitive figure skating until she was about 17.
Another Niles resident, Shannon Swegan, said she bought hockey skates for her 12-year-old daughter, Deborah. "I like skating because it's something different and something new I can teach somebody," Deborah said.
Her mother, who was watching the ice skaters, said she remembered skating at the park as a youth.
The Lily Pond will be open unsupervised during normal park hours. Specified supervised hours will be from 3 to 5 p.m. Fridays and 10 a.m. to 6 p.m. Saturdays and Sundays through Feb. 23. The pond will be open for skating as long as the ice is safe.