Campbell Greek festival touts ethnic foods and fun
By Sean Barron
CAMPBELL
GYROS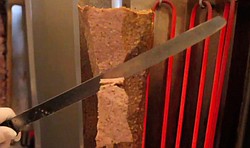 Video
What is the proper pronunciation of the popular Greek sandwich?
Anyone who's wondering how to spend the remainder of this midwinter weekend can take advantage of three F's: food, fun and festivities.
"I brought the recipe from Greece 10 years ago," said Bill Likouris, referring to a type of marinated pork-loin meat he has prepared that will fill many gyros.
The popular food is one of many that are among the main attractions of the biannual Greek festival in the community center across the street from Archangel Michael Greek Orthodox Church, 401 Twelfth St.
The gathering is to bring people together to celebrate Greek culture, customs and traditions, organizers said.
The free, three-day fest kicked off Friday and continues from noon to 9 p.m. today in the center, said Likouris, who is also event chairman.
Likouris explained that his recipe also calls for olive oil, peppers, spices such as oregano and garlic, lemon and a few other ingredients. About 200 pounds of the food was sold Friday, he added.
The hundreds of people who attended the festival Saturday were treated to a potpourri of food and entertainment, a highlight of which were Greek folk dancers as young as 5 who joined hands and danced to a variety of tempos.
For sale is merchandise that includes books, CDs and DVDs related to Greek culture, hand-crafted jewelry, necklaces and bracelets and religious items.
Also available are plenty of pastries such as galaktobouriko (a custard sandwich between layers of phyllo dough); kataife (shredded phyllo dough wrapped around nuts and spices); and trigona (small folded triangular desserts with spices).
"I've been baking since I was 12 years old," said Helen Frangos, who made many of the pastries, including the galaktobouriko treats. "I like to experiment – American, French, Greek, whatever."
Those with a sweet tooth also can thank Frangos for the torte dessert, which is a layered sponge cake with custard, cream and toasted almonds.
In addition, many attendees spent $2 to $5 to enjoy a menu that featured rice pudding, Greek salads, tiropites (cheese-filled pastries), spanakopites (similar to tiropites but with spinach) and french fries. Some people were content to buy Greek doughnuts for $6 per dozen.
Others who desired a form of spiritual food to fill their plates sought Jon Lambrinos.
Lambrinos, who works for a Campbell business called Create Your Own Spiritual Shirts, added such messages to T-shirts and hooded sweatshirts per customers' requests before delivering the finished products to them. A big seller was a prayer many Greeks say: "Jesus Christ, son of God, Have mercy on me, a sinner."
"We say that prayer to block bad thoughts," he explained.
Other shirts were emblazoned with a double eagle, which is an Orthodox symbol, as well as the Orthodox cross and the first two letters of Jesus Christ's name, Lambrinos continued.
"This is the second year we've done it. There was a good turnout last year [at the festival], so we did it again this year," he said, adding that profits go to the church.
The festival also included a basket raffle.