Beatlemania! A twice-in-a-lifetime experience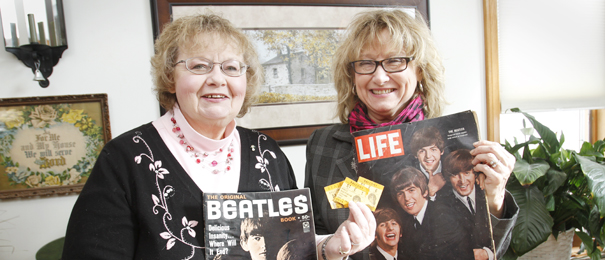 ---
By LINDA M. LINONIS | linonis@vindy.com
Memories of The Beatles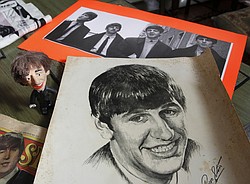 Gallery
Linda Linonis and her cousin Patti Albert show their Beatles memorabilia which includes tickets from two concerts they attended.
I enjoyed a once-in-a-lifetime Beatlemania experience twice.
With family members and friends, I attended The Beatles concert on Tuesday, Sept. 15, 1964, at Cleveland Public Auditorium and Sunday, Aug. 14, 1966, at Cleveland Stadium. Tickets for both were $5.50.
The prelude to the first concert was The Beatles appearance Feb. 9, 1964, on "The Ed Sullivan Show." Since then, it's been a long and winding road for baby boomers and succeeding generations who embraced the rock group, which literally – and musically – changed the world.
Some will smile when I say my family taped The Beatles on the Sullivan show. By "tape" I mean reel to reel: no VCR or DVD recorder or DVR existed in 1964. I'm wondering where that tape is. It's packed away somewhere to be found some day.
I remember sitting in front of our TV in our home in Farrell, Pa., practically on top of the screen. My dad, the late Chester J. Linonis, probably commented about those musicians who needed a haircut and to sit back from the screen. I also remember playing 45s of "She Loves You" and "I Want to Hold Your Hand" over and over.
My mom, the late Mary "Peggy" Linonis, who loved all kinds of music, appreciated the sound of The Beatles. I remember her saying how they were so different and would make a difference. She, of course, was right on.
Maybe that's how and why we ended up at two Beatles concerts during the 1960s.
I didn't remember how tickets were acquired to The Beatles concert Sept. 15, 1964, in Cleveland. But my cousin, Patti Zelch Albert of Mercer, Pa., formerly of Farrell, filled in that information.
Patti said her dad, the late John Zelch, who was a group leader in the transportation department at the former Sharon Steel, now Duferco, in Farrell, got the tickets. She recalled the six tickets were given to her dad from someone at Kaiser Nelson Transportation Co., which did work in the steel plant.
Patti was 12 years old at the time, and I was 13. With us were her mother, my aunt and my mother's sister, the late Catherine Zelch; my mom; my brother, Nick, then 10, and a friend of mine, Monica Klecic Lyons, formerly of Farrell now of Ross Township, Pa.
Patti's dad drove; knowing my dad, he was glad to stay at home.
We sat in the balcony on the right side in the second row.
Patti and I remember her mom saying we were all going to die because everyone was jumping and the balcony was going to collapse.
"I remember girls standing on the balcony railing with their parents holding on them," Patti said.
You could feel the balcony moving. It was probably creaking but the screaming drowned that out.
Cleveland police officers lined the front of the stage on the floor. Patti said she remembered that the sound system was poor, and John Lennon seemed irritated by that. At one point, fans rushed toward the stage, straining to hear better. The concert was stopped until people returned to their seats.
Looking back, Monica said that scene set the stage for the mosh pit of the 1980s.
The concert went on, but we don't remember actually hearing much, if any, of the music.
"I vaguely remember it," Nick said. "You couldn't hear them. Looking back, their amplifiers were so small compared to the sound systems today. I do remember the whole place shaking."

Patti and I still have ticket stubs from that concert.
I see it now as more of the experience than listening to the music. I know I've never forgotten going, though other details have faded with time.
"No one was as good as The Beatles or ever will be," Patti said. "They never made bad music."
Exiting after the concert was another mad rush down ramps. Did we naively think we might see The Beatles leaving the scene? Everyone was lucky they didn't get trampled.
Monica said she remembered us leaving for the concert after school at St. Anthony School in Sharon, Pa. She recalled her mom telling her she'd be going to school the next day even though we'd get home late.
"I can remember we were beside ourselves with excitement," said Monica, the mother of two adult sons and three granddaughters. "I knew we'd be tired, but I knew I would want to tell everyone about the concert."
Monica also remembered what she wore: a black jumper with a black and white blouse. That outfit matched "The Beatles boots" we both wore ... short boots that came up to the ankle.

The concert Aug. 14, 1966, at the old Cleveland Municipal Stadium was bigger, noisier and crazier than the one at public hall.
Monica's older brother, John, who worked at a radio station in Akron, acquired the concert tickets. Monica still has a ticket stub, a treasured memento. We were in Section 12, Box 402. My ticket stub might be in a Beatles scrapbook I compiled; I've looked but can't put my hands on it.
Monica and I both remembered we seemed to be sitting by first base, and the stage was in the area of second base and the pitcher's mound. I remember thinking how small they looked as they ran from the dugout area to the stage.
The screaming of thousands of fans drowned out all hope of actually hearing The Beatles sing in person.
This time it was Monica's parents, the late Ann and Frank Klecic who lived in Farrell, who took us to the concert. Monica's sister, Karen, also went. "I can remember my parents sat at either end, and we were between them," Monica said.
Reminiscent of the first Cleveland concert, fans rushed the stage. The Beatles were whisked away, and the concert stopped.
"When fans rushed the stage, my mom said, 'You're not going. Stay in your seat,'" Monica said.
Afterward, Monica and I remembered a police officer carrying an armload of shoes that fans had lost in the mad scramble. It was an odd image.
Monica and I agreed it was more the experience of being there and part of something so big.
"I feel like I was part of history," she said. "It's one of the top six events in my life."
Some may think of it as uncool that our parents were with us at the concerts. That practice was common years ago but not so much now. But remembering it now, I think how cool it was they wanted to give us such a wonderful experience.
In anticipation of my 40th birthday, my brother Nick, now of Austintown, and his wife, Bev, bought birthday tickets for me and my companion, Dennis Buchholz, for a Paul McCartney concert. We all trekked to the old Cleveland Stadium on July 20, 1990.
The venue reminded me of Beatles concerts so long ago. But, technology figured in the event — Paul was projected on a huge screen.
"That concert was so different from The Beatles concert," Nick said. "People came to listen to the muisc."
Patti and I talked about how The Beatles were the antidote and alternative to the grief, hopelessness and unrest that overwhelmed America in the wake of the JFK assassination, the civil rights movement and Vietnam War. Monica also mentioned how the country "needed something" after Kennedy's death.
Fate, serendipity and cosmic forces brought four young musicians together at the right time and place in history. The Beatles music infused life into America, where optimism and spirit seemed to have been damaged by current events.

We saw The Beatles as refreshing and uplifting voices that inspired, challenged and comforted. Patti and I talked about how the genius of their music is that it is as good today as it was yesterday and decades ago.
Monica recalled how we spent a day watching "A Hard Day's Night" multiple times at the former Columbia Theater in Sharon and "Help" at the former Hickory Drive-in.
Patti said their humor and the fact they didn't seem to take themselves so seriously were appealing traits.
Life pulled the group apart ... I can remember crying about their breakup. But they remained mates and their music endures.
As it's been said, it's the soundtrack of our lives.