Published: Fri, February 7, 2014 @ 12:09 a.m.
Video Set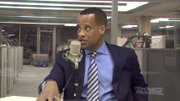 Jay Williams, the former mayor of Youngstown, joins David Skolnick and Louie b. Free to discuss his political career and his vision for Youngstown's future.
SEE ALSO: Senate panel recommends Williams to head federal agency
BOARDMAN
Former Youngstown Mayor Jay Williams, addressing local business leaders Thursday, touted this region as a "laboratory and a bellwether" for innovation and economic development.
"There's that ability and that willingness to do that here because, sometimes, it's out of necessity," said Williams, who served as mayor from 2006 to 2011. "Things that are successful here really bode well for the rest of the country."
Williams was the keynote speaker at the Youngstown/Warren Regional Chamber's Economic Forecast Breakfast in front of 460 people, the largest crowd to attend the annual event.
He credited local investments with increasing opportunity in the Valley, as the country's economy rallies behind a "manufacturing renaissance" and an increasingly healthy auto industry.
Williams said the General Motors plant in Lordstown, which employs about 4,500, was a critical part of the automaker's rebound in the years after the federal bailout of Detroit. He is the executive director of the U.S. Office of Recovery for Auto Communities and Workers.
"GM Lordstown became the go-to plant for the corporation both in its crisis time and its decision to restructure," he said.
Since then, the Lordstown-built Chevrolet Cruze has been GM's second-best-selling vehicle, and the auto industry has seen five-consecutive years of growth. Sales across the industry are expected to top 16 million units this year.
"The U.S. auto industry, while still facing significant challenges, is of significant importance to the ongoing U.S. economy and, certainly, the economy here in the Mahoning Valley," Williams said.
Williams also pointed to Vallourec Star, which makes steel pipes for the oil and gas industry, for creating jobs and supporting domestic energy production.
Vallourec Star's success, he said, shows that America's ultimate goal of achieving energy independence in the coming decades is practical and economically beneficial.
"The fact that we have a significant investment here in the Mahoning Valley shows that there are great opportunities," Williams said.
He praised America Makes, formerly the National Additive Manufacturing Innovation Institute, for developing new manufacturing technologies that lower overhead and encourage businesses to hire more domestic workers.
The Regional Chamber's breakfast, at Mr. Anthony's Banquet Center in Boardman, highlighted the organization's efforts to grow, attract and retain business in the Valley. In 2013, the chamber said it assisted in 17 development projects, resulting in 399 new jobs and $574.8 million in investment.
Jeff Wagner, senior vice president and chief investment officer at First National Bank, said the region would benefit from growing U.S. gross domestic product, as the country develops industry and increases exports over the next year.
The Mahoning Valley also stands to gain greater regional importance as area manufacturers develop the infrastructure for the Utica Shale play and beyond, he said.
"As this shale play develops, from an economist point of view, this is becoming a super-region," Wagner said. "We're no longer just looking for our companies to do business locally in the Mahoning Valley. We're already seeing them spread out."
"The best is yet to come," he said.