Area dentists, hygienists, Choffin students give kids free dental care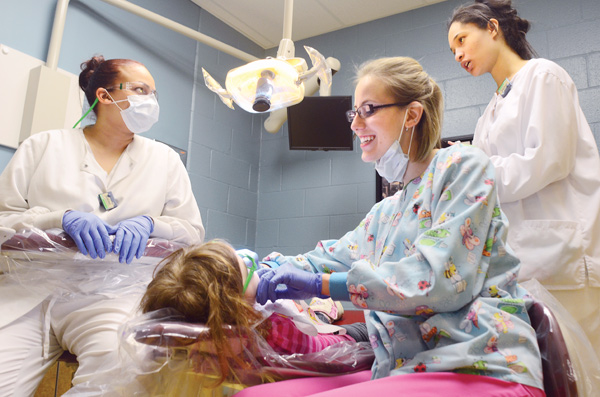 ---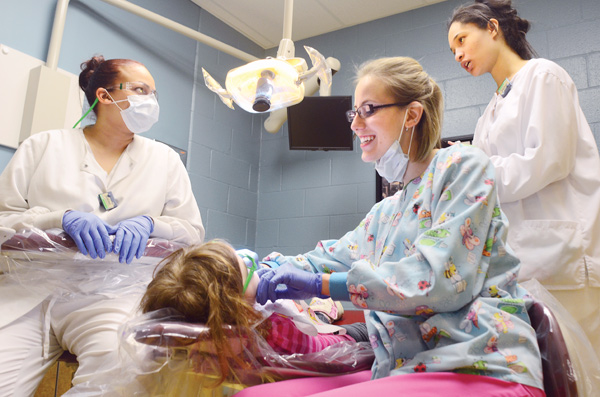 Photo
Carla Roe of Youngstown, center, a registered dental hygienist, and students Samantha Garcia of Youngstown, left, and Taylor Hall of Columbus, of Choffin Career and Technical Center School of Dental Assisting, perform a dental checkup on a Trumbull County Head Start student during the Give Kids A Smile event Thursday at Choffin in Youngstown. Roe said she has taken part in volunteer events such as this for several years.
YOUNGSTOWN
Area volunteer dentists, dental hygienists and dental-assistant students provided free dental care to 130 children Thursday and will today as part of the Ohio Dental Association's 12th annual Give Kids A Smile program.
The children, mostly from Head Start programs in Trumbull County, along with a few students from Choffin Career and Technical Center, came to the Choffin Accredited School of Dental Assisting and the Youngstown State University Dental Hygiene programs, where dentists from the Corydon Palmer Dental Society provided oral exams and X-rays, cleaned teeth and filled cavities.
Even tooth extractions and root canals are done when necessary, said Dr. Sergio Nadler, Corydon Palmer coordinator of the event. He is one of 16 area dentists who volunteered their services Thursday and today, along with five dental hygienists and some 20 Choffin dental-assistant students.
Corydon Palmer Dental Society, the local component of the American and Ohio Dental associations, is a nonprofit association of more than 300 dental practitioners serving some 250,000 families in Mahoning, Trumbull and Columbiana counties.
Because of the need for signed parental consent and health-history forms, Give Kids A Smile already determined which children they would see for the program. The event is not open to unregistered children or walk-ins, an Ohio Dental Association spokeswoman said.
In addition to dental care, education and awareness of the need for dental care, finding participants a dental home is a major goal of the program, said Dr. Nadler, who has offices in Champion and Niles.
"We fix what we can and give parents a number of sites to contact if they don't have insurance," he said.
From a personal perspective, Dr. Nadler said Give Kids A Smile is an opportunity to reach out and give back to the community.
"It's a good feeling to get a smile and make a dental exam into something positive for the kids," he said.
He thanked the volunteer dentists, hygienists and dental-assistant students for giving their time, and also Paula Oliver, director of Choffin's dental-assistant program, for making the school's facilities available.
The program is a great experience for everyone involved, said Tina Davis of Poland, a registered dental hygienist and coordinator of the event.
The kids get free dental care, and Choffin dental-assistant program students get hands-on experience and learn about volunteerism, said Davis, an instructor in Choffin's accredited School of Dental Assisting.
Davis said Choffin's dental-assisting program also operates a dental clinic from November to March. The clinic is free for children, and each adult can get a wide range of dental work done for $20, she said.
Since 2005, volunteers for the Youngstown area GKAS events have provided more than $172,000 in free dental care to more than 800 area children in need. A second group event in East Liverpool has given more than $56,000 in free care to nearly 500 children in a private dental office in that same time period.
Statewide, under the program, nearly 2,000 dentists and other volunteers will provide free dental services to an estimated 18,000 children at 80 sites throughout 2014.
Dr. Paul Casamassimo of Columbus, president of the ODA, noted that in the first 11 years of GKAS in Ohio, more than 194,000 children received free dental services valued at more than $10.2 million.
The program is supported nationally by the American Dental Association, Colgate, Henry Schein Dental and Dexis Digital X-ray Systems, Inc.