Published: Fri, February 7, 2014 @ 8:13 a.m.
Video Set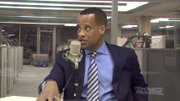 Jay Williams, the former mayor of Youngstown, joins David Skolnick and Louie b. Free to discuss his political career and his vision for Youngstown's future.
Former Youngstown Mayor Jay Williams will join Vindicator politics writer David Skolnick at 9 a.m. today on Vindy Talk Radio with host Louis b. Free.