AAC champs: Fitch holds off Struthers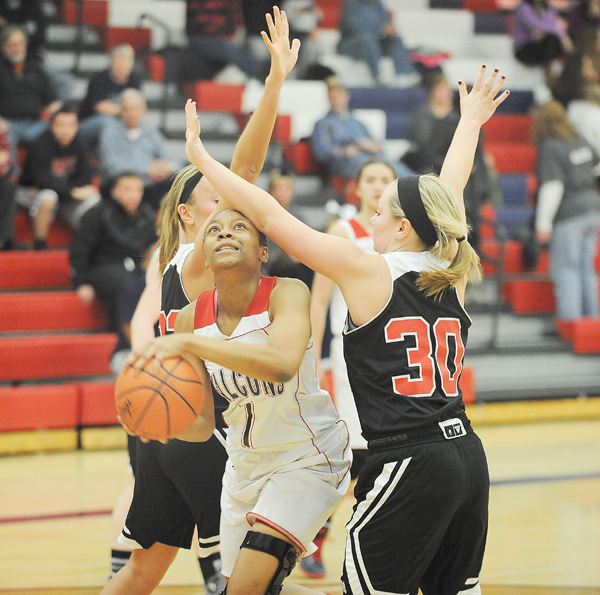 ---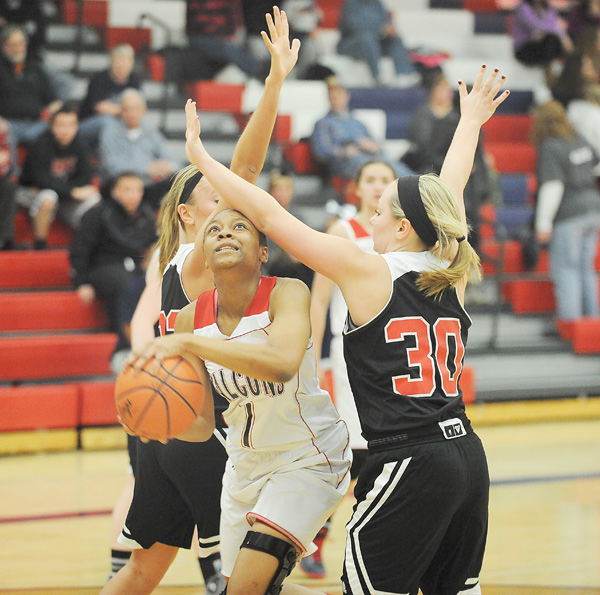 Photo
Fitch's Aaliyah Sadler goes to the basket against Struthers defenders Ashley Kane (30) and Halle Smrek (32) during the second quarter of Thursday's game at Fitch High School in Austintown. The Falcons downed the Wildcats, 52-45
By Joe Catullo Jr.
AUSTINTOWN
For a split second Thursday night, the thunderous sound of a block pierced in everyone's ear.
There were 10 seconds remaining in the first half. Struthers High's Caitlin Kane attempted a 3-pointer at the top of the key. Megan Sefcik fought through a few Wildcats. Her right arm began motioning behind her head as her body elevated at the same time.
Then, with one swing, Sefcik silenced the crowd.
"That was probably the biggest one all season," Sefcik said. "It was definitely a key block and stop for us."
Sefcik quickly collected the loose ball and hit a layup right before halftime, giving the Falcons just enough momentum to carry them throughout the second half. Fitch won, 52-45, and captured the All-American Conference, American Division championship — the Falcons' first conference title in 20 years.
The Falcons (18-1, 12-0) ended the first half on an 11-1 run after trailing Struthers, 20-17, with 3:53 remaining in the second quarter. Fitch outscored the Wildcats, 18-7, in the second quarter after trailing by four points to end the first.
"We got careless with the ball," Struthers coach John Grandy said. "They got after us, and we had a wall there. We needed to settle down, but we never really could in the second quarter. That hurt us."
The Falcons and Wildcats (14-5, 9-2) traded shots for the most part in the second half. Each team finished with 24 second-half points. Struthers never got closer than eight despite McKenna Shives' 22 points. She finished with a game-high 24 points, including six 3-pointers.
"We withstood their little runs that they had and had a few of our own," Fitch coach Stacie Cepin said. "We withstood their runs in the second half. McKenna made her shots and made it kind of interesting."
Behind Shives were Brittaney Zupko with eight points and Ashley Kane with seven. The Wildcats' biggest misfortune was when Ashleigh Ryan left with 3:02 remaining in the third quarter.
Ryam did not return after falling and hitting her head. A concussion test will be administered today. Ryan finished with three points, seven rebounds and four assists.
"When she's out of the game, we're a little less potent offensively," Grandy said.
Sefcik led the Falcons with 19 points, eight assists and three blocks. It was her assists that made Cepin happiest.
"I believe that she's the best player and most unselfish in the area," Cepin said. "She can put up big numbers with points, but she chooses to involve her teammates. Without her unselfishness, we don't do this."
Maura Bianco finished behind Sefcik with 12 points. Cassie Custer scored nine points and collected a game-high 15 rebounds while Sarah Melfe chipped in eight points. The Falcons also finished with nine free throws after attempting none in the first half.
"It's just been a great ride with these seniors," Cepin said. "My coaches do so much, and they don't get the credit they deserve. We do all the things behind the scenes to make this happen."