Durkin has hopes of starting for Hokies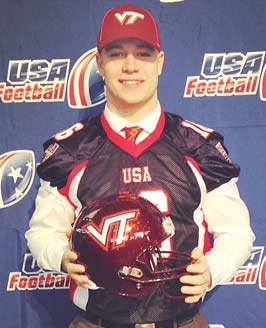 ---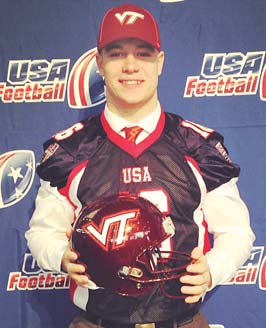 Photo
Ursuline quarterback Chris Durkin holds up a Virginia Tech helmet after signing his letter of intent to play college football for the Hokies during a ceremony on Wednesday at AT&T Stadium in Arlington, Texas.
While most high school seniors around the country signed their national letters of intent in a gymnasium or library, Ursuline's Chris Durkin penned his name in one of the biggest and most expensive sports venues ever built.
The quarterback recruit officially committed to Virginia Tech on Wednesday and faxed his signed papers from AT&T Stadium, home of the Dallas Cowboys in Arlington, Texas.
Durkin is there preparing to play in Friday's International Bowl under-19 game between Team USA and Football Canada, but that took a back seat on National Signing Day to the opportunity that awaits in Blacksburg, Va.
"If I go in there and prove I can be the guy, they told me they have no problem starting me as a freshman," Durkin said. "That was just something I couldn't pass up."
Scouted as a pro-style quarterback, Durkin (6-foot-3, 230 pounds) received 12 Division-I scholarship offers and appeared to be headed to East Lansing to play for reigning Big Ten champion Michigan State.
However, with the emergence of Spartans red shirt sophomore quarterback Connor Cook last season, Durkin began to re-evaluate his options.
"Virginia Tech came in late," Durkin said. "They told me they needed a guy who was going to be a leader. They're giving me a chance to play my freshman year, which wasn't the case with Michigan State, so I decided that was the best place for me."
In mid-December, Durkin made it official (verbally at least) that he was switching his commitment from the Spartans to the Hokies.
But what surprised many is he did so without having stepped foot on Virginia Tech's campus yet.
"What [the coaches] told me [over the phone] is what I was looking for," Durkin said. "Checking out the campus was a big thing for me, and not being able to beforehand was kind of scary for me, but once I got there I felt right at home.
"The people there are great and they love their football."
He eventually made his way to Blacksburg for an official visit in late-January and immediately began strengthening his relationship with Hokies offensive coordinator and quarterbacks coach Scot Loeffler.
The one-time Michigan quarterback has 18 years of coaching experience at both the college and professional level and once helped mold former Wolverines Tom Brady and Chad Henne while in Ann Arbor, as well as Tim Tebow as his position coach at Florida.
"In the case with Henne, he was a four-year starter at Michigan, so Coach Loeffler knows how to prepare a young quarterback to play right away," Durkin said. "And then obviously playing under [head coach] Frank Beamer, I mean he's a legend."
With the current quarterback situation at Virginia Tech, it's no wonder Durkin was eager to throw his name into the mix. The Hokies are losing three-year starter Logan Thomas to graduation, leaving them with four quarterbacks on the roster. Redshirt senior Mark Leal has taken 114 snaps in eight career appearances and is the only one with game experience.
What lies immediately ahead of Durkin is the all-star game Friday night at the University of Texas-Arlington's Maverick Stadium.
However his attention is on a larger goal — or stadium. On Sept. 6, he'll make his first trip back to his home state as he and the Hokies travel to The Horseshoe in Columbus to take on Ohio State.
"I'm very excited," Durkin said. "Not to look ahead past week one, but that's gonna be a great experience. Just to go in there, in front of 107,000 people and feel the gameday atmosphere.
"It should be something special."