Published: Thu, February 6, 2014 @ 12:00 a.m.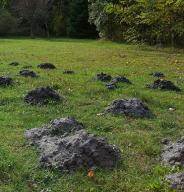 Photo
An example of mole damage.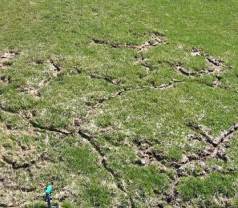 Photo
An example of vole damage.
By Marilyn McKinley
OSU Ext. master gardener volunteer
Moles are little prehistoric-looking creatures. They appear to be lacking eyes and ears, the feet are large and near to the body, webbed and paddle-like. They have a creepy-looking nose and mouth. They can be dark brown, black or grayish brown.
They are insectivores. They eat earthworms, grubs and other insects. They do not eat plant material. The main landscape carnage is underground. Those paddle-like feet are capable of digging a foot of tunnel a minute. It's that action that pushes up those mini mountain ranges in yards. They are not social creatures and only get together at mating time. They mate every 30 days between February and April only. They usually have two to five little ones. In truth, they actually do little more than cosmetic damage.
Some say if you get rid of grubs in your lawn you won't have moles. But recent research at Purdue University indicates that probably won't eradicate them. Using castor oil has gotten mixed reviews. Poison peanuts are rarely effective. OSU Extension recommends looking at habitat modification and trapping as possible control options.
Voles are brown, and often called field or meadow mice. They are similar to the house mouse, but have small eyes and ears, stocky bodies and short tails. Thankfully, they seldom invade homes. They live in grassy fields and landscape beds. They are herbivores, eating seeds, leaves, stems, roots and bulbs. They are attracted to bird feeders and may set up residence under them. They breed between March and September. Gestation is just 21 days. When a vole is six weeks old it will begin mating. Its life span is 12 to 16 months.
They do not hibernate during winter. They are active when snow is on the ground. They chew on turf grass plants. When the snow melts, what is left is a series of surface runways through the turf. The runways are unsightly but do little damage to the turf. However, in the process of making the trails they can do serious damage to the root system of many types of plants, and can damage or even kill trees and shrubs. They have been known to gnaw through plastic irrigation lines.
Their main protection from predators — birds of prey and vertebrates — is dense cover. Reduce the cover, reduce the voles. Tall grass areas are a favorite place for them to hide and breed. Trim low-lying shrubs, so hiding places are reduced. They do not like rock mulch, so that just might send them packing.
Mouse traps baited with peanut butter and placed in the vole run is worth a try. If you have a major infestation that demands immediate control rodentuicides are available. If this must be used a professional pest/animal control agent should be employed.
For more information on these two pests, see go.osu.edu/molevole.