Salt is on its way, says ODOT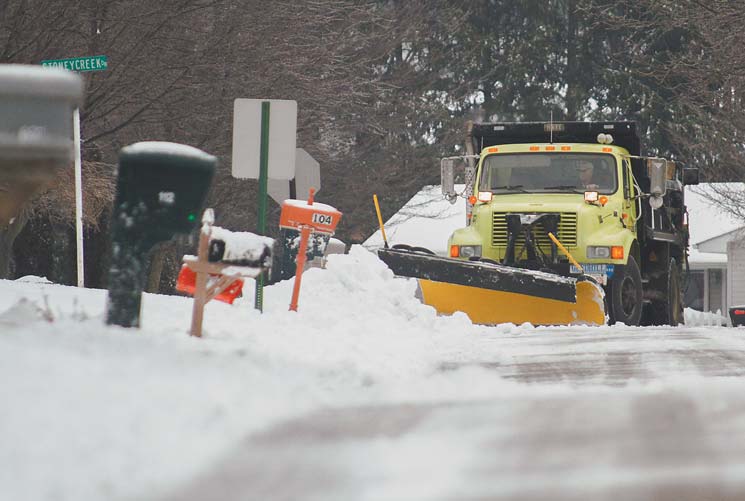 ---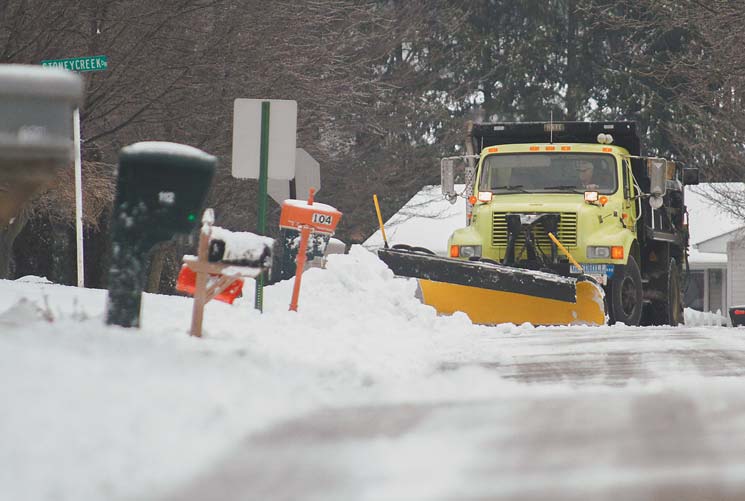 Photo
A Boardman road department truck plows snow from Spring Garden Drive on Wednesday afternoon after Mother Nature dumped another several inches of snow on the Mahoning Valley on Tuesday night into Wednesday. Many road departments across the Valley are dealing with dwindling road salt supplies because of the long winter.
Staff report
It's been a long winter — longer than what many communities' road salt supplies were cut out for.
Austintown Township, for example, ordered 3,600 tons of salt for the winter and has used 2,900.
"The first time we were out was the day after Veteran's Day," said Michael Dockry, road superintendent and township administrator.
Mahoning Valley townships, municipalities and counties get their salt supplies from Morton Salt, which provides it through a state contract.
But many communities are running out and early forecasts predict another snow storm this weekend.
Steve Faulkner, press secretary for the Ohio Department of Transportation, said so far this year, the agency has used 810,000 tons of salt and that doesn't include what's been used by counties, townships and municipalities.
This winter "could see us use 1 million tons of salt on Ohio's roadways," he said.
Two years ago, ODOT used 370,000 tons the whole winter.
"This has been a very hard winter," Faulkner said.
Each year, ODOT asks local communities if they want to join it for purchasing power in buying salt. The companies that bid are then obligated to provide the salt at the bid upon price — for 120 percent of the bid amount for each entity.
They aren't obligated to provide more than that, Faulkner said. Similarly, those entities are obligated to buy at least 80 percent of the amount.
ODOT is in a different position than local communities because if one county has seen less snow than another, it can move salt from one to help another.
"A lot of local communities are in a situation that's a lot more dire than ODOT's," Faulkner said.
Unprecedented move
That prompted the department to do something it's never done before.
ODOT is advertising for bids for more road salt as an emergency measure. That's expected to bring in about 210,000 more tons of salt — three rounds of 10,000 ton-loads at each of the seven locations. Multiple companies are expected to submit bids.
It will be available at seven locations throughout the state for communities to pick up.
Mahoning County Engineer Patrick Ginnetti said his office is mixing more slag than normal with its salt to stretch its supplies. "We have been receiving loads of salt as they become available due to the backlog of orders," Ginnetti said.
Salt deliveries are running a month behind schedule, he said, noting that a shipment of salt that was ordered in December arrived Tuesday. "If deliveries do continue, and we receive our full contracted amount, we should have enough supply to manage our roadways," for the duration of winter.
The county engineer's office has used 15,000 tons of salt so far this winter, exceeding by 50 percent the 10,000 tons it spread in all of last winter.
Dockry said that Austintown's crews are also mixing salt and slag.
Youngstown has plenty of salt on hand, said Charles Shasho, deputy director of public works.
"We bid our own contract separately," he said. "We don't go with ODOT. We have a lot of streets to treat and we don't want to get in line behind ODOT."
The city contracted with Cargill Inc., which has a depot near Cleveland, for salt this year. "Although they tell us their supply is running is thin, we have no fear of being short right now."
The contract is for 15,000 tons of salt through December 2014. The city has used about 7,000 tons so far and Shasho estimated that during the Tuesday to Wednesday storm about 2,000 tons were used. Crews use a salt-slag mix.
The city pays more for its separate salt contract — $34.39 per ton or $37.89 per ton if brought in by conveyor truck — but the contract also obligates the company to provide the salt within five days of the city's placing an order, the deputy director said.
Tom Sakmar, construction superintendent for the Youngstown street department, said he ordered 2,000 tons of salt on Jan. 27, and it arrived in installments Saturday, Monday and Tuesday. He expects to order an additional 2,000 tons from Cargill in the next several days.
Significant hit
Like Austintown, Jason Loree, Boardman administrator, said that township is mixing salt and slag to stretch the supply.
At the start of the Tuesday-Wednesday snow storm, Boardman had between 200 and 300 tons of salt. Since each of the township's eight trucks take 16 tons out on each run, the supply will take a significant hit.
"We've called companies locally, and they tell us they can't mine it fast enough," Loree said. "We've called some companies that are out of state and they're not taking new customers. With what we had in December and January we had more calls for service than the entire season last year."
Larry Wilson, Boardman's road superintendent, said the township started the winter with 4,000 tons. Usually, the township begins a season with 3,000 tons. The township placed orders for more salt last month to try to replenish the supply, but those orders haven't come in.
"They're having a hard time keeping up with orders," Wilson said. "We're all in the same boat."
He received a call Wednesday from ODOT District 4 which has a garage in Sebring and will allow the township to get a load of salt this week. The township will have to repay it in-kind when available.
The salt supplier, Morton, gets the salt from a mine under Lake Erie.
Entities are paying $27.50 per ton this year for salt and both Dockry and Wilson say that's a good price.
"But if we're not getting the loads, it doesn't matter how much we're paying for it," Wilson said.
Trumbull dome
At the Trumbull County Engineer's Office, the new salt dome at the North River Road facility and the stockpile at the Cortland facility have about 4,000 to 5,000 tons of salt left. It is used by the county engineer's office and 24 townships that partner with the county.
Greg Alberini, highway superintendent, said that amount "could be problematic if it keeps snowing" because he doesn't know if he will be able to get any more salt this winter.
As a result, the county snow plows are using is salt and anti-skid product conservatively to make it last as long as possible.
Liberty Township Administrator Pat Ungaro said the township's salt supply is adequate. "We're trying to get more," he said.
Girard services director Jerry Lambert said the city's supply is low. "But we're making it," he said.
He said Morton Salt is trying to fill communities' needs. "We got a couple of extra loads for today," he said, adding that the city should be OK for the next storm this weekend.
Hubbard has 40 tons of salt and 120 tons of anti-skid material, said mayor John Darko, who added that the city is conserving salt. The mayor said Hubbard has ordered more salt, and he hopes it will arrive next week.
Frank Tempesta, Warren operations superintendent, said Warren has about 300 tons on hand, and Morton is expected to deliver another 1,000 tons in the next few days.
Tempesta said he's "not too concerned" about running out, even though the 300 tons will probably be gone within a few days. He said the city has used about the same amount of salt so far this year that it normally uses during an entire season.
Cortland shortage
Cortland is among the communities that operate outside of the countywide salt co-op that are experiencing shortages.
Don Wittman, Cortland service director, said the city has about 150 tons and doesn't expect to be able to get any more. It takes about 25 tons to make a "blanket" run through the city, which includes the side streets.
The city will most likely not make any "blanket" runs the rest of the winter and only salt the main streets and arterials in order to conserve salt, Wittman said.
That should make the remaining salt last twice as long — maybe 12 times through the city instead of six.
"We're telling residents we will use salt conservatively the rest of the winter focusing on the high-traffic areas, hills and curves," Wittman said.
Arno Hill, Lordstown mayor, said the 300 tons of salt left in the village will run out soon, but he believes Lordstown is not alone.
"Do we have a problem? Yes. Everybody does," Hill said, speculating that the supply problem may be associated with the low price that is being paid for a ton of salt today compared to five years ago.
The price is about half of what it was, Hill said.