Kentucky recruits Krok, Dubose highlight quiet year for Valley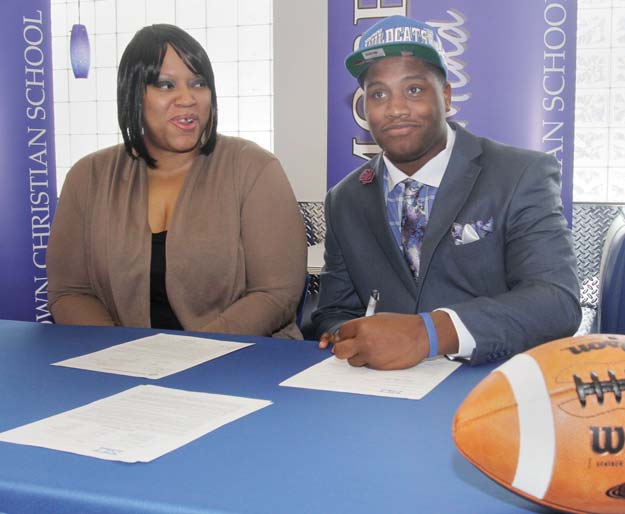 ---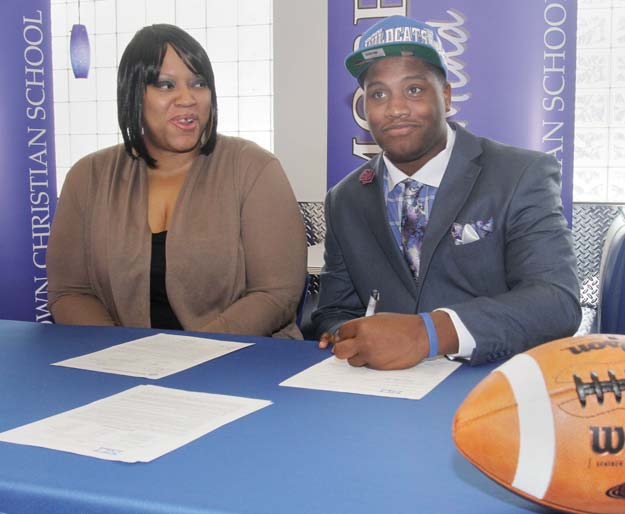 Photo
Kambria Brown, watches as her son, Youngstown Christian defensive lineman Tymere Dubose, signs his letter of intent to play football for the University of Kentucky during a ceremony at the high school Wednesday. Joining Dubose on the Wildcats' squad will be Niles offensive lineman Josh Krok.
It was a relatively quiet National Signing Day around the Mahoning Valley Wednesday as only four area football players signed their national letters of intent with Division I programs.
What was even more quiet, and perhaps more surprising, was the lack of noise the Big Ten Conference and the Mid-American Conference made in an area that had long been a recruiting hotbed for many of its programs. Instead, it was Big Blue Nation and the Kentucky Wildcats that landed two of the biggest splashes in the area as part of their best recruiting class in school history.
The Youngstown ties run deep in Lexington as second-year head coach Mark Stoops along with his tight ends coach, Vince Marrow, used their Ohio roots to grow a budding relationship with some of the top talent in the area.
Niles offensive lineman Josh Krok (6-foot-8, 325 pounds) is the tallest of the 28 signees who faxed their papers to Stoops on Wednesday. He plans on bringing more than just his massive frame to a team that could use some size and toughness up front.
"Make a difference," Krok said of his main goal for the first year. "I'm gonna do the best I can, but I definitely want to leave my mark."
That shouldn't be too hard for a player of his stature. Joining Krok in Lexington, and perhaps opposite him on the line of scrimmage, is Youngstown Christian defensive end Tymere Dubose. A two-way player for the Eagles, Dubose (6-foot-5, 280 pounds) said he may also get a look at tight end after talking with Coach Marrow about the best way for the Wildcats to maximize his talents.
"I can't wait to see what they've got in store for me," Dubose said. "This is the best thing that's ever happened to me, for real.
"I feel accomplished and I can't wait to be a Wildcat."
Dubose's coach at Youngstown Christian is Brian Marrow, Vince's brother.
Stoops, a Cardinal Mooney graduate along with Vince Marrow, mentioned Wednesday in his Signing Day Press Conference that the reason he went after so many Ohio kids was not only because of the competition they face, but also the mentality they bring to campus. Dubose's coaches in Youngstown feel like what the staff at Kentucky can provide Tymere is similar to what he can provide to them.
"It's a huge step to go to any college let alone a Division I school such as Kentucky," said Nick Wagner, defensive line coach and the director of college recruiting at Youngstown Christian. "To be able to have Morrow and Stoops be there as a family-type atmosphere is going to be really good and I think that's really something that sold him."
While Krok and Dubose have only spoken a few times online, they both expressed excitement about getting to know one another as newly-acquainted teammates.
They'll also have plenty of other newcomers to meet as part of the recruiting haul Stoops is bringing to Kentucky and the always-difficult Southeastern Conference. The Wildcats finished at the bottom of the SEC East last season, failing to win a conference game after winning only two prior to league play.
That's all in the past for the newest Wildcats.
"Just because they had a bad season doesn't mean we can't make it better," Dubose said. "We have a good recruiting class so I feel like we have a chance to build this team up."
They're not overlooking the challenge that's ahead of them either. They're embracing it.
"It's a big league," Dubose said. "It's full of grow men and you've gotta bring it everyday — every second of every minute — so I've just got to prepare myself to go in there."