Dorothy Day House plans vigil on human trafficking for Friday night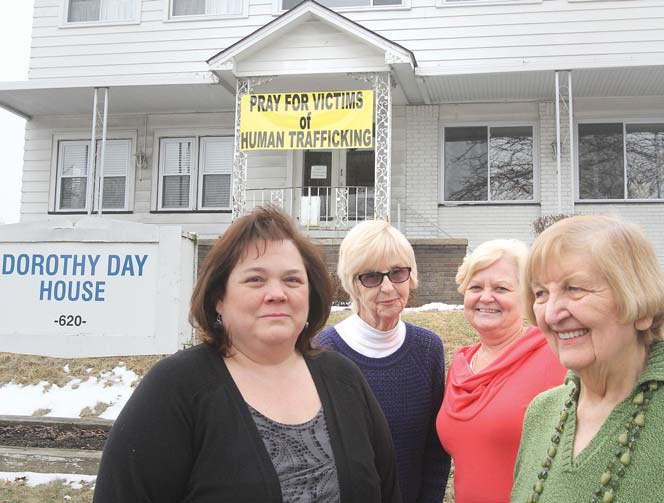 ---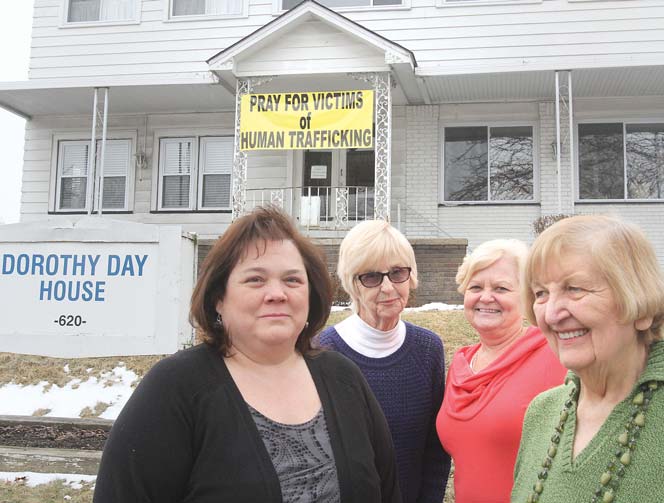 Photo
A banner at the Dorothy Day House of Hospitality, 620 Belmont Ave., Youngstown, promotes prayer for victims of human trafficking. A vigil will start at midnight Friday and continue through Saturday to raise awareness about the issue. Promoters of the event are, from left, Vicki Vicars, Mary Grace Manning, Valerie Seaborn and Ceil Schlosser.
By LINDA M. LINONIS
YOUNGSTOWN
Slavery still exists in the world today in the forms of sexual and labor exploitation.
Supporters of the Dorothy Day House of Hospitality, a Valley initiative of the Catholic Worker Movement, plan a 24-hour vigil to bring attention to human trafficking. It will begin at midnight Friday. The Dorothy Day House is a refuge for the homeless and others in need.
Vicki Vicars, who described herself as part of the Dorothy Day House community, said the event resulted after a roundtable discussion on the topic. Discussions on social-justice issues take place from 7 to 8:30 p.m. the fourth Thursday of each month at the site.
"We talked about problems that affect people we serve," Vicars said.
Vicars said the vigil will include community and private prayer times. She said Pope Francis and the U.S. Conference of Catholic Bishops issued the call to pray for victims of human trafficking. January was observed as Human Trafficking Awareness Month; the vigil is a followup.
Isabel Seavey of North East Ohio Coalition on Rescue and Restore will speak at 12:30 p.m. Saturday. That organization was founded in 2010 in Warren. It represents a diverse group of Valley residents who formed through Mahoning Valley Organizing Collaborative.
Vicars said the intent of the vigil is to bring attention to the issue of human trafficking in Ohio. She said people need to be aware that some food products, clothing and other items are the result of labor exploitation.
"Be a conscientious consumer. Be aware of what you're buying and where it came from," she said.
She said the website, www.stopslavery.org, provides some information on the topic. It notes there are an estimated 27 million slaves in the world with 24 million in Asia.
Vicars added, "We don't see it happening, so we might think it isn't happening." She added the vigil's purpose is to inform people about the problem.
Sister Ann McMahon is director of the Dorothy Day House and a member of the Sisters of the Humility of Mary. She said her order is involved in educating the public about the issue of human trafficking.
"It's network, network, network, educate, educate, educate," she said. "Arm yourself with information for advocacy and action."
Sister Ann said since Ohio is an agricultural state, labor exploitation is as much an issue as sexual exploitation. She said people whom the Dorothy Day House services, the homeless and other people on street, are vulnerable. "It will take a lot of light to overcome this darkness."
Sister Anne Victory, a Humility of Mary nun, is education coordinator of the Collaborative to End Human Trafficking based in northern Ohio. Its mission is to educate and advocate for the prevention and abolition of human trafficking and help victims by connecting them to services.
Sister Anne said the collaborative works with Northeast Ohio Rescue and Restore. Since it was formed in 2007, some 1,200 programs that reached 50,000 people have heightened awareness about the human-trafficking issue in Ohio.
Julia Catchpole, a member of Church Hill United Methodist Church in Liberty, said the church formed K(NO)w More Human Trafficking Group to raise awareness. "We hope to be a conduit to get the message out," she said.