Published: Thu, February 6, 2014 @ 1:57 p.m.
Video Set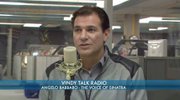 Angelo Babbaro, "The Voice of Sinatra", joins Guy D'Astolfo and Louie b. Free to discuss his upcoming Valentine's Day show at the Stambaugh Auditorium.
Valley resident Angelo Babbaro will perform a concert of classics at Stambaugh Auditorium on Feb. 14. He visited Vindy Talk Radio at 11 a.m. to talk of his career and his music with entertainment editor Guy D'Astolfo and Louie Free.