Minus Driver, Falcons stumble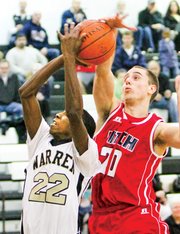 ---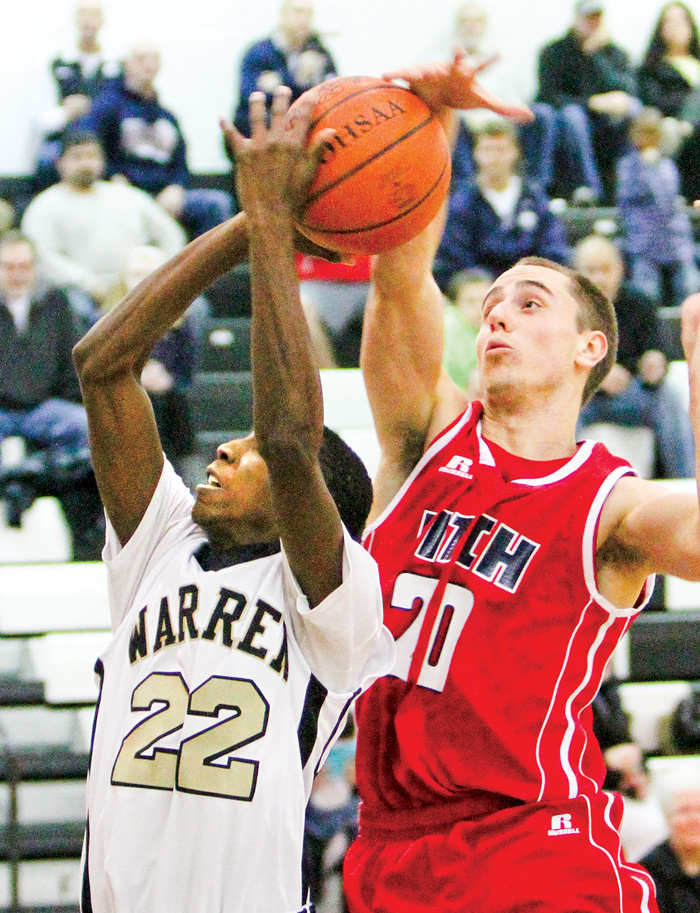 Photo
Fitch's Alex DiFrancesco(20) defends Warren Harding's King Garner (22) during Tuesday's game in Warren. Harding defeated Fitch 71-44.
WARREN
Playing without your playmaker can be difficult as the Austintown Fitch High boys basketball team found out on Tuesday against Warren Harding.
Although guard Jessie Driver was in street clothes throughout the game for an unspecified reason, the Falcons still managed to put up a good fight in the first half before falling to Harding, 71-44.
"No comment" was the response when Coach Brian Beany was asked about Driver after Fitch lost for only the third time this season.
Shondell Jackson had a game-high 19 points while Anthony Bell added 14 for the Raiders (10-7). Harding trailed after one quarter, 16-6, before leading by three at halftime.
"I found out prior to the JV game," Harding coach Andy Vlajkovich said of Driver's situation.
"Obviously, that hurts them because he makes them go.
"Our whole gameplan revolved around Driver, so, when he didn't play, we adjusted."
Vlajkovich said that his Raiders sleep-walked through the first quarter.
"We were very disinterested in the first quarter — we couldn't get going on the break, we couldn't turn them over, we couldn't start our break off misses because they made shots and the whole first quarter was played at their pace.
"It started to get to our pace in the second quarter, then, in the third and fourth quarters, it was clearly our pace."
Early on, Vlajkovich said that he was mixing different lineups to develop a rhythm.
The game took a big turn when Harding scored 15 straight points before Fitch's Austin Hogan made a basket with 3:38 remaining in the period.
Some of Harding's success in the second half was isolating players in the post area.
Vlajkovich said that the Raiders got the ball inside and then got it going in transition.
"Believe it or not, we were trying to do that in the first half, too," Vlajkovich said. "We tried to get Derek [Culver] and Shakem [Johnson] and Shondell in the post a little bit.
"With those three guys in there, we figured there was going to be a mismatch somewhere. We were trying to exploit that by having three 'bigs' in there at times, or at least two, and trying to get to the off-man whenever possible."
Additionally, Vlajkovich said he believed that Harding's pressure worn down the Falcons (12-3), who led after the first quarter, then trailed by 24-21 at the half.
"It got out of control and we couldn't do the things we did in the first quarter," Beany said.
"Their 1-3-1 [defense] bothered us, as did their length," he said of Harding's height and arm reach. "We didn't catch the ball in the right spots with our passes and we weren't confident when we shot the basketball.
"In the second half they got a lot of leak-out baskets. Basically, we couldn't do anything right and when you can't do anything right, in the second half, you get blown out."
In short, the Falcons lost their will.
Beany said: "I told them, 'The other team's not going to stop playing. You've got to keep playing for four quarters because they're not going to take it easy on you.' "
Gabe Chepke started for Driver, but, even without Driver, Beany believed that his Falcons could challenge the home team.
"We knew we could play with them," Beany said. "Obviously, we had a nice first quarter, then it started to slip away and became an avalanche."