MVAC plans Festival of Voice and Instrument
By LINDA M. LINONIS
BOARDMAN
Son de Dios will inject a Latino beat into the upcoming Festival of Voice and Instrument planned Sunday by the Mahoning Valley Association of Churches.
Praise Music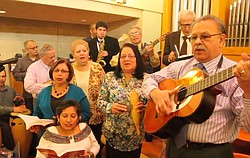 Video
A group of local musicians make a joyful sound.
The group is the Spanish music ministry at St. Rosa de Lima Church of Christ the Good Shepherd Parish at, 394 Tenney Ave., Campbell.
Its name translates to We Are of God. That idea meshes harmoniously with the sacred-music festival, which showcases voices and instruments that lead worship services in congregations in the Valley.
The Rev. Rebecca Richie, pastor of Lord of Life Lutheran Church in Canfield, is coordinator of the festival. "It's an opportunity for people to experience the music and musical worship styles of different religious traditions," she said.
Listening and seeing various musicians and singers perform, she added, is a way to develop appreciation for worship traditions other than your own.
Pastor Richie, who is an MVAC board member, said the festival underscores the organization's mission statement. It mentions "working cooperatively in the church and the community" and cites the value of diversity.
Felipe Gonzalez, director of the Spanish music ministry at St. Rosa de Lima, said the group is "very excited" about its chance to participate in the festival to highlight the Latino-Caribbean music it plays.
Gonzalez said the group plays at the noon Mass on Sundays except the first weekend of the month. The group has about 14 members. Musicians play guitars, bass, saxophone and congas.
Other instruments, Gonzalez explained, are guiro, a Latin-American hand percussion instrument that comes from the gourd family, and cuatro, a 10-string guitar, which is the national instrument of Puerto Rico.
Gonzalez said the music ministry also uses Flor y Canto, a Spanish Catholic hymnal that includes 737 hymns and songs in Spanish in a variety of styles.
He said Son de Dios will play three selections. "They'll be uplifting with an upbeat tempo," he said.