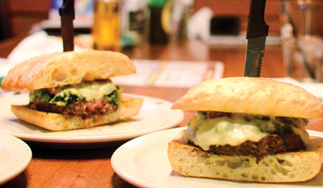 ---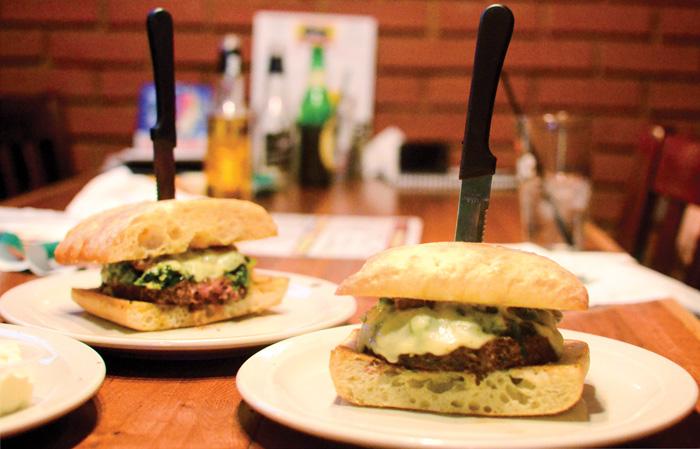 Photo
The Y-Town burgers at Barry Dyngles in Austintown.
If You Go...
Barry Dyngles
Where: 1601 S. Raccoon Rd. Austintown, Ohio 44515
Phone: 330-259-4788
Hours: 11 a.m. to 10 p.m. Monday through Thursday. 11 a.m. to 11 p.m. Friday. Noon to 11 p.m. Saturday. Noon to 9 p.m. Sunday.
Menu: Eight burgers ($8.49 - $10.99) served with pickle and fries.
Website: www.barrydyngles.com
Rating: 4
By Anthony M. Fuda
mvbrb@hotmail.com
It's Deja Vu all over again.
The 200 plus different national culinary awards are the same. But the burgers have changed, and oh, boy have they!
Barry Dyngles, formally Armadillo's BBQ, is known for ribs and BBQ sauce -- award-winning on both accounts. They were Grand Champions at the Pro Football Hall of Fame, the Columbus Jazz festival and the Great West Virginia Rib Cook Off. That's some pretty impressive accolades.
But if you look a little bit closer to the menu, there are some pretty good burgers that should be getting some recognition.
Owner Shawn Hannon says, "We use 1/2 pound chuck patties with a specific 75/25 blend that works the best. The burgers are cooked over an extremely hot charbroiler and topped with the freshest ingredients."
The beef comes in fresh three times a week and they use a secret house seasoning - which they call crack - because it is so addictive. It is made with 24 different spices and they season everything with it.
We were here before. But the burger menu has completely changed and we've had numerous requests from Barry Dyngles' fans, and ours, telling us the burger menu is better, and the burger itself is much better -- and we would be missing out if we passed on this improved burger.
We went with appetites looking to be tantalized by all the hoopla. So, knowing our way around the restaurant, we found comfortable seating and eagerly searched for the new burger menu. We were impressed by what we saw; six tempting burgers making it hard to pick just one. In fact, there are no burgers on this menu from our previous visit. The new offers are: Big Daddy Burger (topped with two cheeses, French fries, ham, bacon, slaw and fried egg on ciabatta bread), The Barry Burger (Monterey-Jack cheese and bacon. Served with lettuce, tomato and red onion. Honey Mustard served on side), Deluxe Cheese Burger (American cheese. Served with lettuce, tomato, red onion and dill pickles), Mushroom Burger (Swiss cheese and sauteed mushrooms), BBQ Burger (award-winning Original BBQ sauce, ham, two cheeses and sauteed onions), and the Y-Town Burger (Italian greens, hot peppers and provolone. Served on ciabatta).
Dyngles adds a couple burgers for the weekend menu: Mac n Cheese Burger (topped with mac and cheese, some jalapenos and served on a pretzel bun), and the Breakfast Burger (served on grilled rye with bacon, ham, cheese and cheesy potatoes).
All the burgers come with a nice portion of fresh-cut fries. We all opted for the beer-battered fries and really enjoyed the thick spiral slices, especially when we dipped them in the garlic ranch sauce or the home-made hot sauce.
Our server, Kaija DiPillo, helped make the transition to the new burger menu easy for us. She was very friendly, and knowledgeable with all aspects of the menu, and knew the Dyngles/Armadillo's history well. She made sure our burgers were exactly what we wanted and guided us to choosing the delicious beer-battered fries.
I ordered Barry Dyngles' most popular burger, the Y-Town Burger, and having been present for the first review, you can tell the difference in the beef right away. The flavor is great. The seasoning of the beef was perfect and the greens were cooked like grandma used to make them. The hot peppers added a nice kick and then blanket all that flavor under some provolone cheese. Put all of that between two slices of ciabatta bread, take a bite, and you are in burger bliss.
JT was also at the first review, adding, "We were a little apprehensive about coming back to a place that we visited nearly 2 1/2 years ago, but it was impossible to ignore all of the, 'Try Barry Dyngles new burgers messages we've been getting. And after trying them, it's easy to understand the excitement of the Dyngles' faithful. I chose the Big Daddy burger and have nothing but praise for it. From the ciabatta bread and the deliciously seasoned patty, to the abundance of toppings, this beast is truly a carnivore's delight! And the beer-battered fries may be the best side that I've had on our five year burger eating frenzy!"
Eric was one of the first timers at Dyngles and said, "Picking the Y-Town burgers seemed like a no brainer after hearing about how popular it was, and I can see why after just one bite. The fresh, never frozen beef puts a certain franchise to shame and the seasoning just amplifies the flavor to the next level. As someone who can appreciate a plate of greens at almost anytime of day, topping them on this burger was a match made in taste bud heaven. Add to that the grilled hot pepper, another weakness of mine, and you have two enthusiastic thumbs up."
Spatman had the Barry Burger and said, "It is a tasty little number that was cooked well done and seasoned just right."
Chiz, our newest member, tried one of the weekend burger and said, "I had the Mac n Cheese burger! This burger was dressed beautifully from top to bottom. A perfect fresh pretzel bun, delicious smokey and creamy bow-tie Mac n Cheese, diced jalapeno, and bacon. The burger patty was seasoned with excellence, while the burger was cooked SPOT ON medium for me. Shout out to the Chef, GREAT JOB!!! It was juicy, tasty, and delightful. My taste buds were in heaven."
It you are looking for BBQ, Barry Dyngles will make you smile. If you are looking for a burger at this BBQ joint, Barry Dyngles will make your stomach smile.
4 stars
note: The MVBRB decided we will re-do a burger place if more than a year has passed and there are significant changes to the menu.
Keep reading the Valley food section each Wednesday for the best food the Valley has to offer.
If you know of a burger that should be on our hit list, send the info to mvbrb@hotmail.com, or on our Facebook page BurgerGuyz.