Third day on road, cop saves baby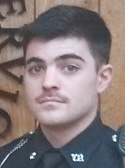 ---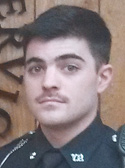 Photo
By Joe Gorman
Youngstown
Not many people save a life their third day on the job.
But Patrolman Timothy Edwards of the Youngstown Police Department is being credited with doing just that, helping to save an 8-month-old baby in a South Side home about 6:45 p.m. Sunday.
Edwards joined the depart- ment last fall after passing the civil service test, but because he had not completed the Ohio Peace Officers Training Academy, he was working in the station. He completed his training and was allowed to be on the road after finishing the academy late last month.
He is being nominated for the department's Lifesaving Award.
Edwards, paired with training officer Edward Kenney, was working the South Side beat Sunday when a call came in for a baby who was not breathing at a home in the 400 block of Ferndale Avenue.
When police and paramedics arrived, the 8-month-old girl was on her back and not breathing, a police report said.
Edwards immediately began doing chest compressions on the baby for about a minute. He said there was no time to think once he saw the baby was not breathing.
"I just fell back on what they taught me," Edwards said.
He said the baby was still not responding when paramedics took over, but they were able to stabilize the baby and take her to Akron Children's Hospital Mahoning Valley in Boardman.
Kenney, who has been on the force for 13 years, lauded Edwards for the ability to think fast in a chaotic scene despite his lack of experience.
"Outstanding," Kenney said of his quick actions.
Police say they confirmed with Rural Metro that Edwards' actions helped to save the baby. Rural Metro did not return a call seeking comment.
The mother of the baby said she did not want to comment. The baby is still being treated at the hospital.
Edwards is a native of Austintown and graduate of Fitch High School who served in a Marine infantry unit in Afghanistan. He said his military training helps a great deal in his law enforcement work.
"You just learn not to overreact to things when you see them and keep as calm as you can," Edwards said.
Edwards is learning fast on the job. On Friday, his second day on the road, he chased a man on the East Side who ran from a traffic stop about 3:35 p.m. and caught him behind a home in the 1300 block of Thornhill Road.
Reports said that man, Jevon Prieto, 30, had $630 cash on him and a bag of marijuana. Police found an additional two bags of marijuana on the path he took while running. He was arraigned in Youngstown Municipal Court on Monday on charges of trafficking in drugs, obstructing official business and driving under suspension. Records indicate Prieto is still in the Mahoning County jail.