Trimmer reaches 1,000 points in loss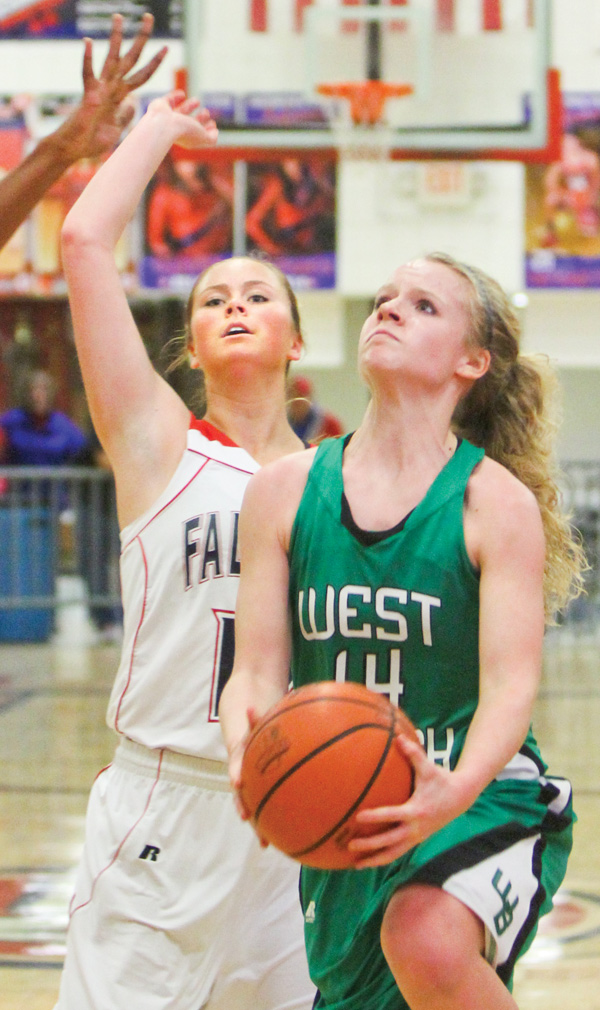 ---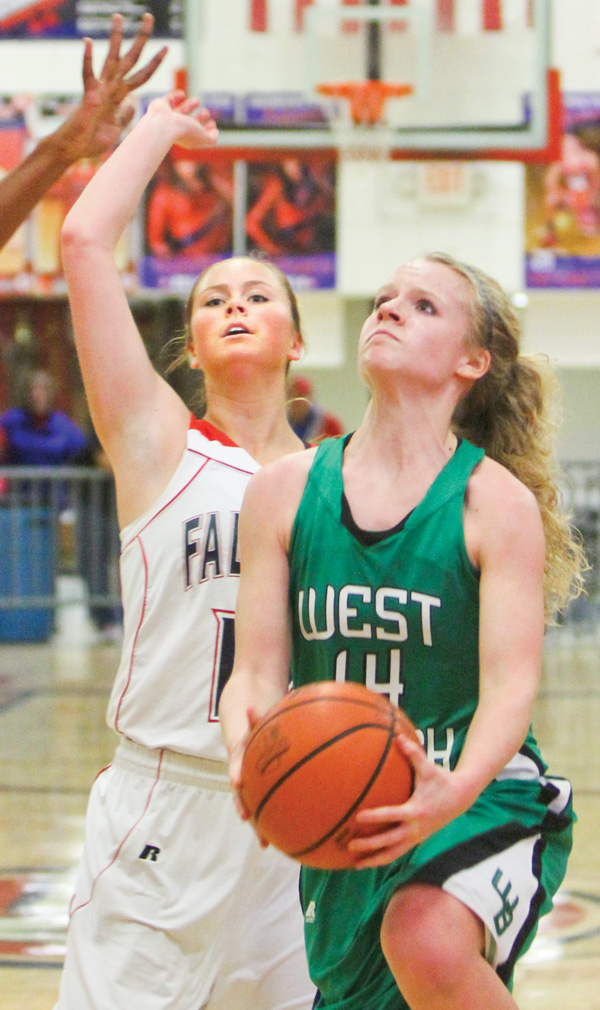 Photo
West Branch's Melinda Trimmer (14) scored her 1,000th point during Monday's game in Austintown. Guarding her is Fitch's Sarah Melfe.
By Steve Wilaj
AUSTINTOWN
Her 1,000th-point basketball in hand, West Branch High's Melinda Trimmer sauntered out of the Austintown Fitch locker room, nearly the last girl out.
On what was momentarily a joyous night for the junior guard, Trimmer was dejected, even willing to trade in her record-breaking possession.
Although she became the eighth player — and first junior — in West Branch history to surpass 1,000 career points, the Warriors fell to Fitch, 53-47, on Monday.
"It was a special moment and I wouldn't be where I am without my teammates," Trimmer said. "But it hurts really bad right now to know that my teammates are hurting. I wanted the win tonight more than anything."
The Falcons (17-1) made sure that didn't happen though, as their own 1,000-point scorer, Megan Sefcik, poured in 16 points in paving the way to a Fitch victory.
"It was definitely a huge test for us," Sefcik said. "We had to come out with intensity to start the game and we did a good job throughout, so I'm proud of my team."
Leading for nearly the whole contest, the Falcons pushed their lead to 10 points midway through the fourth quarter. But West Branch (16-4) forced three straight Fitch turnovers and capitalized each time, cutting the deficit to 45-41 with just three minutes remaining.
"We were just working out butts off on defense and finally turned the light switch on," Trimmer said.
The Warriors trimmed the score to 47-45 with 1:30 remaining on a layup by Pavin Heath, but then the lights turned back on for Fitch.
Carlie Chepke hit a floater to push the lead back to four, and after a Taryn Hahn layup made it 49-47 with 44.2 seconds left, Fitch's Sarah Melfe connected on two free throws before the Falcons forced a deciding defensive stop with under 30 seconds remaining.
"We had a couple [mistakes], but then our seniors stepped up and made the plays that they needed to make," Fitch coach Stacie Cepin said. "I feel really great about the way our kids battled."
Melfe added 11 points for the Falcons while Maura Bianco scored eight.
"It was just a great win for these kids to come together and get it done against a great program," Cepin said.
West Branch was led by Trimmer's 24 points, while the rest of the squad suffered a rough shooting night. Heath was the next high-scorer with eight points for the Warriors, who shot 26 percent.
"We got beat up a little bit inside and we have to get tougher," West Branch coach Walt DeShields said. "Defensively we didn't get it done tonight and offensively we had a good night from Melinda, but not much from anybody else. We have to get more production somehow, someway."
Trimmer entered the game needing nine points for 1,000 and passed the mark on a layup with 5:02 left in the second quarter. The game was briefly stopped to recognize her accomplishment.
"It's really special, I'm so blessed to have this team," she said. "I wouldn't get this without my team supporting me no matter what happens, like tonight."