Ross' experience should pay off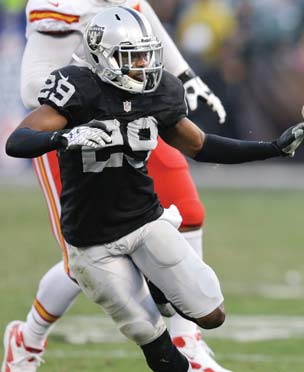 ---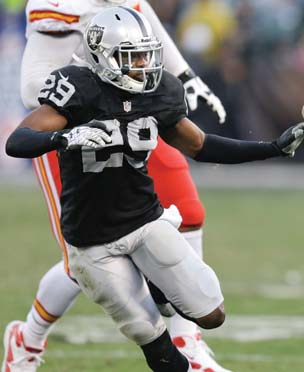 Photo
Brandian Ross of the Oakland Raiders started 13 games last season after switching from cornerback to safety during the off season.
By Joe Scalzo
YOUNGSTOWN
Brandian Ross' third season in the NFL felt a little like his first.
After switching from cornerback to safety in the offseason, the former Youngstown State standout appeared in 16 games with 13 starts for the Oakland Raiders, making 75 tackles with two sacks.
"I felt like a rookie all over again because I was playing a totally new position," Ross said. "I had some learning curves and I made my share of mistakes, but I think in the long run getting that experience was beneficial."
Ross broke into the league as an undrafted free agent in 2011, spending that season on the Green Bay Packers' practice squad. The Raiders signed him the following September and he played in the final 14 games in 2012, making one start.
He's back at YSU this spring, taking his final four classes toward his psychology degree. Ross is a free agent, but expects to re-sign with Oakland.
"I'm coming back; it's just about working on actual deal," said Ross, who would prefer a multi-year contract. "Basically, it comes down to how much I want versus how much they want to give.
"I try not to focus on it too much, especially since I'm in school. I can't mix the two right now."
The Raiders lost two games to the Denver Broncos this season, as well as the fourth preseason game to the Seattle Seahawks. Ross said he expected Seattle to win Sunday's Super Bowl.
"When we played Seattle in the preseason, they had played Denver in the [second] preseason game and won [41-10], so when they got matched up in the Super Bowl, I said Seattle would beat them pretty well," he said. "Peyton Manning doesn't like doing anything new.
"He likes what he has. He'll change a couple things up but he doesn't do too much differently. He's just really good at it.
"But when you go against a front-four like that, where they don't have to send added pressure and guys get up in your face, you know you're going to struggle.
"Seattle just beat them up physically."
Ross, who is working out with YSU assistant strength coach Willie Danzer this spring, started 33 of his final 34 games with the Penguins.
Ross said YSU's defense was the best of his tenure in 2009, but when Eric Wolford took over in 2010, he turned over much of the defensive roster.
"My freshman year, I played a little bit, but I had seniors and juniors with me so they could kind of somewhat make up for what a freshman might mess up," Ross said. "There was more leadership and more experience on the field, as opposed to having seven or eight freshmen or redshirt freshmen out there."
When asked about YSU's defensive struggles under Wolford, Ross said it comes down to playing better at the end of the season.
"During the last part of the season in any sport, everyone is at the same point physically as far as being beat up," he said. "I think it comes down to preparation and focus. You've got to be able to focus when you're hurt and put the pain aside. It's just about who's gonna fight through it and be focused enough to do the job right as many times as possible to help the team succeed."
Ross visited YSU's Rich Center for Autism on Monday, meeting with the kids and talking to the fundraising staff. He plans to donate a portion of the proceeds from his clothing line, "Unity Over Self" to the center.
"Autism has a soft spot in my heart because there's no distinct reason why [it happens]," he said. "I'm all in favor of research for it and I just want to give back to the community.
"I remember meeting one [NFL] player growing up and it just made my day. I'm all about smiling faces and seeing them happy."
Visiting unityoverself.com to see Ross' clothing line.