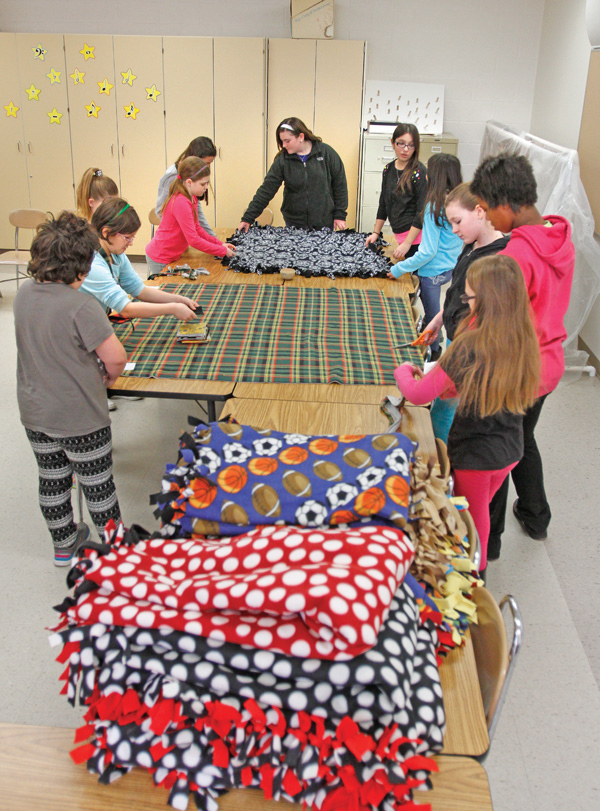 ---

Photo
Fourth-, fifth- and sixth-grade students at Girard Intermediate School make tie-blankets. The girls donate the blankets, most recently to the Rescue Mission during the cold snap.
By Jeanne Starmack
Girard
Gathered around a table in an art room at Girard Intermediate School recently was a group of girls who were quite involved in their work.
Heads were bent. Hands were moving over large, brightly colored squares of soft fabric.
Scissors were out, and cuts about 1 inch apart were being made into the bottom of the fabric.
These girls were missing recess, but they didn't care. They believe it's more important to help people, and they're spreading that warm, fuzzy feeling around.
Are you cold? Don't worry. The Blanket Club has got you covered.
The club, for girls in fourth through sixth grades, meets Mondays through Thursdays at recess time to make tie-blankets, colorful fleece throws with fringed edges.
There are plaids, prints and even the red and black school colors.
Most blankets are donated, though they've made Cleveland Browns and Indians blankets for raffles to make extra money.
For the most part, however, the school funds the program. School counselor Pam Baker started it three years ago.
It's intervention, she said, at the time when girls break off into cliques, and some could be left out.
Instead of sitting and talking about how they should be interacting, Baker said, they learn about it hands-on.
There are 80 to 90 girls in the group. "By doing this type of project, they learn how to be together," she said.
But, missing recess?
"I don't really like recess," said Gina Magazine, a sixth-grader. "This helps people."
The girls visit nursing homes and get a sense of accomplishment when they see how happy they make people, said Baker.
It makes them happy, too.
"I did it last year, and I had tons of fun," said fifth-grader Mya Mays.
Brooke Frazzini, also in fifth grade, said she joined because her friends were — "to hang out with friends and to help people."