Austintown police officer retires after 32 years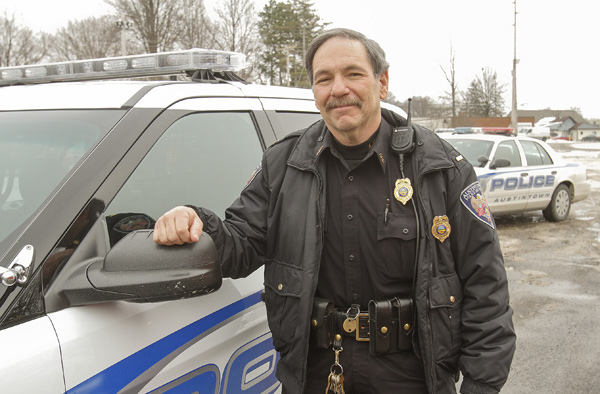 ---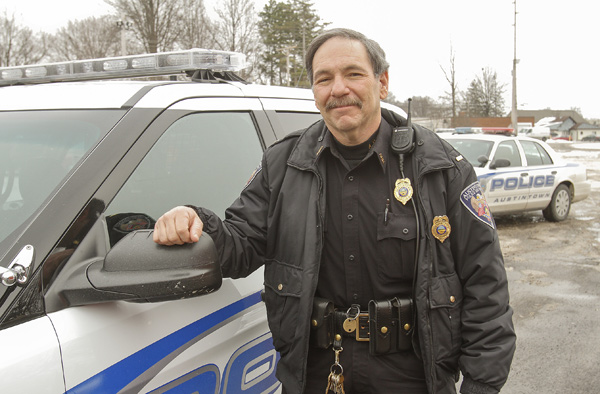 Photo
Lt. Ronald DeAmicis had his last day as an Austintown police officer Friday. He served 32 years full time and one year as a reserve officer.
By Kalea Hall
Austintown
When it comes down to it, enforcing the law to protect the people is what being a police officer is all about for Austintown Lt. Ronald DeAmicis.
"You have to respect the law you are supposed to uphold," he said.
Over the past 32 years, this is what he taught rookie officers who came into the Austintown Police Department. Those lessons will continue to be embraced by each new officer even though DeAmicis officially retired Friday.
"The main thing is, keep everyone safe and keep yourself safe," said Sgt. Mark Skowron, who will take DeAmicis' lieutenant position.
DeAmicis knew he wanted to be a police officer after growing up watching cop and detective shows such as "Baretta." After graduating from Youngstown State University, he sought a position with the Austintown department.
"I just kept coming up here and bothering the captain to put me on reserve," DeAmicis said.
He was placed on the police reserve force for one year and three months, before being hired as a full-time officer in his hometown.
"Just to be able to protect and serve [Austintown] has been great." he said. "I turned down other police departments when I got reserve [here]. It takes a dedicated individual to be reserve. It was well worth it to me."
DeAmicis said he has too many fond memories to name any specific ones. He trained several officers over the years by taking them with him during his shift.
"You never know everything," he said. "You have to, first of all, be a respectful individual. You have to have good common sense."
Skowron rode midnight turn with DeAmicis when he was training to be an officer. DeAmicis taught him how to see the big picture in each situation.
"I am going to miss him terribly," Skowron said. "He was tough and fair."
Police Chief Robert Gavalier also rode with DeAmicis when he first started about 30 years ago.
"He was well-respected from officers on the road and he earned that respect," Gavalier said.
Now that he is retired, DeAmicis plans to relax, fish and continue to travel for weightlifting competitions.
But he cannot stay away from law enforcement.
"I will still be working down at YSU as an interim police officer," he said.
The desire to protect and serve has passed on to his son, who is considering a future as an officer.
"It's not like any other job," DeAmicis said. "You have to want it to be a policeman. I cannot say a bad thing about the profession. It has its good points and bad points. I would recommend it to anyone."