Published: Mon, February 3, 2014 @ 12:00 a.m.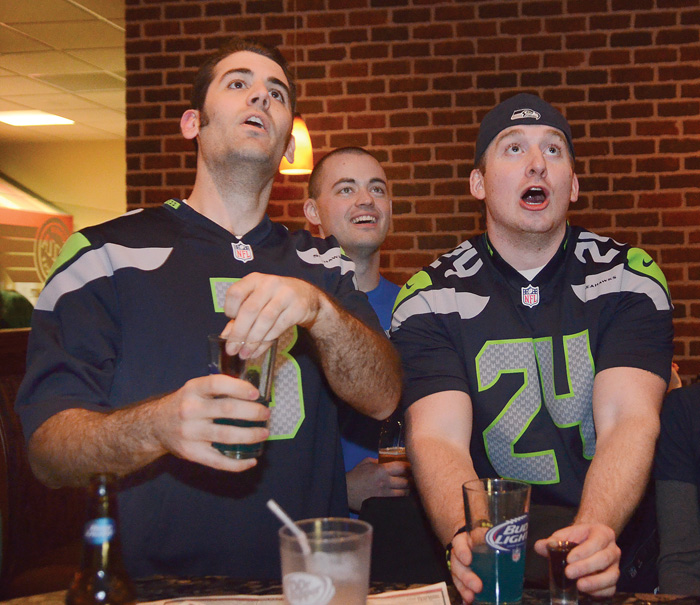 Photo
Seahawk fans (L-R) Philip Cogar, Jacob Short, and Will Ferrand react to a play during the first quarter of the Super Bowl. They are among a small crowd gathered at Inner Circle Pizza in Canfield to watch the game.
By Ed Runyan
CANFIELD
Philip Cogar of Canfield says he and some of his friends arrived about noon Sunday at the Inner Circle Pizza on Ironwood Drive — more than six hours before kickoff of the Super Bowl — because he was so excited for the game to start.
"We couldn't sit at home and wait. It's like waiting for Christmas," he said.
He and about nine friends, most from Canfield and many of them Seattle Seahawks fans, enjoyed the Seahawks' dominating play while watching one of the restaurant's big screens.
Their performance confirmed Cogar's belief that the Seahawks are "the most electric team in the NFL — the offense and the defense."
Cogar, wearing a Seahawks jersey with quarterback Russell Wilson's name on it, said he respects Wilson for being "the nicest, most gracious guy in the league."
Die-hard Seahawks fan Will Ferrando said he first became a fan in 2000 as a student at Canfield Village Middle School when someone asked what NFL team he liked best.
"I said the Seahawks, and I loved Sean Alexander, and he was drafted by the Seahawks that year, and I've been a huge fan ever since," he said.
In another part of the restaurant, Linda McNally, was with another group of about 10 Canfield residents, many of them rooting for the Denver Broncos.
McNally said the big game took on a whole new meaning in 2012 when her son-in-law, lineman Jim Cordle, played in it for the New York Giants.
It was a big year for the family, because it's also the year Cordle and her daughter, Kerry, got married.
"It was like a dream come true. You couldn't believe it was happening to your kids," she said of attending the Super Bowl and watching her son-in-law's team win.
Cordle and her daughter met at The Ohio State University, when her son-in-law went on a recruiting trip, and Kerry showed him around as his recruiting hostess.
McNally says she rooted for the Broncos Sunday because the quarterback for the Giants is Eli Manning, brother of Denver's quarterback, Peyton Manning.
Also rooting for the Broncos was Boardman Trustee Thomas Costello, who said it's nice having Boardman High School graduate Steve Vallos participating in the Super Bowl as lineman for the Brancos.
"It gives it a local flavor," Costello said.
Michal Naffah, who owns the restaurant, said he and about 10 of his friends have been watching the Super Bowl there since it opened six years ago.
"We get together frequently, so of course we're going to get together for a Super Bowl," said Sam Amendolara, an attorney.
The group plays boccie together at the MVR Club in Youngstown.
"When you play boccie with someone every week for three months, when the boccie ends, you've got to find another way to still get together," said Angelo Babbaro, who will be singing like Frank Sinatra at Stambaugh Auditorium on Valentine's Day this year.