1,000 Valley faithful flock to mall, former bar for church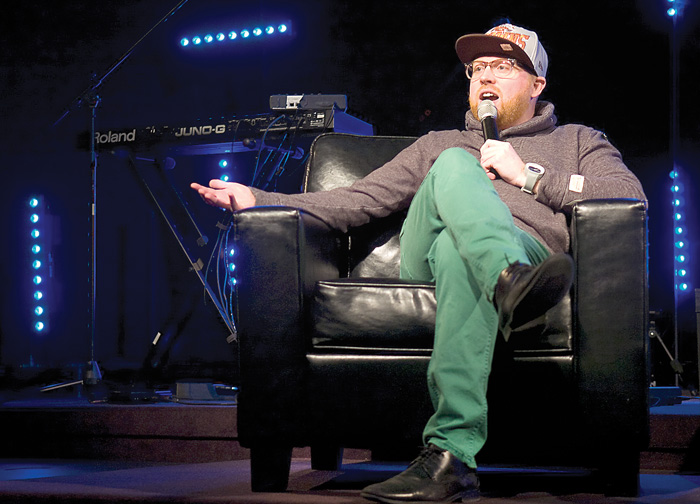 ---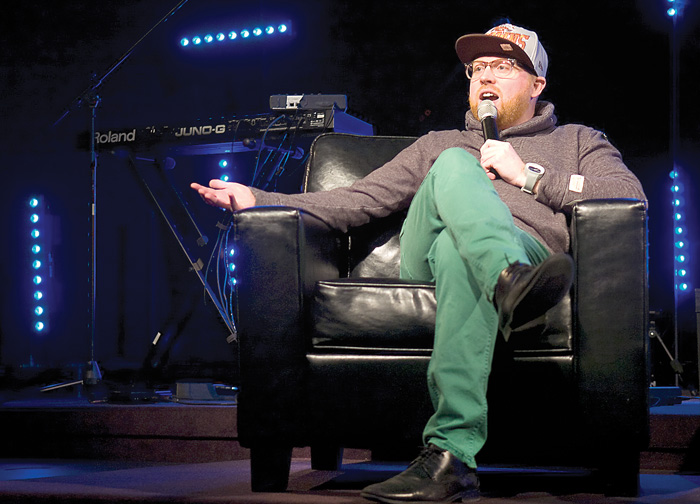 Photo
Pastor Doug Garasic speaks to the crowd Saturday evening during a service at The Movement in Niles.
By Ed Runyan
NILES
Twenty-nine-year-old Warren native Doug Garasic and his wife, Stephanie, started their church, called The Movement, 2 1/2 years ago in a conference room of an office building in Vienna with 14 people.
It's grown to 1,000 people attending at The Movement's primary location at the back of the Eastwood Mall and in its newest location in a former bar on East Market Street near downtown Warren.
What is the appeal?
Garasic says he thinks it's that The Movement provides people with a place where they can "just really enjoy a fellowship or a community of people" while taking time to figure out what they believe about God.
He said getting to a point of knowing what you believe should be a "marathon, not a sprint."
"We believe that people should belong before they ever believe. And then, after they believe, they will start becoming that thing," Garasic said.
The Movement is inviting to people in their thirties, twenties and younger because the experience is more like the Grammy Awards — musically, for instance — than a traditional church service, Garasic said during an interview last week.
It consists of 20 minutes of preaching, 20 minutes of music, and encouragement for participants to spend time thinking and studying the Bible on their own.
"We say our service — we call them worship experiences — are the appetizer for you to want the main course."
The Movement avoids offending people by not taking a stand on "polarizing political subjects," with Garasic saying, "Why was it the church's responsibility to ever have a stand on that?"
Young adults need something different because they have their own concept of religion, Garasic said.
"Church comes across as not relevant any longer to our generation. Either they saw hypocriticalness in their parents or they saw that you just go because you have to.
"In my generation, it's called the Y Generation for a reason. We ask the question why. Why do I have to do this? Why do I have to go do that? So what we're doing is we're answering the Y. We're saying Jesus is relevant, and here's why."
He adds, "I want you to evaluate the claims of Christ for yourself and say 'Do I follow him or reject him? And that could take months, years, I don't know. I'm not here to judge your journey. I'm only here to encourage you to make that decision."
Garasic says it's not unusual for younger people to lead their parents to follow them into The Movement. "That's like backwards to what we think in our society, but it's happening here all the time."
Surveys indicate that nearly half of the people coming to The Movement have never been members of any church.
"In the '80s and early '90s, it wasn't if you went to church, it was where you went to church. That is no longer the case. We've let an entire generation be raised not at all involved in church.
"If we're going to reach people who have never been reached before, we have to be willing to do things that have never been done before. That's why we have a church in a mall. That's why we put a church in a bar. That's why our services feel more like a rock show with a tiny little message more than a long, drawn out, religious, boring church service," Garasic said.
The services in Warren occur in the former Sunset Lounge on East Market Street. The bar closed after a rocky history, including a New Year's Day shooting death in 2013.
Greg Lenox of Warren, 38, who was partipating in the 11:30 a.m. service at the Warren location Sunday, said The Movement is in Warren because Warren "needs it," explaining that the focus is on "loving on people," helping neighbors and not about the type of clothing they wear.
Garasic says his upbringing in a poor neighborhood in Warren has something to do with his religious views.
He was raised by a single mom and didn't attend church, got into trouble and was kicked out of Warren G. Harding High School. He finished his education at Victory Christian School on Pleasant Valley Road in Niles, where he was introduced to the Gospel.
"It changed my life, so that's why I get people who have troubles, that have issues, that have problems, because I was one of them."
He spent five years as youth minister at Pleasant Valley Church at the same location as the school, then went with his wife to Columbus as youth minister at a "megachurch."
Offers for jobs at other megachurches in the southern United States rolled in, but he and Stephanie chose to focus their efforts back home.
The Movement is not done growing, Garasic said, with plans for creating three more campuses in 2014. The Movement also has a college where it trains ministers.
"We say we're Dairy Queen. We serve vanilla, caramel and chocolate," Garasic said of the people attending The Movement.
"We've got a lot of different kind of people. They all look different. Some are business professionals, doctors, lawyers. Others are kids 19, 20 with a tattoo on every inch of their body."