60th anniversary of Ibeles gathers family, friends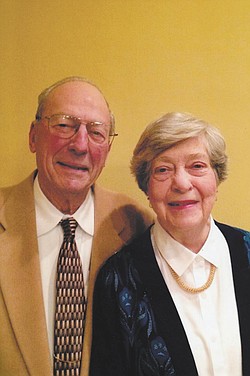 Photo
Mr. and Mrs. Walter C. Ibele
CANFIELD
Walter C. and Marlyn Ibele of Canfield received honors on Thanksgiving weekend for the 60th anniversary of their wedding.
The couple's three sons and their families hosted a surprise dinner party for them on Nov. 29 at Shorty's Restaurant in Toledo. Family and friends from Ohio and Michigan attended.
Their sons are Clinton of Highland Heights, Ky.; Lyndon (Janyce) of Anchorage, Alaska; and Dan (Erin) of Toledo. The Ibeles also have two grandchildren.
The former Marlyn Weber and Mr. Ibele exchanged wedding vows Dec. 19, 1953, at Walnut Hills Christian Church in Cincinnati. They are members of First Christian Church of Salem.
Mrs. Ibele was a schoolteacher and professional knitting instructor before retiring.
She belongs to many knitting guilds and is the former superintendent of the Arts and Crafts Building at the Canfield Fair.
Mr. Ibele retired in 1986 after working in various managerial posts at Youngstown Sheet & Tube and LTV Steel in Youngstown and Aliquippa, Pa.
He is a member of Canfield Conservation Club, Ducks Unlimited and Boy Scouts. A Korean War veteran, he served in the U.S. Army Ordnance Corps.